For any event planner, the most difficult task is to get all the tickets sold and make the event a superhit! There is a lot that has to be taken into consideration while planning a strategy to sell tickets or promoting your event for that matter. The organiser constantly has to strive hard and look for different ways to sell tickets online and offline.
The Internet has changed the game for event organisers. It has become a very significant source to promote events and sell tickets online. It also is a platform which helps in making the event a major extravaganza and a talk of the town. If you are a budding event organiser or you are looking for how you can make the best use of the internet to sell your event tickets; here's all that you need:

1. The Right Event Solution For Selling Your Tickets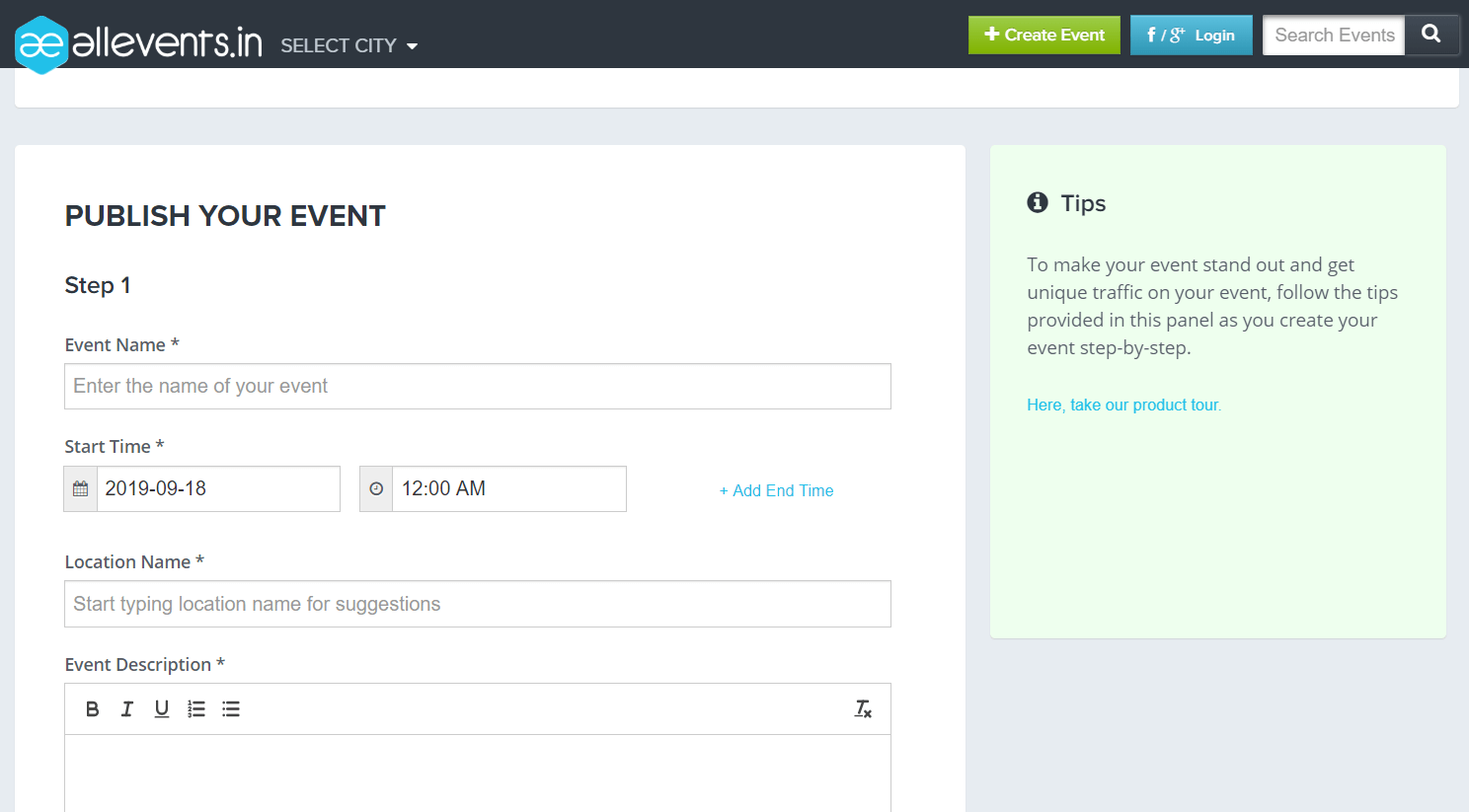 Organising an event can be a really tough job; from the initial planning stage to post-event promotion. The first and foremost thing while organising an event is to look for the right event solution where you can easily sell your tickets. There are a bunch of event ticketing solution where you can get pre and post-event services without much hassle.
If you want to manage your events, sell tickets online and promote your events with ease then you definitely should look for some of the top event solutions. You can opt for AllEvents.in if you are looking for one easy to understand platform and smooth functioning.

2. Making The Best Use Of Connections & Partnerships
"A little win for a partner, a little win for you". Partnership works wonders when you are looking for opportunities to reach more people, sell more tickets or generate more revenue. Look for partners or companies who are a perfect fit for you and your event. The partners who are not clearly a competition but complement your event.
For instance, if you're organising a sports event then partnering with a popular sports equipment provider or a local sports club is the right thing to do. Channelize partnership to build a strong relationship, expand your business, promote your event and accelerate the tickets sale online along with all the other things. This surely is a major perk for you but even the partner brands will grow with you. It is a win-win for both event organiser and the partner brand.

3. Google Ads | PPC Campaigns
Selling tickets just offline in this frame of time would be like having resources yet never exploring what you could do apart from that one arena. Google ads or Pay-per-click campaigns work very efficiently if you are seeking for opportunities to market your event online. You can choose apt keywords to associate with your event. So whenever someone is looking for something of that kind they will get to see your ad, click on it and if that interests them they'd buy your tickets as well.
For example, if you are organizing a major music festival in NYC then you can bid for the keyword NYC music festival and Google will showcase your ad accordingly whenever someone searches for NYC music festival on the search engine. It is a paid campaign that is offered by Google which also is one easy-peasy process. Learn and gain knowledge about Google Ads and get started with selling tickets online to a larger audience.

4. Optimizing Event Website SEO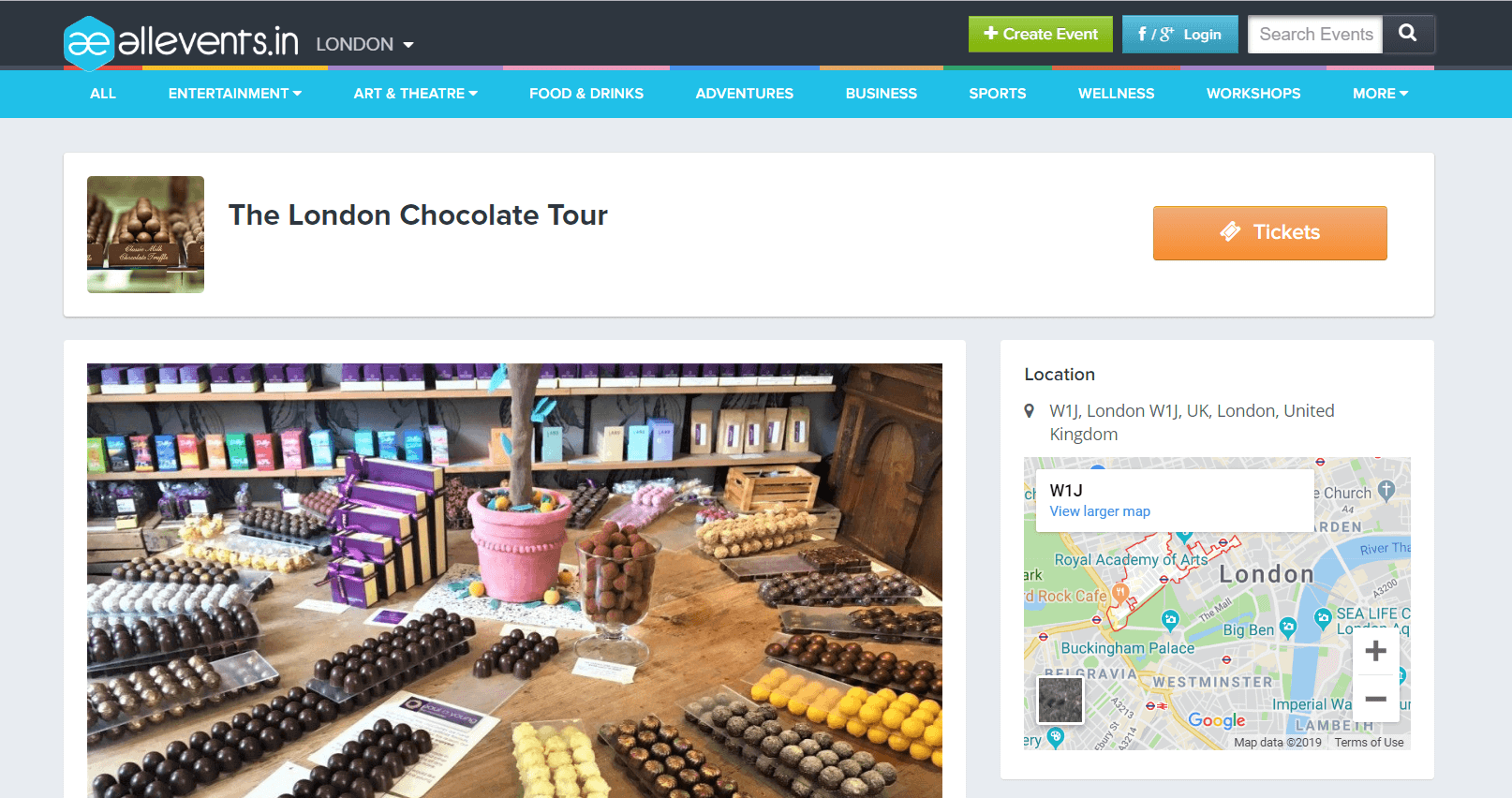 This one again comes down to choosing the right event solution for your website. The question first comes is what do you expect when you choose any event portal to display your event? You want your tickets to be sold right? But this will happen when your event gets the attention, when your event is easy to find and reaches the right people looking for it. For this, you need an event solution who have their SEO game strong.
The ones:
Who know what keyword should be a part of the event title
Who have their event page optimized with the relevant events, detailed information about dates, time and venues
Who focus on everything from event schema, URL structures to even paid promotions
Who use appropriate CTAs on the event page
Who not only work on even listing but also support it with the content
Some of the event solutions that take the above-mentioned points into consideration and deliver more than this are AllEvents.in, Stubhub, Eventbrite, Songkick, and Ticketmaster

5. Segment Your Email Marketing
Email marketing is one of the very effective online marketing practice but you ought to put enough efforts for that. Sending messages, creating a mail list, reaching out to target audience, analysis and reporting is not all that it's just about. There is so much to dig deeper in this area.
Segmenting email marketing is also very important, from the word that clearly means dividing your mails into smaller segments according to various aspects like demographics, locations, interests and so on. Dividing your mails according to the needs of the audience will give a personalized touch and will reach the right people.
It basically is a practice to increase the mail open rates and click-through rates. Various software and tools are available like MailChimp, Hubspot, AWeber and GetResponse that help you in easy segmentation. Apply the strategies that fit your audience and event and see what helps in boosting the ticket sells.

6. Early Bird Registration- A Now Or Never Offers
Nothing attracts a consumer more than free stuff and discounts! Early bird registrations are to lure people to buy tickets on a very initial stage, unlike the regular flow that they are used to; buying the tickets when the dates of the event are getting closer.
Early bird tickets also have one motive to create a buzz about the event in advance which works wonders. This is a great idea to sell tickets online by providing a limited period discount and getting a 'FULL-HOUSE' event by the time the dates are actually closer. Imagine a little discount getting you a sold-out event during the leadoff, sound amazing right?

Social media is here to stay and its believed to be one of the right areas to market your events. Your audience might be busy double tapping, commenting or just too indulged in mindless scrolling then why not use this to your benefit? It is a great opportunity to sell tickets online or subtly popping up your event banners on their screen.
Facebook, Instagram, Twitter and Linkedin have become major platforms for selling out tickets and promoting events. It is important for you to optimize all the relevant social media platforms you are using and make them interesting enough. You will have to put serious efforts towards social media, add relevant CTA's, make it a visually attractive space and create things that will drive your potential event attendees here.
You can engage with your users on various platforms by:
Creating contests, quizzes and polls
Offering them referral discounts
Resharing their pictures related to the event, this will create one emotional connection
Inviting or collaborating with influencers and sharing that information on social media
Sharing event #hashtags on Twitter and creating an organic buzz around it
For niche events, you can even leverage the Linkedin groups
Last but not least, ENGAGING CONTENT. A smart content strategy for social media can take your event anywhere you like.
8. Retargeting Ads – Be Everywhere Your Audience Is!
Well retargeting in a simple way is trying to get back that audience who found even a little bit of interest towards your event but did not buy the ticket. Basically it is a practice to remarket ads on various platforms including social media and anonymous websites. It depends on the remarketing campaign you have chosen. There are remarketing tools to guide and take you through this if you have never heard or tried this.
The idea behind remarketing is appearing again and again on the screens of your potential customers. This persuades them to check the event and might as well turn there no to a maybe and a maybe to yes.

9. Recap Video – #ThrowbackToAFabEvent
Videos are a very efficient tool to grab the eyeballs of your prospect attendees. Optimize your SEO with a very strong recap video of your past event. Make it engaging and attractive enough.
It could be the event story and how it actually started
A glimpse about how grand the past event really was
Sharing the behind the scenes of the previous events
The experience of the event attendees, the people you invited or hosted
You can make it colorful, beautiful and add dramatic music to your videos. You must make it SEO friendly by adding the right title to your video or a relevant CTA. Add information about your upcoming event subtly, the recap video will make the audience want to buy the tickets and your job will be done.

10. Launch Press Releases
Launching an Event Press Release is a wonderful idea to create a buzz around your event. Scaling your business, selling tickets online and event PR can be possible by writing a compelling press release. Press Release are written to catch the attention of journalists and possibly make the good-read reach to a large number of audience.
There are a few basic things that you must take into consideration while drafting the press release:
Elevate your pitch, don't bore the readers with the length. Keep it informative, crisp and concise
Mention all the significant details like the event's date, venue, summary about what it is going to be about, speakers or guest list and everything that the audience would be willing to know
Keep it very professional and do not add 'cool' words and unnecessary exaggeration
Make different copies if you have any plans of sending them to different media publications. Highlight things that the said publication focuses on or is interested to know.
Make it visually attractive and divide the content into readable paragraphs, since a large number of readers use mobile phone as their device. Don't forget CTA.
Make it a good-read so that it intrigues the audience to buy tickets of your event.
11. Harness The Power Of Ticket Psychology
Sales is closely associated with psychology and you must or rather have to use it to your benefit. Triggering the mind of the attendee or the consumer is the goal of a marketer and that's what this is all about! You have to leverage the pricing of the tickets in case of events to sell tickets online.
Decide appropriate prices of your tickets, that really matters a lot. If you choose a really cheap ticket price then the audience might think that it is of no value and is just another random event, they wouldn't prefer to go to any such event. If you pick a fairly higher price which your target audience couldn't possibly even afford then again that would be a waste. So, you have to find a middle ground and price your event tickets accordingly.
You can even give them the option of different tickets depending on the event. For instance, if you are organizing a concert you can offer them varied pricing option based on how close the seats are to the stage. This will help you in promoting your event and selling more tickets as well.

12. Multiple Ticket Types
Giving the attendees the option to choose from a numbered ticketing options, packages or providing them discounts works really well. This gives them an opportunity to choose from what suits best for them and also the thought of you providing them with a little extra pushes them towards the buying side.
There are a number of ticketing options to choose from:
Free Ticket
Donation Based Ticket
General Admission Ticket
VIP Access
Early Bird Registration
Group Ticket Packages
Flash Sale Tickets
Promo Codes And Special Discounts
Giveaway Tickets
One-Day Pass
Multi-Day Pass
All-Access Pass
Reserved Seats/Tables Ticket
You can choose a combination from all these options depending on your event and the relevance of the ticketing option. More than one ticketing option helps you boost your online ticket sales.

13. Building A Compelling Event Agenda
It is important for you to create an event agenda and even more important to create a compelling event agenda. Event agenda for yourself and a compelling event agenda for your target audience. It might be a difficult job but noting down your agenda from the start of the event till the end will only make your perspective clear and give you true understanding on how you'll plan and keep things inline.
You also must make room for sharing this agenda on your event page. This will keep your audience excited and enthused about things that would have been lined up for them.
Tips:
Take a good amount of time while writing the agenda of the event.
If you are mentioning the details about a certain guest arriving at a particular time, make sure you follow up.
Don't take the entire burden of writing this on your shoulder, make a rough draft and seek help from the members of your time. It will help you in cross checking and you won't miss out crucial information.
Don't just focus on the content but also on the look and feel of the agenda
When you share this on a platform, take the insights and feedback that you get from the audience
14. Last Minute Registration Special – Have It Before You Can't
If a day before an event or a few hours before your event your tickets are unsold and you foresee a chance they will remain that way then you can apply various tactics around 'last minute registration'.
You can offer them last minute discounts, flash sale, gift vouchers, selling two tickets on the price of one, group discounts and a lot more. Anything that has a sale or discount labelled on it tends to catch attention, so try this next time you have a bunch of unsold tickets.

15. Track Event ROI And Sales Performance
Event ROI is a tool to measure how you are performing and how you can make your sales performance better. You can get insights on what has interested your audience and on what possible areas you can do better. There are various ways to do that:
If you have a mobile app or a website than you can get insights on what areas they are performing well and where the engagement is higher
Surveys or a little fun Q&A to know where do you stand out and where do you need to improve
Make it fun with games and activities that will possibly engage and interest your audience. Encourage them to be right there at the event by keeping it exciting!
Marketing your event through emails, social media or notifications from your mobile app? Analyse what worked best for you in the past events and design your content or graphics considering the past data.
You can use the event ROI and sales performance data to sell tickets for your upcoming events.

16. Create Your Own Ticketing Platform
Sure, you can sell your tickets through different event solutions in the market but what if you had your own website, your very own ticketing platform – wouldn't that be amazing? Well, you can do that with absolute ease. Wootick is your solution, helping you create a visually attractive website where you can sell tickets online, have your own domain, a chance to network with your audience and take in feedback easily.
Take a demo and you sure will want to get your own website with them!

17. Live Chat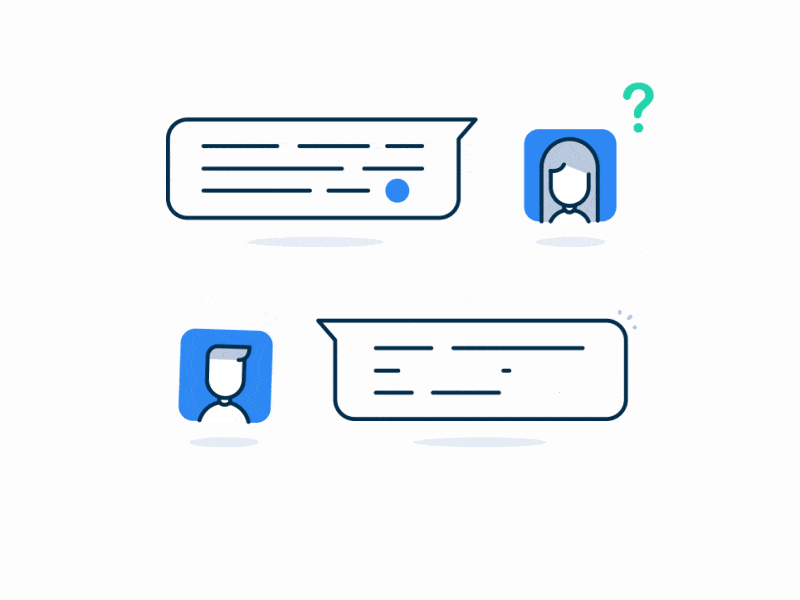 Live chat is the kind of support that the audience needs, it makes them feel heard and that they are connected with a human more than a brand. You can sell tickets online by chatting with your prospect attendees.
Live chat tends to bring more conversions since a human is persuading the targeted customer to buy the tickets. Also, a personal touch that you aren't dealing with a server but a human that will answer all your questions always works.

18. Cross Promotion | Growing Together
Cross Promotion is a great way to increase engagement towards your event or brand awareness in general. You can look for opportunities like:
Sharing the great work of the speakers, influencers or guests that you might have invited and they reposting it can bring visibility to your event.
You can even create cross-sales promotions.
You can promote your event sponsors
You can promote a brand in your weekly newsletters
You can try guest blogging as well to bring awareness towards your event
These are some of the few ways to cross-promote and grow your event visibility and engagement.
19. Event Sponsors To Back You Up
Event sponsors can make a great impact on your event. If you are all in and have a good budget to spend then you can chase big sponsors whose brand value can help your event give a major value. If that is not possible you can reach out to more than one small scale brand and give an impressive pitch about your event in brief and how it will complement them as well.
Sponsors can bring your event to spotlight in some or the other way, so reaching out to them definitely is one sensible option. Sponsorships can be in cash or in-kind, somehow uplifting your event.
For instance, if you organise a grand art-craft event then you can try approaching small scale art suppliers to sponsor your event and provide art supplies and products.
20. Word Of Mouth – Hey! Did You Know This?
Word of mouth is anyday a strong tool to promote the event and get your tickets sold in acceleration. This can be possible through personalising, anything made personal will always leave a mark on the audience. Your past events can help you in this if you have made a great impact the attendees will recommend others as well.
Apart from past experience, you can always attract the target audience by giving them a little something to take away. A tiny contest to meet an influencer or speaker can do the work too. Plan strategies on how you can give them something that they will talk about and spread it.

So, get ready to sell tickets online for your upcoming event and don't forget to leverage all these important points. Make it a star and one 'FULL HOUSE' event.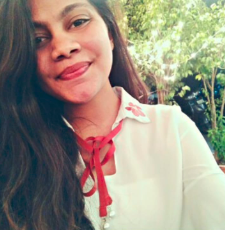 Hoarder. Overthinker. Dreamer. Mostly Writer. Lover of little things and coffee. Always wants to have the last word and wants to be chosen first. Might find her dancing or speaking to herself on the driveway.