Las Vegas, nicknamed Sin City, is best known for its eccentric casinos, clubs, entertainment, and nightlife. A city that knows how to have fun regardless of the occasion, safe to say Halloween 2022 in Las Vegas will be a sight to witness.
Be sure to dress up to impress because there are prizes to be won. Here is a list of fun things to do in this city this spooktober.
1) Hop on the Fright Ride
From the creators of Fright Dome get ready for Fright Ride. Visit Dr. Craven's top-secret research lab, a fully immersive 75,000 square-foot haunted journey. Participants will be transported on the electronic carts and are in for a thrilling experience. All participants must go through the "fear diagnosis" done by the Dr's ghoulish medical staff. Can you escape his evil plans? Or will you be yet another "patient" who gets sucked into this nightmarish adventure? Specifically catered to operate within COVID-19 protocols, this ride is completely safe. Reservations are compulsory. Tickets are available online.
2) Haunted Vegas
Out of all the events, Las Vegas Haunt takes the cake. Scaring the city since 1999, Asylum-Hotel Fear is coming back to Meadows Mall this Halloween season. Take on this frightening journey through the history of the Meadview Asylum, led by Dr. Vander and his son Adriane. Navigate through the dark fright-inducing rooms of the overrun facility. Or walk through the Titanic Exhibit to explore the myths, mysteries, and hauntings of the Ship of Dreams. Complete with over 250 authentic artifacts, and replicas from the original Ship, learn about chilling firsthand accounts of paranormal activity in its world-famous exhibitions.
3) Halloween Town Pumpkin Patch
There is no Halloween without the Jack o'lantern. Dubbed the World's
Greatest Pumpkin Patch is an annual event that runs throughout
October. Bringing pumpkins into town for the last 20 years, the Las Vegas Pumpkin Patch features vintage rides from the '50s, games, a trick or treat station at every ride. With attractions like bounce houses, giant slides, and pumpkins of course. Locations include Boca Park, Silverado Ranch, Rainbow & Warm Springs, Las Vegas Boulevard, Gilcrease Orchard, etc.
4) Halloween – at Magical Forest
Every Halloween, Opportunity village transforms the enchanting Magical Forest into Halloween.
A winter wonderland of sparkling lights, thrilling rides, excellent food, and endless holiday cheer, Halloween is a festive, all-ages theme park. This year would mark the 30th season of Opportunity Village's largest fundraiser. Every dollar spent at the Magical Forest goes towards programs and services for over 3,000 people with disabilities, so while you have fun you know your money is being put to good use. Located at Oakey Blvd, tickets are available online.
5) Zak Bagans' Haunted Museum
The 11,000-square-foot estate built-in 1938 was first owned by renowned businessman Cyril S. Over the years, hostile spirits — family members who died there and whose energy remains — have been rumored to roam the halls haunting the premises. Some long-time Las Vegans even claim pagan rituals took place in the home's basement during the 70s. Paranormal enthusiasts who visit may explore the creepy hallways and secret passages into more than 30 rooms that set the scene for frightening facts. Perhaps the most unsettling part of it is the original staircase from the Indiana "Demon House," notorious for its powerful otherworldly presence before finally getting demolished in 2014. Following its installation at the museum, a group of construction workers had quit the job and refused to ever come back.
6) Moapa Valley Corn
Carve out some time for Fall fun with the family at the Moapa Valley Corn
Maze. Adults and older kids can experience the Haunted Hay Ride, Zombie Paintball, and the all-new haunted barn, The Shriek Shack. In the daytime, ghouls of all ages can dive into play with a bounce house, corn pits, and more, then gobble down some tasty treats as they explore a massive pumpkin patch. Parental supervision is advised as some of these adventures are sure to give you goosebumps. Book your tickets now before they sell out.
7) Haunted Harvest
This Halloween takes your little ones with you to Haunted Harvest at Springs Preserve for a spooktacular, fun, and wholesome experience. The 180-acre attraction in Las Vegas features venues like museums, botanical gardens, galleries, and trails. A safe environment for the kids to experience trick-or-treating, carnival games, petting zoo, carts, vendors selling mouth-watering food, circus activities, and the Boo! Town Train. But the train gets booked fast so buy your tickets today!
8) Fetish and Fantasy Halloween Ball
The annual Fetish and Fantasy Halloween Ball is considered the mother of all Las Vegas Halloween parties. It is a jaw-dropping event guaranteed to be one of the most outrageous, eccentric, and risque Halloween parties you will ever attend in your entire life. This ball attracts people from all over the country every year, dressed in the kookiest, kinkiest, bizarre costumes to experience a variety of entertainment that blends the spooky All Hallow's Eve with a fetish party. Marking its 25th-anniversary, this year the celebrations are expected to be exceptionally good. Guests can enjoy several great DJ sets featuring all kinds of genres of music. It is mandatory to dress up so, put on your sexiest clothes and head over to find out why you should probably not skip this one.
9) HallowheelsLV Trapped
The popular and bone-chilling experience is returning this fall. Trapped is an interactive post-apocalyptic show. This all-new haunted/sci-fi, drive-through attraction uses cutting-edge technology to help deliver to you a night that you will never forget. The show pulls the audience in using years of experience in lighting, projections, and sound to replicate scenarios like conversion mobs, bombs, hostiles, and deadly traps along with a "spooky soundtrack." And if that wasn't enough to convince you, a percentage of the money earned from the haunted house will benefit local techs in need. Tickets are now available online.
If you happen to travel near Las Vegas this Halloween Season, be sure to check these out. Have a Spooky Halloween & stay safe friends.
More on Halloween festival,
1. Check Best Halloween Event Ideas for 2022 that will get your audience hyped!
2. 10 Best Places to celebrate Halloween Across The World
3. Spooky DIY Halloween Decoration Ideas For Your House Party in 2022
Check Out Halloween 2022 Events in Las Vegas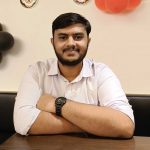 Abhishek Ghoniya is a content marketer who specializes in ticketing and event trends happening throughout the globe. He feels that event marketers should easily find the information they need.
Hence, he is responsible enough to gather information and deliver the relevant guidelines to planners throughout the event industry.