Halloween has to be Spooktacular and everything should be in the synergy of that theme. Be it the spooky costumes or the Halloween treats that are so yummy that we cannot really wait till 31st October. We've created a list of some scrumptious Halloween treats and recipes that you can make all year round and not just on the Halloween. Make your Halloween Parties a tad more amazing with desserts, treats and savory that you just can't resist.
Here's a list of some irresistible Halloween 2021 treats and recipes:
1. Mini Pumpkin Cakes
Halloween is incomplete without pumpkins. Make signature Halloween treats with pumpkin. It would be best if we started with a cake because celebration always translates to cakes. Create delicious mini pumpkin cakes that are filled with fall-favorite spices and cream cheese frosting. It's a cute-looking dessert that looks just like pumpkin but isn't really one, though it is made from one. Bring in all the Halloween vibes with these cute-looking and yummy tasting mini pumpkin cakes.
2. Halloween Cookie Sticks
Make your Halloween treats of the characters that you have been seeing year after year. Learn the absolutely colourful and scrumptious Halloween cookie sticks. Get making cookies that look like the characters Frankenstein Monsters, Bride of Frankenstein, Dracula, Mummy, and even a simple skull cookie. Make it nice and decorative; take the extravagant way because Halloween comes once a month.
3. Stuffed Pepper Mummies
All you savory and cream cheese lovers, this is the Halloween recipe that you got to try. Blend the sweet pepper with a gently spicy mix of Mexican chorizo, cream cheese, sharp cheddar, and cilantro. This recipe makes for the quintessential fun Halloween party food. Also, it's the kind of finger food that fits the Halloween theme.
4. Halloween Pumpkin Dip
A mix of pumpkin and the savory effect, make something that you can enjoy with ginger snaps. Halloween parties are incomplete without some delicious dips, get over the same old dip and try out this Halloween-themed pumpkin dip.
5. Spooky Skull Recipes
Make it all the more spooky by adding the ultimate spooky skull recipes to your Halloween treats. Also, there is a bonus here; you can make one sweet and one savory dish. Make a spooky skull pizza and for your sweet tooth, make a jello skull. Try these interesting Halloween recipes to match all the vibes.
6. Poison Candy Apples
Remember the fairytale Snow White and the poisonous apple? Well, up your Halloween game because we have got you the recipe of the poison candy apples. These black apples will definitely work with the Halloween theme.
7. Halloween Cupcake
Make 5 easy-peasy Halloween cupcakes decorated in five easy designs; mummies, Frankensteins, skeletons, spiders, and Jack O Lanterns. This just looks spooky but it tastes yummy! Take out some time to bake these delicious Halloween treats that are oh-so-chocolatey.
8. Halloween Graveyard Cake
What is a celebration without cake? Bake a cake that matches the scary theme but also tastes delicious. No, this will not have the sweet sprinkly things but definitely, some dead characters and all the graveyard feels.
9. Halloween Spooky Mummy Pie
Your best Halloween recipe search comes to an end here. Make this Halloween spooky mummy pie with fresh cherries, gala apple, and white candy melts. This will surely be the life of your Halloween party. 
10. Ghost S'mores
Last but not least, definitely add this to the list of Halloween treats. Bake ghost s'mores ghost peeps, semi-sweet chocolate chips, and heavy cream. This will add the right amount of 'ghoul' effect to your Halloween party. Also, don't forget to serve the graham crackers that fit just right with ghost S'mores. 
These were some of our recommendations for Halloween treats and recipes. Bake and make some of the absolutely ghoulish and yummy Halloween dishes that turn out to be the life of party. While we have shared some videos for you to learn, but you can definitely take up extensive Halloween cooking classes to learn something more than this. #HappyHalloween2021
Halloween Events & Parties Near You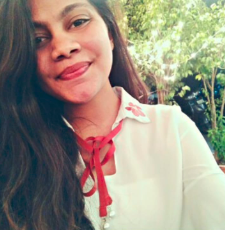 Hoarder. Overthinker. Dreamer. Mostly Writer. Lover of little things and coffee. Always wants to have the last word and wants to be chosen first. Might find her dancing or speaking to herself on the driveway.