What do we do when we have to just stay home? We take our phone, scroll endlessly, binge watch and repeat. But we can do so much more to entertain, engage and be productive during these difficult times. Social media does serve another purpose then just tapping on the pictures we like. Hosting live sessions on Instagram is one way to kill time and get doing something that we actually enjoy doing or might as well help people in learning something completely new.
What can you expect when you are hosting live sessions on Instagram?
1. Sharing Knowledge & Brushing Your Skills
Instagram could be just another social media platform to indulge in endless scrolling. But now that we are all locked in our shells, we might as well use this platform to help people in learning something that they never had the chance to or never took the idea of learning that one thing seriously. You can choose to share your passion or that one skill that you are best at; this will only boost your confidence and not just that, you'd be helping people learn a thing or two. You will be their catalyst in killing their time. You can help people in learning how to cook one scrumptious dish or how to paint to your heart's content. The spectrum is so wide that you can get doing literally anything and everything.
2. Entertainment, Entertainment, & Entertainment!!!
When you indulge in hosting some live session on Instagram, you don't always sign up to help people learn something but also for entertainment. It could be a live chatty show or any musical performance; you can sit at home and still have the fulfilling experience of sharing your talent with like minded people. While it is an opportunity to put your talent and skills to the forefront, for the audience it is a senses of joy and entertainment. It will give you immense joy when you are able to contribute in some initiative like this during these difficult times.
3. Connections, Motivation & All Things Wonderful
You meet some of the loveliest talents across the globe, you get to connect and have your own tribe in a specific niche. You feel extremely motivated and want to do things that you never otherwise would. During these times especially, you get to be all productive and entertaining. You have a free audience ready for you, you've the ability to reach anyone because just like you everyone else too is busy scrolling Instagram. And if your concern is that it is all easy said then done, you might want to try us.
We're happy to help and host all the talents across the globe. We've your back and we will push you enough to do this.
We @allevents.in started having living sessions on Instagram with this very objective to help people do something at home but there is more to this, now it also serves as a platform for upcoming artists to come and showcase their talent and skills in front of a bunch of people. On some days they are making candles and then there are sing-song weekends, where everyone is just enjoying the musical vibes.
It's so beautiful to have people come together virtually, sharing common interest and sharing all the love and kindness towards the creators, performers and artists.
Also, just in case you are wondering who are these people coming and hosting live sessions? Well, they are no celebrity or well-known artists, they are just like you and me who have shaky confidence on some days and definitely a stage fright but they pull it off really well. We support them from start to finish; from boosting them with all the love before it even begins to promoting their live session through all the possible mediums, we are right there for them! A few of them have even started hosting live events here.
We have done this and want to continue hosting more artists. It's a lot less about us and a lot more about the artists and audience. Let's grow and enjoy ourselves while we are at home struggling to find things that can entertain us.
We are in this together, let's do it the online & Instagram-yy way!
Check Out Some Online Events Too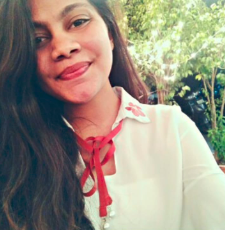 Hoarder. Overthinker. Dreamer. Mostly Writer. Lover of little things and coffee. Always wants to have the last word and wants to be chosen first. Might find her dancing or speaking to herself on the driveway.