It seems like a huge huge task to impress and entertain kids but it isn't that tough. You need to bring some crayons, paper, and fun elements and sold! Well, not just all things artsy but cooking, games & garden activities as well. There are endless activities for kids that you may not even have heard of. Some include art while some include science and some just are purely for your baby's entertainment. Find everything under one place; from papercraft activities to outdoor activities there is anything and everything that will keep your little munchkin's entertained. (Though you can subtly add learning activities fun but ya there is a lot lot more than this).
Here Are 20 Fun & Entertaining Activities For Kids To Keep Them Engaged:
1. Exercise With Your Kids
Make it a fun family time with your little darlings. This could be one of the best choices for kid's activities; a healthy way to bond with your babies. It could be a nice cardio workout which seems like games or challenges or a pumped-up dance workout.
Get your family together and make it a challenge, the one who does it the best wins a small prize or something. Jump and dance, exercise, and indulge in fun workouts with your kids. You can look for some playful workout tutorials, enroll in a fitness club, or take up some family friendly fitness events every once in a while.
2. Make Mind Jars Together
One of the fun indoor activities for kids definitely includes making mind jars. With all the glitters and glue, your kid will only be overjoyed to do something so fancy as this. It might be just another fun activity for your baby but it actually is a relaxing thing that will only help their mind develop in all the good ways. This activity will help your child to ingrain better focus and in controlling the whirlwind of thoughts in your head.
Also, Read: 7 Mindfulness Activities That Will Make You Feel Calmer
3. Creative Paper Plates
Bring out the creative side of your munchkin, DIY paper plates are one of the amazing craft activities for kids. Bring out all the colors, paper plates and let them bring out their imagination. A Pikachu, a SpongeBob or anything random, get them playing with colors and creativity and store the masterpieces or utilize them is an artistic piece if you like!

4. Make Brushes From Natural Things
Kids are too immersed in screens nowadays but you can inculcate this habit from early on to make them stay close to nature. Something interesting and fun would be getting your kids to take an outdoors indoor activity, get them to collect grass, and together make art brushes. Creative, artsy and very much close to nature.
Make it a habit to find some unique activities for kids and let them learn something from mother nature then just from some screens. During these times of COVID-19, opting from screens is only fair but on other days you definitely should choose live experiences over a screen.
5. Making Them Attend Interesting Kids Events
Events are for anyone and everyone. They're designed according to specific age-groups and interests. There are a bunch of kids events and activities or rather countless events. You will find a lot of innovative and exciting events; events that you didn't think existed. There are fun kids coding events to colorful art nights; your kids will learn so much from these kinds of activities. At this point in time there are majorly online kids events but you will find a lot of offline events once this unsettling pandemic ends.
6. Play A Family Photo Bingo
If you are looking for fun indoor activities for kids; so that they're entertained and you could also just make them learn something. Your tiny tots who have started spelling big words, make them play a family bingo.This will be fun and a nice activity which will print an easy picture of all the family members.
Take out all the family photos and place nine photos in front of your baby. Every time you speak out a family member's name, they place a ring, card, or something in it. This will easily store all the family member's pictures and the relation your baby has with them in his/her head. Whoever makes a 3 in a row win, of course, you'll also play with them.
7. #BeCreative- Get Them Coloring
You give a child some colors, they can paint your entire house though that's not the kind of masterpiece you really want. Looking for a crafty or artsy thing that your kid can indulge in? Something that's really basic and will be majorly a part of their schooling; which is art and crafts. Take your kid to a colorful world, bring them the colors and sheets and let them fill it with their imagination.

8. Origami Activities For Your Toddlers
Are you a craft-lover and want your little munchkin to learn craft with papers? Origami sounds like a plan that fits just right with your idea. There are multiple ways on how you can teach origami to your child. One is always YouTube, two is if you ace at crafts you can be the teacher or you can enroll them for craft classes and kids craft events.
Also, about YouTube; we'd advise you to learn from YouTube and teach them rather than just exposing them to screens. Avoid the screens as long as you can. If you don't want to get into all the fuss of learning, you can just look for some of the best kids workshops and get them to make some paper birds, animals, and unique pieces.
9. DIY Bubble Wrap Prints
Image Source: Arty Crafty Kids
Honestly, bursting bubble wraps are a guilty pleasure of just too many adults. It's so stress relieving and fun that anyone on the face of the earth will enjoy doing this. When it comes to kids, bursting bubble wraps will definitely give them joy. But something more fun here would be bringing two fun things together; paints and bubble wrap. Make designs and spill colors on bubble wraps. Also, you can burst them all later on.
10. Make Rainbow Foam Together
Did fancy things like making rainbow foams exist earlier? We may be late to the party or maybe these creative and lovely ideas were never explored during our time. But, rainbow foams are so damn fascinating.Don't know about others but this is definitely our favorite pick on indoor activities for kids. Get the soap and food coloring together and play with the rainbow foam with your kids.
Directions to make a rainbow foam

11. Cook Together With Your Kids
Cooking might be suggested as an activity done just by adults. But you can involve your kids considering that they do not indulge in things that are not safe for their age. Find some easy-peasy kid-friendly recipes for your fussy little babies.Bake a cake together and get your hands dirty while cooking.
Make it a fun cooking sesh with your kids. Again there are countless YouTube videos and you might find kid-friendly cooking classes and events too. Spend some quality time with your kids in the kitchen. However, the recipe tasted you will just love it.
12. Dance… Dance… Dance
The most exciting thing that can ever be is dancing to the tunes of music. You don't have to take them to parties, you just have to make a party at home. Get your baby dancing with the music blasting loud. Find your move and make a fun family time whilst you dance with all the crazy moves.
13. Plan A Backyard Obstacle Course
Make the best use of your backyard. While things that serve entertainment might not be open because of the COVID-19 effect but you can make something fun at home. Create one obstacle course and bring the adventure theme park at home. Have fun & save all the memories in your photos while your kid struggles to finish the obstacle course without tripping once.
14. Involve Science In Fun – Make A Lava Lamp Together
Image Source: The Stem Laboratory
Are you looking for learning activities for kids? Well well well, you might just have found your answer. Make your kids try this science experiment of making a lava lamp. With water, oil and food coloring. You will get them learning how oil and water do not mix and also how oil doesn't change its color. Get them to do this fun experiment to only find them more curious than ever.
15. Storytime Fun With Kids
One of the favorite activities that the kids love is- hearing stories. You will tell them that the moon is orange, and they'll believe it makes their imagination broader and broader. Share your personal stories, fairy tales or tales from history.
16. Indoor Family Picnic
You can opt for outdoor picnics as well but considering the current situation, this was the right option to go with. Spend some quality time with your child, play games and have the time of your life. This will stay as an interesting memory in your head.
17. DIY Tie & Dye T-shirt
Get your kids working! Take out all the old t-shirts and give away the supplies. Let them be creative and use their free time in making tie & dye t-shirts. About, how will they make it? Here is a tutorial that will guide your kids to make a DIY Tie & Dye T-shirt.
18. DIY Homemade Play Dough
A play dough is typically a modelling clay for children which is made from edible items but definitely not a good idea to eat it literally. Join in this fun with your kids; bring the flour, water and all the lovely colors & make a no-cook play dough together at home.
19. Create A Memory Book With All The Photos
Don't know why but scrap books and reminiscing old memories always sound sweet and a lovely idea. Get all the new and old photographs, chart papers and tiny things of decor. Make a memory book with you kid! It'll be all crafts, stories and nostalgia altogether.
20. A Water Balloon Fight
Science, arts and crafts is one thing but if you have to make it absolutely fun and crazy then this is it. Water balloon fights are the thing, smash those balloons and soak in all the madness. Your kids will love to see this crazy side of you but saying that don't throw it from too far. You don't want to hurt yourself or your loved one, be cautious and have fun.
Explore Online Kids Events
Check Out Kids Events Near You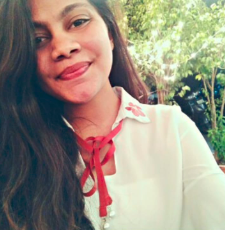 Hoarder. Overthinker. Dreamer. Mostly Writer. Lover of little things and coffee. Always wants to have the last word and wants to be chosen first. Might find her dancing or speaking to herself on the driveway.