Valentine's day falls on 14th February every year. This day is celebrated worldwide to express love with presents and beautiful gestures. While the first month is just about to end, it's time to hunt for some unique Valentine's day celebration ideas. There are many ideas that you can adapt to make it a memorable one for your partner.
Here are some of the unique Valentine's day celebration ideas for the year 2021:
1. Have An Indoor Picnic
If you are thinking of celebrating it at home, then a perfect way to do this is to have an indoor picnic where you can spend time in the living room with a gourmet spread along with the bottle of wine. Pick out some fresh flowers and take out the scented candles to enlighten the spirit of love for you two. Accompanying this with a deliciously cooked dinner, you can have a great time eating and watching your favourite TV shows.
2. Impress Your Love With Homemade Chocolates
If you know that your partner is a chocolate lover, then another unique thing that you can do is to make the chocolates on your own. Making it from scratch will show the extra efforts you've put in to make them happy. You can wrap them in cute boxes or a wrapping paper before giving them away. If you don't know how to make them, then you can watch the tutorials or attend a chocolate-making workshop. Grab the ingredients and get started!
Not just chocolates, you can even take up Valentine's special cooking classes and learn to make their favorite cuisine.
3. Tour To Your Favorite Destination
Fascinated by traveling? Decide to plan an amazing getaway for your partner to their favorite destination and explore it together. You can surprise them with this unique Valentine's day idea to relive important moments, enjoy a favorite activity or simply rejuvenate and make new memories. You can have an excellent experience by going for treks, camping or any other adventurous activity.
4. A Night At The Museum
If you and your partner get thrilled by exploring historical things then you can go to a museum where you can be a part of the parties thrown especially on V-Day. You can even take an after-dark art tour and other interesting art events like the ones offered at the Guggenheim with some handmade chocolate truffles and champagne. You can click pictures with the most well-known pieces in the museum to have an unforgettable experience.
5. A Basketball Game
If your partner is a sports lover, surprise them with the tickets of the basketball match and they'll remember it forever. Watch that happy face whilst their favorite basketball team scores a goal. You both can even make a bet on the winning team just to see who will buy the dinner next week. This is another unique way to make the bond stronger. You can even look for a bunch of sporting events that your partner enjoys.
6. A Musical Time Together
Valentine's is all about romance and nothing speaks romance louder than music. Book an online music session or a karaoke night and groove to the music with your partner this Valentine's day. If your state guidelines approve, you can even have a small live music session at some of the best venues or have a private romantic dance night for your love.
7. Rejuvenate With A Spa-Date Or A Yoga Date
Pamper your partner with a relaxing spa with indulgent treatments, beautiful views and enjoying the time together. It's a great stress reliever, a loving gesture and a magnificent way to take care. Another unusual way to celebrate Valentine's day is by booking a yoga date and having a relaxing time away from the everyday hustle.
8 Gifting Your Creativity
You can paint your loved ones with a token of love with a note along with it to make them feel special and show how much they mean to you. Personalize it with floral letters or painted wood signs with a message inside dedicated to them. The finished results will be fun souvenirs to remember this unusual Valentine's Day. You can take up art classes or workshops online, there are a bunch of Valentine's Day events lined up.
9. Spend The Night Under The Stars
Another way to celebrate your V-Day this year is by sneaking out with your partner to enjoy watching a dark sky full of start=s leaving behind the hustle-bustle of the city. This year, the February Globe at Night campaign is starting on Valentine's Day. It would be an excellent plan for adding a stargazing session accompanied by listening to your favorite songs to make it a night to remember. So pack your bags and get ready for an out of the world romantic valentine date.
Are you planning to do something unique? Have a look at these ideas and prepare the best for your partner. Start making plans for your Valentine already!

Valentine's Day 2021 Events Near You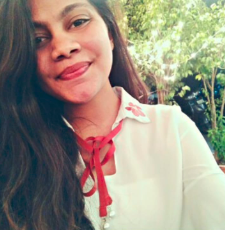 Hoarder. Overthinker. Dreamer. Mostly Writer. Lover of little things and coffee. Always wants to have the last word and wants to be chosen first. Might find her dancing or speaking to herself on the driveway.