Mardi Gras or the Shrove Day is an event of Carnival Celebration that begins on or after the Christian feasts of the Epiphany, ending on the day before Ash Wednesday. Mardi Gras is French for Fat Tuesday, which reflects the tradition of eating fatty food before the ritual fasting of the Lenten season. It is a huge festival for the entire Louisana but if you want to witness the best of everything then you got to visit New Orleans. There is a lot that you can experience around this time; parades, parties, live music and so much more.
Here's a brief of all the information you need about the Mardi Gras festival, from dates to things to do on this day; everything is right here:

When Is Mardi Gras 2020?
Mardi Gras in 2020 falls on 25th February. The most famous time to visit New Orleans is the long weekend before Mardi Gras when you can enjoy parades such as Endymion, Bacchus, Zulu, Rex, and all of the city-wide festivities.

The Colours Of Mardi Gras Festival
The traditional Colours of Mardi Gras are purple, green, and gold. They are said to have been selected in 1892 when the "Symbolism of Colours" theme of Rex Parade gave the colors their significance.
Purple representing Justice
Green representing Faith
Gold representing Power
Remember: Wear the purple, green and gold colors of Mardi Gras during the carnival when you're not in a costume, you're going to get more beads-and that's a fact nobody can question!

Things To Do On Mardi Gras In New Orleans
Whether it's about going to a fun event, reviving the past, watching the vibrant parades, or making endless beautiful memories, Mardi Gras has different meanings for different people. Once again, on 25th February this year, the city is going crazy over this huge carnival, explore all the things to do on Mardi Gras in New Orleans to enjoy this festival to the fullest.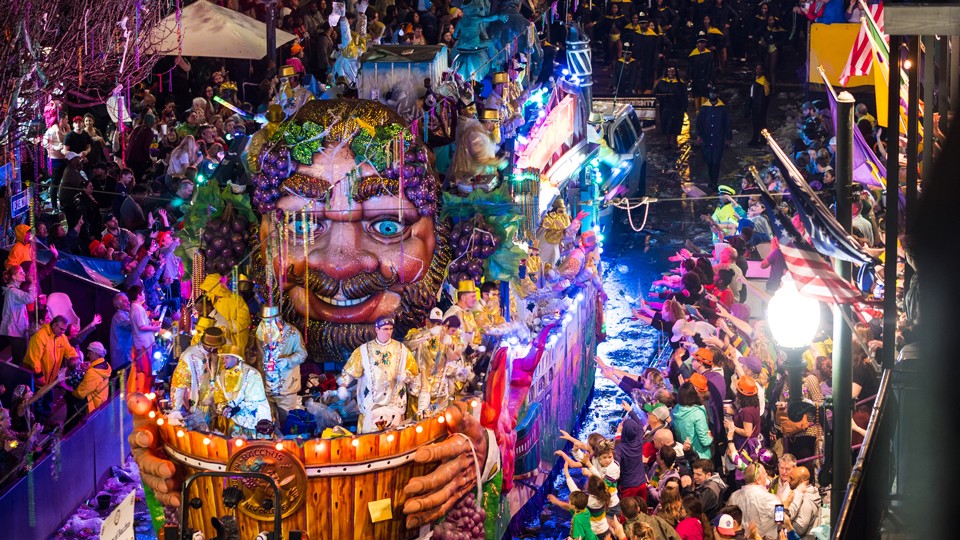 Mardi Gras Parades In New Orleans
Parades are the most common things in Mardi Gras. They are known as Mardi Gras Parade Krewes, pronounced as "Crew," krewes are charitable organizations that throughout the Carnival season hold a special Mardi Gras ball and parades. The most famous parades during Mardi Gras in New Orleans are:
Krewe of Zulu– The Zulu Social Aid & Pleasure Club is a fraternal organization in New Orleans, Louisiana that, on Mardi Gras Day, puts on the Zulu parade every year. Famous for its interesting history and Coconut Parades.
Mardi Gras Indians– For Mardi Gras Indians belongs one of the most elusive, interesting, and vibrant bits of the ethnic quilt of New Orleans. New Orleans, Mardi Gras Indians, and their traditions have a special and ancient subculture dating back to the 1800s. See the stunning, hand-designed beaded and feathered costumes they make throughout the year!
Krewe of Bacchus– Every year, Krewe of Bacchus features national celebrities and attracts hundreds of thousands of visitors. You can see its annual exclusive Rendezvous online. Re-releases live now!
Krewe of Rex– Each year, one member of the Rex community is chosen as Rex, the krewe's monarch for the year. Rex is always an active citizen involved in multiple social causes and philanthropic activities. (He's also dubbed King Rex, but his correct title is just "Rex.") The name of Rex shall be kept secret until Lundi Gras, the day before Mardi Gras. Traditionally Rex is handed a symbolic key to the city by the mayor.
Apart from the popular ones, there are other parades too which you can look forward to:
Krewe of Endymion
Funky Uptown Krewe
Knights of Babylon
Knights of Chaos
Knights of Sparta
Krewe d'Etat
Krewe de Paws of Olde Towne
Krewe du Vieux
Krewe of Alla
Krewe of Atlas
Krewe of Cork
If you love dogs, there is a parade just for you. Krewe of Barkus is a special parade where the participants are dogs, and it will be held on 16th February in New Orleans.
These were some of the parades that happen during Mardi Gras in New Orleans, starting from January till Mardi Gras. But that's not all the festivities that it packs, along with the modern museums and bars, the "Greatest Free Show on Earth" brings excitement to this festival. Around the world, artists and designers work years to put up the most creative and new costumes, beaded dresses, and floats.
Experiences Beyond Parades To Celebrate Mardi Gras In New Orleans
You will find a lot of parades but if you want to go beyond that then there is something for you as well. Masquerade balls, cruise parties, king cakes and more such exciting things to hook you up.
1. Get your masks on because it's a Mardi Gras Masquerade Ball in NOLA
2. Treat yourself with a Mardi Gras King Cake
3. Participate in the Mardi Gras annual costume contest
4. Get shopping for the fest at the Mardi Gras Pop-up Shops
5. Creativity flow: Take your kids to mask making workshops
6. Pay a visit to a Mardi Gras Art Market
7. Get working on your headdress by attending a workshop
8. Drink, dance & celebrate at the Mardi Gras Party
9. For all the foodies out there, take a Mardi Gras Luncheons & Gala Dinners
10. Party on Mardi Gras Cruises with unlimited drinks & fun
11. Catch a flashmob dancing at the Mardi Gras Mambo
12. Hop on a Mardi Gras Party Bus or take a day-trip
Things You Should Keep In Mind During Mardi Gras For Best Experience
1. There will be plenty of space to see the parades, but getting hours early will make sure that you can have the best spot possible.
2. Dress up with any costume you have wanted to wear in the past, in parades, there are even costume parties, so dress your self up.
3. Be careful around the floats, especially with children as the crowd can get wild, you can get knocked over, and you or your child may get hurt.
4. French Quarter is a No-No zone for Mardi Gras in New Orleans if you want to take the kids with you in parades. This is considered an adult area where people with too much revealing costume are found and people flashing for beads.
Celebrate Mardi Gras in New Orleans with the best parades, activities, and events near you.

Mardi Gras Events In New Orleans