No result found! Try with different keywords!
Due to Coronavirus (COVID-19), event information may be out of date. Please confirm the details with event organizers. Also, now we have a list of online events for you to explore while staying safe at home.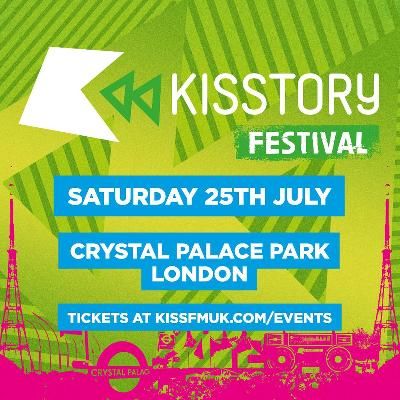 Kisstory Festival
Time Sat Jul 25 2020 at 11:00 am to 09:00 pm
Crystal Palace Park, Thicket Road, Croydon, United Kingdom
Kisstory Festival
Kisstory Festival comes to Crystal Palace Park on Saturday 25th July for a full day of the best in Old Skool Anthems
Music Genres : Club Classics, Old Skool, R&B



Also check out other Festivals in Croydon.
Tickets
Tickets for Kisstory Festival can be booked here.
| Ticket Information | Ticket Price |
| --- | --- |
| 7th Release (ID May be required) | GBP 42 |
| Early Entry Ticket - join queue by 2.30pm (ID May be Required) | GBP 38 |
| 5th Release (ID May be required) | GBP 35 |
Event Photos
There is no photo available at this moment
Nearby Hotels
Crystal Palace Park, Thicket Road, Croydon, United Kingdom
Millions of people are looking for online events
Host an online event to engage them
List Your Event