AllEvents.in is an event discovery platform serving more than 6M event-goers and over 9M event organizers. With the constant growth in the event community and the platform, we need some exceptional writers to contribute in our success and growth. Of course, that doesn't mean that we take what we get, we are selective with our choices and only accept guest blogs that reach the bar we expect.

If you think you have exceptional writing skills and you have been looking for an opportunity to showcase it then read on to know how this works.

Types Of Guest Blogs That We Accept
1. Experimental Blogs
If you did any experiment with regards to organizing, functioning or in the planning of events or you did some analysis of event-goers and you have some interesting insights to share on that then go ahead! Write it down and submit it to us. The blog should have a detailed explanation of the experiment or analysis that you carried on. It should add value to the readers and should have something to takeaway from your experience.
2. Manual Blogs
Content that is supported with relevant data, is descriptive and informative in nature and is a thorough guide on a certain topic is what these kinds of blogs are. 'How To Blogs', 'Beginners Guide Blogs' or 'Something 101 Blog' are the blogs that fall in this category. It should be very fresh, original and unique in terms of content.

3. Graphic Blogs
These blogs are visually strong blogs. A lot depends on infographics and Slideshare, the paragraphs and length of the blog is comparatively lesser than the above-mentioned types of post. This blog focuses on infographics and Slideshare that highlight the topic and bring a detailed understanding through visuals. Keep it visually attractive and yet informative!

Topics Contributors Can Write Guest Blogs On
Event Planning
Event Organizing
Event Management
Event Technology
Event Organizers
How To And Guides Connected To Events
Event Experiences
Various Types Of Events
Event Venues
Online Ticket Sales
Event Promotion
Basically anything and everything that has something to do or is complementing 'events'.

Quality And Submission Guidelines
We only accept content that is original, unique and high quality in nature. Anything that is published earlier on the web or is copyright of some entity will not be accepted.
Using references is okay, but we do draw a line at plagiarism. Saying that you can quote and cite data or references.
We do not want to bind you with word limit but the blog should not be less than 800 words. We want our readers to have insightful takeaways and find some help through our blogs.
We only accept content that is written in English at this point of time.
We reserve the right to format and edit articles that are sent in to match the standards of our already published blogs.
We will not accept any blog content that is already published on our website. Please look for our website before you work on any article
We will not accept blogs that are way too promotional even if they are complementing the event business. Adding a link or two is fine but that's about it.
How To Submit A Guest Post?
You can submit your blogs on this mail id: zeel@allevents.in
In case of any queries or concerns, you can drop in at the above-mentioned mail-id.
Rest assured about the credits! A business complementing events, a passionate event-goer or someone who has had experience with events; this opportunity is for all of you. You can send in link to your social media handle, your blog page or your website to us and we will attach the link with your submitted blog!
Cheers!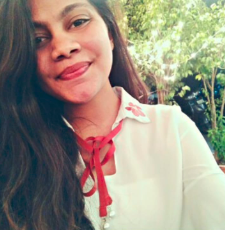 Hoarder. Overthinker. Dreamer. Mostly Writer. Lover of little things and coffee. Always wants to have the last word and wants to be chosen first. Might find her dancing or speaking to herself on the driveway.