With trade shows and conferences comes the great opportunity for businesses to promote their product and attract customers on a big level. Participating in such shows also allows a brand to discover what's latest in the market and connect with leading names in their niche. If you own a business and looking for connecting with big brands as well as a huge audience, Ahmedabad is a good place to uncover some marketing opportunities. Trade shows in Ahmedabad open effective routes for the brands to get significant recognition at national and sometimes international level. Participating in such shows means making meaningful relationships with customers as well as people in your niche. Don't miss the chance to stand out and increase the chance of success even after a trade show or conference.
1. Make the Most of the Last Day of Conference
Did the trade show ended soon and your potential customers could not buy the product? Such a scenario can happen often where you can lose customers. If you don't want it to happen next time, convert your leads by giving them exciting giveaways on the last day of the show. The last-minute free gifts to the attendees is a good strategy to attract their attention and lure them with your product. However, make sure that your gift is something amazing and interesting for the people plus it is associated with your niche. For example, if you are into a traveling business, offer gifts such as a mini traveling bag or a free trip to lucky draws. In this way, you can gain the trust of users and making them take interest in your product at the end of the day.
2. Follow Up with the Attendees
Most of the time, you sell the items and forget about the rest. And this is how you lose a long-term customer. Business is all about making a healthy relationship with your customers. Thus, it is vital to follow a follow-up strategy and connect with the attendees of the trade show you participated in. Start with the thank you emails along with a marketing brochure. You can also request them their feedback and ask how the brand can improve. For the customers to instantly recognize you, send them stuff with your photo and name of the company mentioned.
3. Talk to Your Team
Receiving feedback from your team is as important as taking feedback from your customers. Take internal follow up from your team to understand your brand's performance. After the trade show is the best time to talk with them and discuss the business highlights. Ensure the feedback from the team is given to the executives.
4. Don't Miss the Chance to Socialize
If you are participating in trade shows in Ahmedabad, make sure you take advantage of it and connect well with the attendees there. Apart from telling them about your business offerings, try to communicate with them understanding the purpose of their purchase. Another great way is to set up a booth where they can click pictures and you can post the same pictures on your website so they feel valued.
5. Set New Goals with the Team
Setting goals is an important step to take the business one step ahead. After taking follow up from the team, build and share new ideas with them. This will help you shape a new strategy for the next big event. Make new goals to attract more and significant business with the participation of the team.
Trade shows and conferences are a sure-shot way to make your business transparent amongst the audience and get recognized. Follow the tips for attaining success after a trade show in cities like Ahmedabad. Also, if you are looking for next big trade shows in Ahmedabad, visit AllEvents.in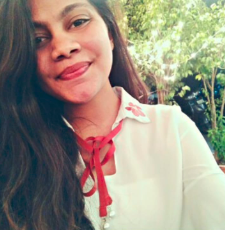 Hoarder. Overthinker. Dreamer. Mostly Writer. Lover of little things and coffee. Always wants to have the last word and wants to be chosen first. Might find her dancing or speaking to herself on the driveway.