Ahmedabad is a popular place in India founded in 1411 AD by Sultan Ahmad Shah. Since then it has grown into one of the major cities of the country. This full of life city has something exciting and interesting for every person. Right from the amazing rooted culture, heritage sites, and mouth-watering cuisine to grand malls, stadiums, markets and rocking nightlife in Ahmedabad, you can explore many things here. Taking a trip to the place could be one of the best decisions of your life that would give you so much to inhale, embrace, and experience. Unfortunately, trying all the things available in one place is difficult especially when you are taking a trip to a happening city like Ahmedabad. No worries, here's the list of top 5 things you can look forward to in Ahmedabad for enhancing your travel experience.
Visit the Auto World Vintage Car Museum
This museum of the city represents one of the biggest collections of automobiles in India. Be here to witness over 100 amazing collections of motorcycles and cars. Being one of the best vintage car museums in the world, this place consists of motor cars from leading worldwide companies like Bentleys, Daimler, Rolls-Royce, and more. You must see the auditoriums, souvenir shops, and have fun by taking a drive of these stunning cars at the stations here.
Party Your Heart Out at The Electron Disc Lounge
For the best crowd, there's the amazing setting of the nightlife in Ahmedabad.Matching the level of metros' lifestyle, Ahmedabad offers many clubs to people who enjoy happening nightlife. And, the Electron Disc Lounge is best out of those clubs, allowing you to enjoy to the fullest. Don't miss any chance to be there and have a lot of fun.
Take an Interesting Tour to The Science City
Get a closer and fascinating look to Science facts at the Science city in Ahmedabad. It's a project initiated by the Gujarat government to make people think critically. There's no chance to get bored! You are going to receive experiential knowledge in the form of entertainment. You can see live demonstrations and virtual reality activities making you understand things easily.
Visit The Amazing Jhulta Minara
Are you into history and archaic architecture? Then Jhulta Minara is a perfect destination for you in Ahmedabad. The other name of the place is "Shaking Minarets" presenting beautiful design and architecture. There's a mystery behind the name and place. The craftsmen used such a mechanism in the Mosque that whenever a minaret is shaken, other minaret starts shaking as well. Isn't that amazing? Go there and experience it by yourself.
Stay Comfortable at The Courtyard by Marriott
This is an amazing 5-star hotel in Ahmedabad offering the best and top-notch amenities to the guests. With lavish facilities and delicious dishes at different restaurants of the hotel, stay here to live a royal life during your vacations. You will not regret the decision for sure!
These are amongst the most exciting places of Ahmedabad. Not only the city has a strong traditional culture, but also amazing and fun side that can be reflected in its best places. To fill your next trip to Ahmedabad with lifelong memories, don't miss to visit these best spots.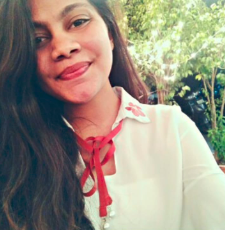 Hoarder. Overthinker. Dreamer. Mostly Writer. Lover of little things and coffee. Always wants to have the last word and wants to be chosen first. Might find her dancing or speaking to herself on the driveway.