To escape the mundane and the vapid life events and to break the stereotyped everyday roles that offer no space for breathing an air of freedom, people party hard-an outlet to unleash the inner crude self that doesn't want to be restricted by the constraints imposed by the social norms. Boozing, grooving to high voltage music, singing and screaming at top of the voice, goofing around with friends or sometimes even strangers, getting lost in the intoxicating stream of music are all the elements that make up the perfect idea of a party these days. For all such party enthusiasts Full moon parties in Thailand are a party haven that attracts travellers, tourists and backpackers from every corner of the world to freaking lose themselves and to get a taste of what freedom feels like where there are no barriers of time or of perceptions.
Now what is a Full Moon Party ????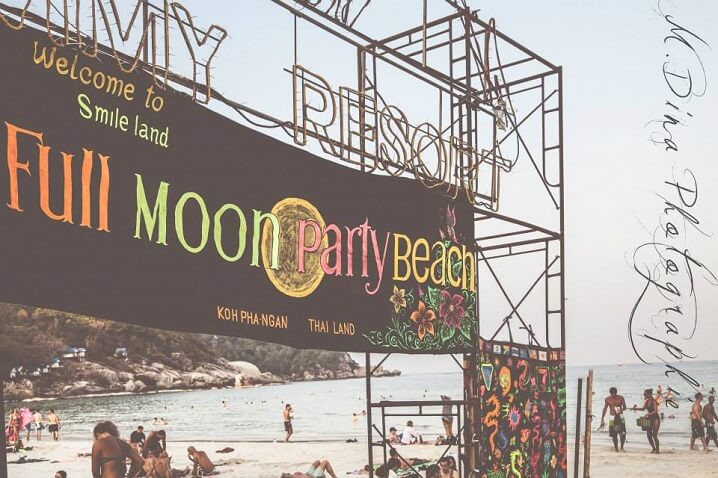 The Full Moon Party is a grand full night beach party held each month on the night of the full moon that originated in Haad Rin on the beach of the island of Ko Pha Ngan in Thailand. It brings together thousands of people from all over the world to partake in the festivities and to dance all night long. But let's say, if you miss it, there's always the half-moon party, quarter-moon party, and black-moon party. Haad Rin is home to the Full Moon Party and is the island's nightlife capital and has Koh Pha Ngan's biggest concentration of beach clubs that collectively put on the ultimate tourist get together.
Story Behind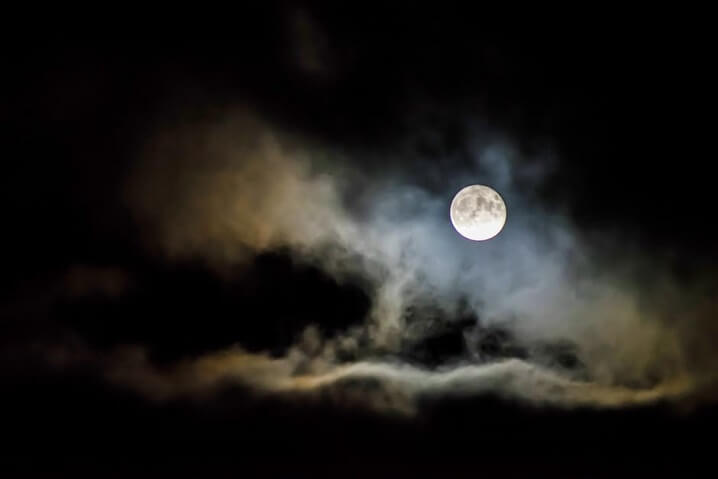 It is believed that it all started on the night of the full moon when a group of travellers threw a birthday party for their friend, they felt so great that it become a ritual for them to come back again to the same place month after month on the full moon night. With the passage of time the concept gained popularity through word of mouth and this is how this whole idea of full moon party originated.
What to Find in the Full Moon Party?
Every month around 10,000-30,000 people flood to the full moon party which begins at the dusk and continues till the morning. The beach is lined up with bars playing different genres of music and there is something for everyone here- trance, techno, drum and bass, commercial dance and reggae. There are booths selling alcohol and glow-in-the dark face paint while jugglers and fire eaters mesmerise the crowd with their splendid performances. As the night progresses, craziness sweep the beach and it turns it into a dancing frenzy.
Full Moon Party Dates 2017! It's Party Year ☺☺
Here I have penned down 2017 – 2018 Moon Light Parties Schedule. If you plan to attend such a party in the coming year, then it is highly recommended to get your bookings done at least two months beforehand and if you are going there in the peak season from December – April then try to get it done at least 3 -4 months in advance.
Thursday 12 January 2017
Sunday 12 February 2017
Sunday 12 March 2017
Tuesday 11 April 2017
Thursday 11 May 2017
Friday 09 June 2017
Monday 10 July 2017
Monday 07 August 2017
Tuesday 05 September 2017
Friday 06 October 2017
Friday 03 November 2017
Sunday 03 December 2017
How To Reach There ?
Depending on where you are coming from, the two closest islands to "Kho Pha Ngan" are 'Koh Samui' and 'KohTao'. There are inexpensive ferries running daily between all the islands. Kho Pha Ngan is about 3.5 hours from Surat Thani Province and 30 minutes away from Koh Samui Island by boat. During the Full Moon Party, boats go from Koh Samui to Haad Rin every hour.
By Flight
The fastest way to Koh Pha Ngan is to take a short flight from bangkok to Koh Samui and catch a ferry to the island. Book an hour flight from either 'Bangkok Airways' or 'Thai Airlines' to 'Koh Samui' and purchase boat and bus ticket from the airport counter to get to ' Koh Phangan'.
By Bus
Purchase both bus and boat ticket from any travel agent in Bangkok direct to Koh Pha Ngan. It normally takes around 18 – 19hrs. But the best part is you don't need to book beforehand as bus is available all the time.
By Train
Buy joint ticket (train and boat) from Bangkok train station to Koh Pha Ngan. Try to book your tickets well in advance if you are planning to go on weekends or on Public holidays.
Where to Stay?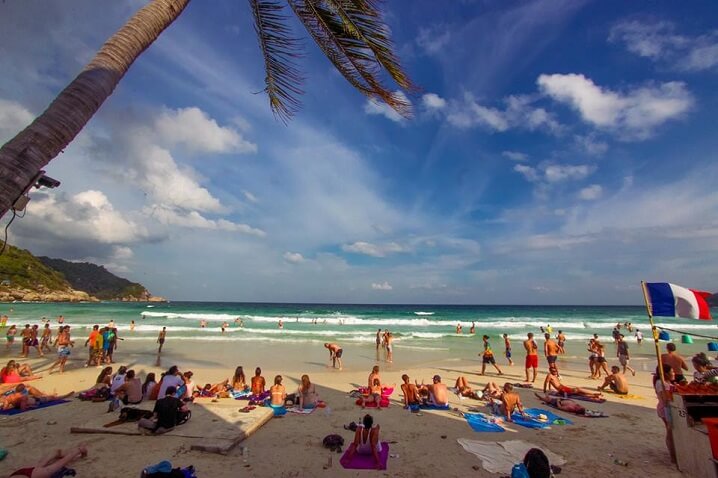 There is accommodation all over the island of Koh Pha Ngan, but if you want to be close to where the actual party is, then you should stay in Haad Rin. If you want to find accommodation, you'll need to come here at least FOUR days before the party in order to find a cost effective place to stay. There are many options for staying-5 star hotels, budget hotels, bungalows and regular rooms available there, depending on your pocket, preferences and availability.
Guidelines or better say Lifelines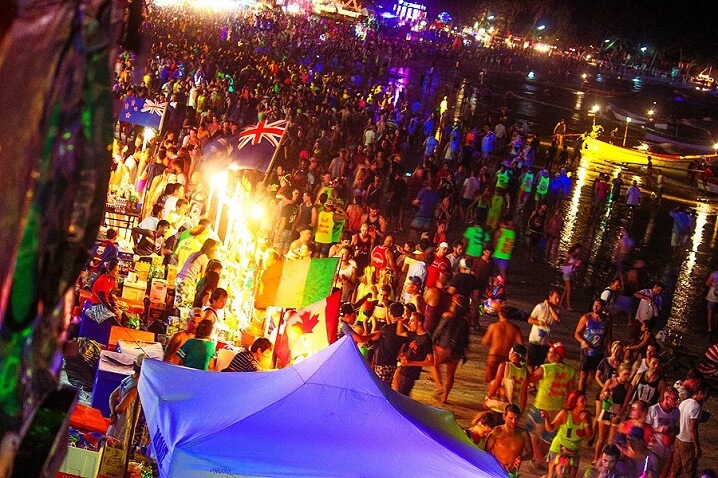 Avoid Drugs : When it comes to partying and letting yourself lose, one thing that's quite natural is to get high. There's no harm is getting high but never through drugs. It is illegal to take drugs in Thailand and if caught very strong penalties can be imposed. Instead booze, dance and get intoxicated by natural beauty of the sea and the moon.
Wear footwear : There might be broken beer bottles or other sharp objects littering the beach which might cause injury to your feet if went without any footwear. Injury could ruin the entire fun and cause a lot of trouble for you and the ones accompanying you. So, either wear shoes or flip flops and be safe.
Personal belongings : Keep your passport and other valuables at the hotel and try to bring as little as possible. Bring enough money for drinks. In such gatherings, theft is rife and thieves take advantage of the chaos. So, no point in getting robbed as you will never be able to catch the thief.
Avoid The Sea : Swimming in the sea might be a to-do thing on your list but simply scrap it during a full moon party. Strong water currents increase the risk of drowning and more importantly everyone uses the sea as their personal toilet during the party.
Have a Lasting Memory and an Epic Time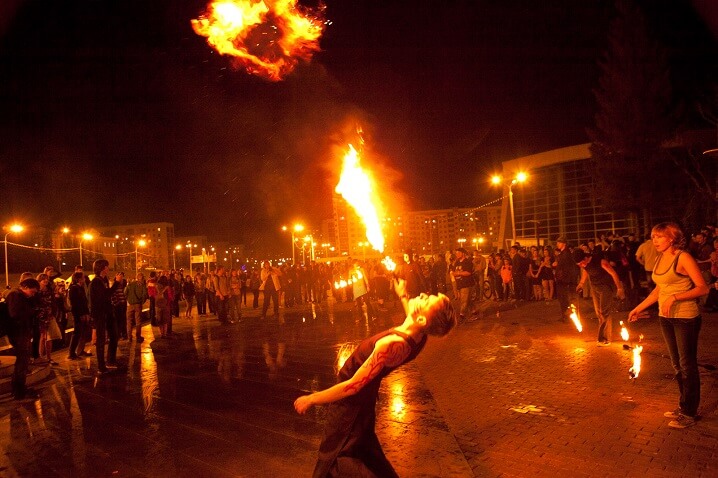 Attending a Full moon party is an experience that will continue to be a chapter in your travel dairies symbolising craziness stuffed into one night. You'll be surprised by the turn of events taking place and all this makes it worth a try. For safety be prepared and don't be reckless. But at the same time allow yourself to get messed up (to some extent) and free yourself otherwise you will not be able to relish a time free of inhibitions and suppressions.

Anshika Sehgal is a travelling enthusiast and an avid lover of books andAmerican TV shows.

Latest posts by Anshika Sehgal (see all)