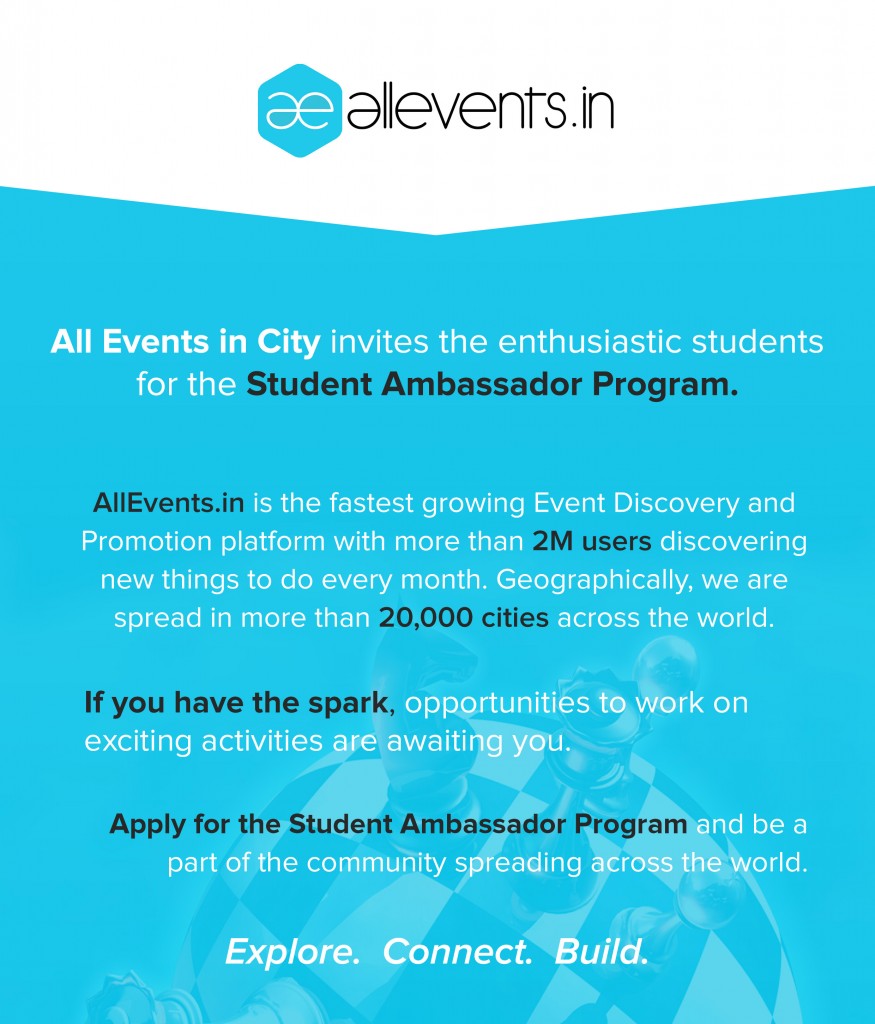 Join the Student Ambassador Program and if you have the spark, opportunities to work on exciting activities are awaiting you.
Who are we?
All Events in City (http://All Events in City.in) is the largest and fastest growing event listing and discovery platform across the globe. With more than 12 M events spread across more than 20,000 cities and accessed by more than 2 M users every month, it is the ideal platform to find and promote all kinds of events – from business meet-ups to concerts to parties to expositions.
The company started in April 2011 and has seen rapid growth making it one of the most watched startups in the event space. We have evolved along with the industry to provide cutting edge features in an intuitive manner.
About the program.
We are looking to establish a "Student Ambassador Program" chapter in your campus which would act as a connection between All Events in City and the institute and disseminate relevant career opportunities. Student Ambassadors are individuals who are passionate about their career and make significant contribution to the responsibilities they take up even when they are in school or college. The Student Ambassadors of All Events in City are given the opportunity to learn new skills, earn recognition, and advance their leadership in the social and academic community. We are looking for individuals who are willing to make a difference.
All Events in City is giving the opportunity to showcase the leader in you. Be a part of the Students Ambassador program at All Events in City and get to know yourself better. Develop your skills in multiple directions, receive cool stuffs- goodies, cash prizes, career opportunities and certificates, and of course add valuable brownie points to your resume.
So the idea is simple: Explore. Connect. Build.
Benefits of joining.
Acquire leadership roles along with vocational skills in management and public relations.
Receive cool stuff  and gifts occasionally.
Chance to achieve All Events in City internship/PPO/job based on performance.
Prizes and incentives to top performers.
Help in promoting the events in your campus and other events in your base city and in the process gain valuable marketing experience.
Gain access to a network of All Events in City Student Ambassadors all over the world and act as a campus connect between student teams all across the world.
Plan and host fun events in your campus with entire support from All Events in City.
Ambassador requirements
Currently a student with a college or university.
Enthusiastic in leadership role.
Available for 10 hours per month to spend on activities.
Familiar with All Events in City services and benefits.
Must be social, friendly and keen to meet new people.
FAQ
What do I have to do as a Student Ambassador for All Events in City?
As a SA, you have a great opportunity to represent our brand at your campus and assist us in creating awareness about what we do. We will be creating a detailed timeline grid which captures the various activities that you will be required to perform at the campus during the program.
As a student I shall have to :
Be medium between the institute and All Events in City you are expected to increase visibility of the college by listing the events on our portal.
Try to make sure all the events happening in city are listed on our portal. Reach out to the world and let them know there are lot of things happening around that can be explored with allevents.in.
Curate events and make a list that shall help your colleagues to find the interesting events happening in your city.
Is there anything else that I need to do apart from the activities listed?
Apart from the activities listed, we want you to think creatively and share insights and recommendation about what your colleagues or mates would like to have from All Events in City. We will create a monthly report format, which you need to prepare and share it with us by 25th of every month.
Who will provide the content, posters etc?
We will provide you with the information required. At the same time, you are free to also make recommendations on what is best suited for students at your campus.
For creating documents, do I need a professional gear? I do not have one.
No, it is not mandatory to use a professional gear for creating documents. The technology today has advanced to a level where you will see people across the globe create interesting content using the video, audio and camera capabilities of their smart phones. How you create and package the final product will showcase your creative and planning skills.
If there are more than one SA's appointed in our campus, do we need to work separately on the activities and reports?
You all represent All Events in City at your campus and you will have to work together as a team. However, the success of your team will depend on how all of you divide responsibilities amongst yourselves and leverage your individual strengths to create an impact.
What do we have to do with the content you share with us?
You need to share this content with all the students at the campus. You can leverage the group mailing id, internal Facebook / other groups to amplify the impact of the content.
What do you mean by measuring the impact? Is it mandatory?
You can never evaluate the success of any campaign if it cannot be measured. This is something you will have to incorporate in every strategy you conceptualize as you go forward in your career. Hence measurement is extremely important. I will cite an example of how you can measure the impact. For a mailer that is sent across to all the students, you need to capture the number of students it was shared it, the feedback / response / query you received against it, personally take feedback from a few students on the content and create a log in a document. All your activities will add to your performance score!
Who can I reach out to if I need more clarity or support?
You can reach out to us on +91-8866660039    or     email at sap@allevents.in