When it comes to Rajasthan, our thoughts turn yellow with sand layers, we imagine colorful skirts taking rounds on Rajasthani folk music and our taste buds tickle with burst of spices of its rich food. Don't stop to the relishing thoughts! Rajasthan is more magical when seen for real, in person!
So, here is a glimpse of four road trips that you can take with your dear ones, or enjoy all solo to add more life in your mundane routine.
Jaipur to Ranthambore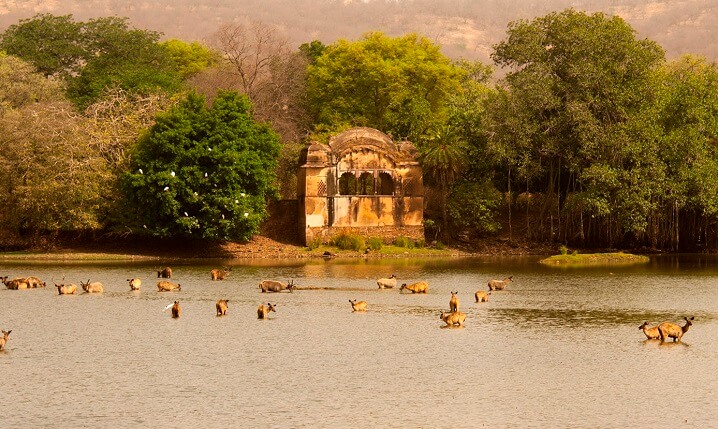 The beauty of Jaipur is not a surprise. But why should we ponder over just one pretty city? Hit the road and lead straight in the lap of nature, to Ranthambore. Ranthambore national park is one of the most famous national parks of India.
The time duration by road will be around 3 to 4 hours and the journey will be a bliss with pleasant natural sites. The main attractions in this road trip are-
Kothun
Situated approximately 55 Km away from Jaipur, Kathun is a village that will be a perfect halt of your journey. The language used in Kothun is Hindi which makes it easier for Indian travelers to communicate. It is a simple village with scenic beauty of Rajasthan.
Lalsot
Lalsot is a city in Dausa district and is a tourist attraction for several temples in and around it. Some of the famous temples to visit are Durga Maa temple and Shri Paplaaj Maata Mandir. Dhoondari is the local dialect here but no worries, you will grow a Rajasthani ear with each passing mile.
Jaisalmer to Bikaner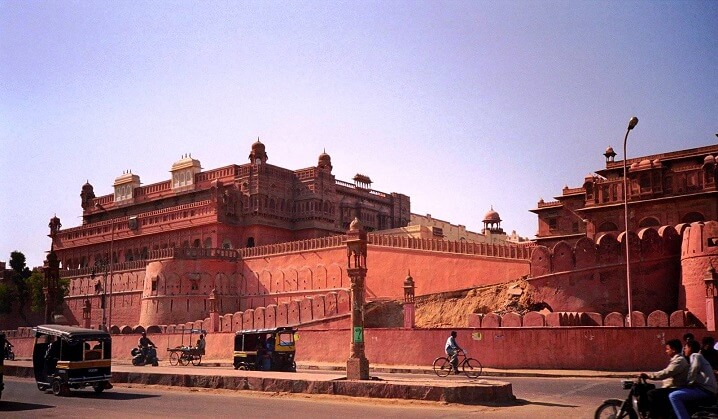 Jaisalmer, the city full of golden sand, is famous for its desert vibes. Bikaner, on the other hand, is an attractive tourist spot. The famous sweets and snacks of Bikaner will be a perfect treat for your taste buds sunk in dust of Jaisalmer. This trip will surely cover various definitions of beauty.
To reach Bikaner from Jaisalmer, the best way will be via Gajner Palace. The main attractions of this road trip are:
Gajner Palace and Wildlife sanctuary
Though this journey will be of 5-6 hours, but you must stay at Gajner Palace for sometime. This palace hotel holds the royal gist of Rajasthan. But the best thing of this road trip is Gajner wildlife sanctuary. You will come across endangered rare fauna species around the lake of this wildlife sanctuary. Wild boar, desert fox and what not!
Kolayat
Kolayat is a beautiful town of Bikaner district. The best things to dig in Kolayat are the colourful markets full of Rajasthan's rich culture, various religious places and Lake Kolayat. It must be visited to know why it's one of the most beautiful spots of Rajasthan.
Jodhpur to Jaisalmer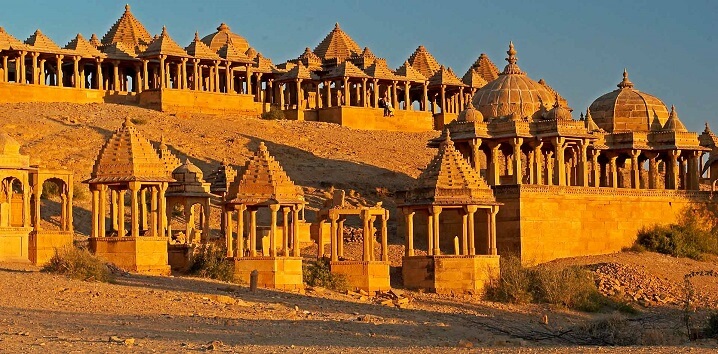 Jodhpur is itself such an enriching land of Rajasthan, dipped in the traditional beauty of the state. The road trip to Jaisalmer, the golden beauty, takes turns through various not-so-famous yet lovely places.
This journey will last for 4 to 5 hours. The best places you should not miss in this road trip are:
Mandore
The historical importance of Mandore is as immense as its cultural heritage. The ruined Mandore fort is a sight you will never get over with. It also has a beautiful garden.
Osian
Osian is known for its historical beauty that goes back hundreds of years. Osian has got Jain Temple and Sachai Mata temple to feed to the travelers. The architectural details of sculptures have begged it the title of "Khajuraho of Rajasthan".
Khichan
Khichan village is for those who are in love with nature and everything it offers. I mean, who doesn't want to gaze at the migrating birds in flocks! If you smiled even thinking about the sight, Khichan village is a perfect spot for you.
Udaipur to Pushkar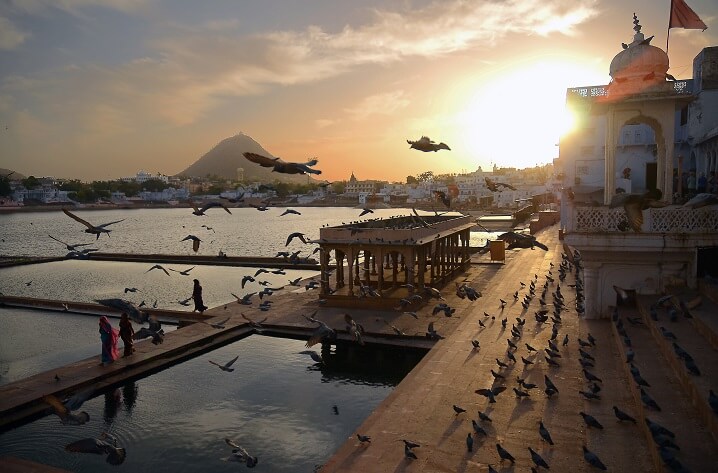 Udaipur is the city of lakes. Udaipur is a right place for writers, photographers, travelers and pretty much for everyone. Pushkar is one of the most famous tourist places of India. Resting in the lap of mountains, Pushkar is perfect for all those who wish to see a blend of religion and entertainment.
This road trip will last for about 4 to 5 hours. The best halts for Udaipur-Pushkar road trip are:
Deogarh
Deogarh has earned its name for luxurious resorts. It also has a train that moves through sanctuaries and Kali Ghati hills, letting travelers have a trip to nature and the gone era.
Ajmer
Known for the famous Dargah Sharif, Ajmer is visited by tourists all year. The worth visiting spots besides Dargah Sharif are Nareli, which has scenic beauty with sculptured Jain Temple, Taragarh fort, Chaupati facing Ana Sagar lake.
So, pick a day, choose a destination and start your unforgettable journey on the unexplored roads of Rajasthan.
Looking for more famous places to visit in New Year? Checkout all the happening New Year parties in Rajasthan

A writer, a fashion designer, a teacher and a part time blogger. She reads and likes to quote herself. An enthusiast, she is inspired by music and nature.