Rann Utsav – A White Desert Festival
Nov 1, 2016 to Feb 20, 2017 – Gujarat
Amidst the striking white plains of salt, Rann Utsav marks the celebration of Kutch's wild territory and diverse culture. The flamboyant colours of the exquisite Kutchi embroidery to the cultural program by local artisans to the scrumptious Kutchi Thali (food), the festival offers myriad encounters that will leave you in awe.
Organized by White Rann Camping and hospitality, this festival is celebrated from November to February and encompasses various activities other than hiking through the white desert. The temperature during the festival varies from a minimum 10 degrees to 30 degrees.
On full moon nights the festival illuminates an infinite aura of vibrancy during Rann Utsav. A visit to this festival will leave traces of Kutch in your heart for a lifetime.
As Sir Amitabh Bachchan say – Come. Breathe in a bit of Gujarat.
How to Reach
Tent City, Dhordo, Kutch, Gujarat, India – 370510.

By Flight
The nearest airport is in Bhuj. From there Rann of Kutch is about 85 kms. Bhuj airport is very well connected with Mumbai and Delhi flights. If you book the package of Rann Utsav the arrangement from Pick-up at Bhuj to Drop at Bhuj, accommodation at Rann Utsav, food, sightseeing of Kutch, everything is arranged by them.

By Train/Bus
You can check out IRCTC for trains and Red Bus for busses to bhuj. Bus to directly Bhuj maybe hard to find. Instead search for Bus to Ahmedabad or Surat from where you find many interstate buses to reach Bhuj or Rann Utsav.

By Road
Ahmedabad to Rann Utsav is 400 kms/8 hrs.
Surat to Rann Utsav is 680 kms/10 hrs and from Rajkot to Rann Utsav it is 350 kms/6hrs.
A Virtual Tour To The Land of White Desert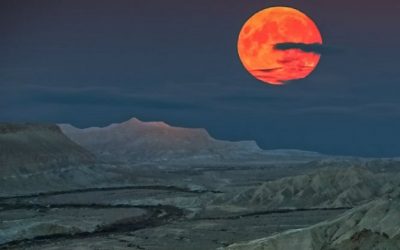 NASA Astronomers have confirmed that Supermoon on the 14th of this month will be the biggest and the brightest of all the Supermoons that occur usually. Recently, on October 16 people saw the first supermoon of 2016. Two more are to happen, one on 14th November and...
read more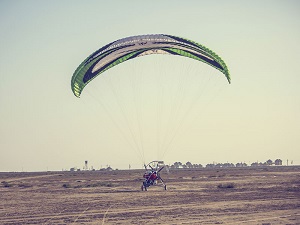 Para Motoring
Take to the skies, to re experience the Tent City like never before.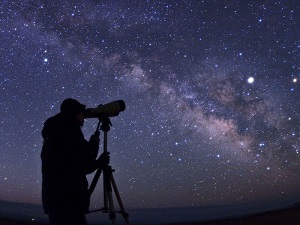 Star Gazing
Explore the attractive star studded sky from the equally attractive Tent City.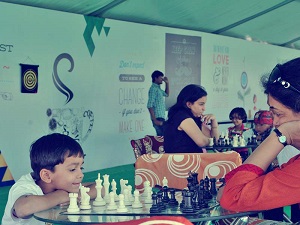 Chess
Revive the grandmaster in you! Put your best strategy to work at the leisure club at Rann Utsav.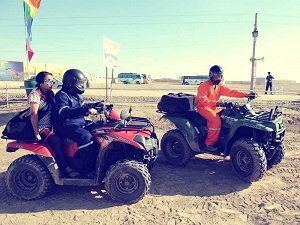 ATV
Mount these mean machines and you're bound to get a desert race's adrenaline rush.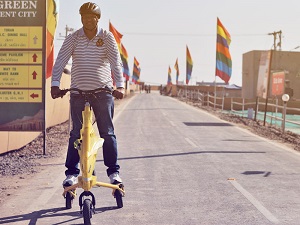 Trikke
A three wheeled scooter-like street machine that combines fitness with an enjoyable ride.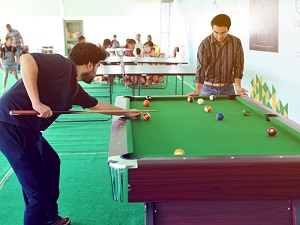 Club House
Revel in the games you've enjoyed for so long at Rann Utsav's club house. Even indoor games can be very very exciting.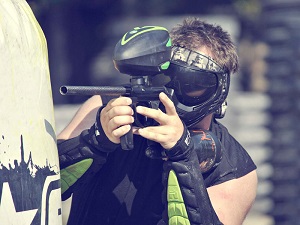 Paintball
Gear Up! It's war time! Go one-to-one on the battle field with audacity.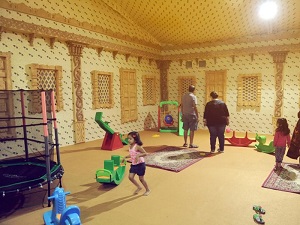 Kids Entertainment Zone
A dedicated kids entertainment area will make them feel welcomed & totally at home.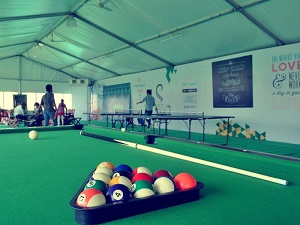 Pool
Enjoy a game of pool with friends and family at Rann Utsav. Scoring a pocket won't give you as much pleasure as it will here.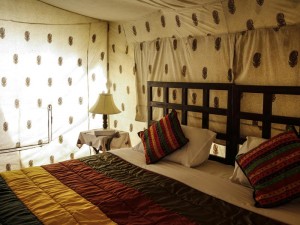 Premium Tents
Plush interiors, exquisite fabrics, wooden flooring and equipped with an AC & heater, the Premium Tents are designed to pamper your senses after a long day of revelry. Spread across an area of nearly 44 sq. mt., this tent includes a spacious porch, a comfortable double bed, an attached bathroom and a cozy sitting area with a centre table and two chairs to relive the most memorable moments of your stay.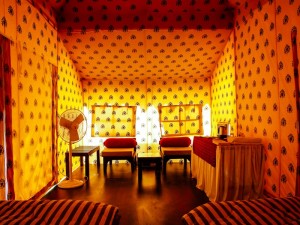 Non-AC Swiss Cottages
Cozy and delightfully decorated the non-AC Swiss Cottage is approx. 36 sq. mt. in area. Feel at home with a charming front porch, two single beds, an attached bathroom, a centre table with two chairs and a fan to help you stay cool. Colorful carpets adorn the mati-lipan style flooring in this accommodation. Meals are served in the exquisite substantial common dining area where you get the chance to meet fellow travellers.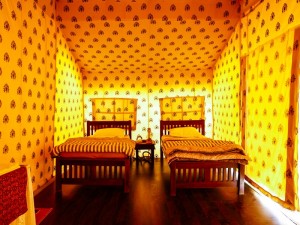 Deluxe AC Swiss Cottages
Graceful décor, luxurious amenities and spacious rooms sum up the Deluxe AC Swiss Cottage. Spanning across 36 sq. mt. in area, it welcomes you with a front porch and lets you unwind with its well-furnished interiors that include two single beds, a centre table with two chairs,an attached bathroom, and an elegant wooden flooring. The Deluxe AC Swiss Cottage is a snug retreat to rejuvenate your senses.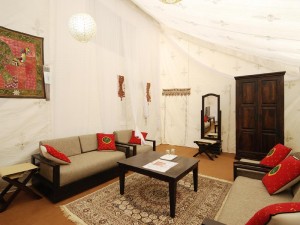 The Darbari Suite
The Darbari Suite offers a whole range of imperial indulgence. Its elegant interiors, furnishings and luxurious amenities, will make your stay an absolute royal affair. Spread across 1,600 sq. ft. the suite is equipped with an AC, heater, flat screen TV, mini-bar and includes a sit out area for a camp fire, a living room furnished with a sofa set, two posh master bedrooms, a spacious dressing room, an attached bathroom, and a private dining area. Darbari Tents are available on request.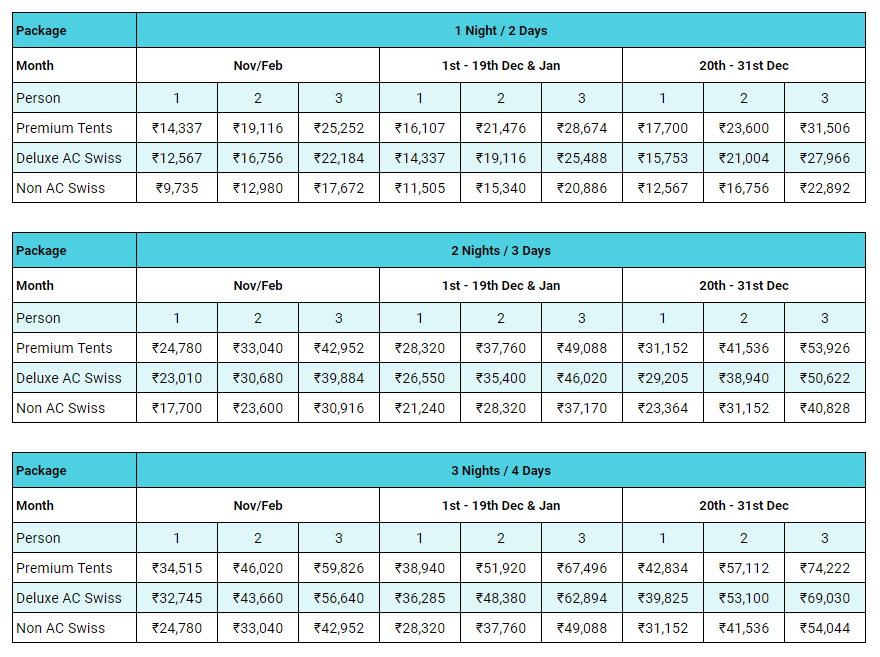 Note
One tent can accommodate maximum 3 person. In one transaction only 1 tent can be booked. For more tents/bookings follow the process again.
"Not all dates are available, kindly call before booking."
Contact Us
For Bulk Booking (more than 20 person) or further inquiry, contact us at sudhakar@allevents.in or call us on +91-9687001057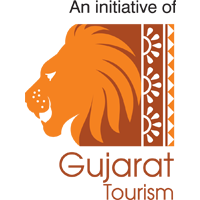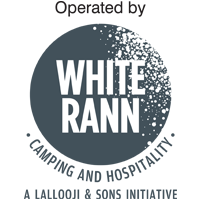 Interested in Partnership/Affiliation?