If your event is on All Events, it means that it's Public event or it was before making Private (Invite-Only/Friends of guest).
We get lot of inquiries like why my event is posted on All Events, it was my private party or you're not authorized to publish our content like this etc. Probably you are person throwing small private party containing your private data like phone number or email and we don't want you to be headlines of Newspaper and make your party awww…!!
So how to get rid of this? Here is the solution:
Whenever you create an event via facebook, there are three options to set privacy like Public, Friends of Guest and Invite-Only as shown in figure. Choose any privacy option other than Public, if it's your private event. Now you can enjoy your private event without any tension.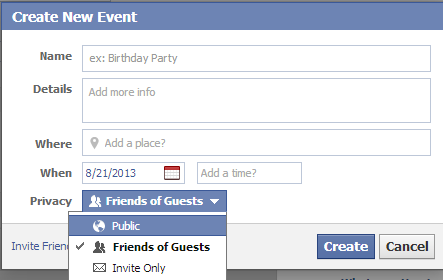 If you want your event to be public and not to be posted on All Events,  you may contact us at contact[at]allevents[dot]in. We will make sure that no any future events get posted.