One of the most vibrant and colorful festivals of India is just around the corner. While smearing colors on your loved ones, grooving to the music, munching mouth-watering delicacies is exciting, the aftermath of drenching in colors can sometimes spoil the mood.
When you have to deal with skin rashes and allergies, the celebratory feeling does not stay for long. How about celebrating the festival of colors with caution to avoid any danger that could harm your body?
Enjoy a safe Holi this year by following these simple tips before you step out to play.
Pre-Holi Tips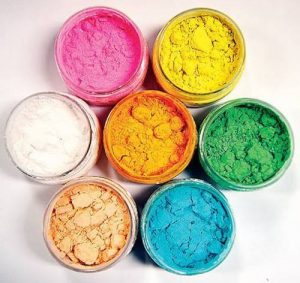 In ancient times, Holi colors were made of herbs, flowers, turmeric and other ingredients with therapeutic value. Gradually, people started playing with synthetic colors and toxic chemical dyes that cause rashes, discoloration of hair, dermatitis, eczema, and other serious skin diseases. Say no to toxic dyes and use herbal colors that will be softer on your skin.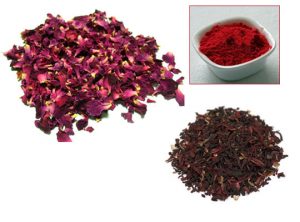 You can easily make colors at home using marigold flowers, rose petals, turmeric, tea leaves or herbal colors. Prefer playing with red or pink colors that can be removed easily than bright purple, yellow or orange colors.
Balance tradition with sustainability and go organic this Holi. Be a responsible citizen and save water. Play with dry herbal colors and avoid using water balloons as they might cause injury to someone.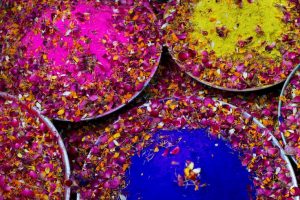 Follow the age-old tradition of Mathura Holi and play with flowers. Plan an activity with your friends and neighbors to collect flower petals one day before the festival.
For removing colors from your nails, apply a transparent nail polish on the night before Holi.
Tips for the Big Day
Before playing with colors, apply a generous amount of oil, petroleum jelly or moisturizing lotion on your face, hands, legs, or any exposed part of your skin. Also, do not forget to use a waterproof sunscreen.
Massage your scalp and hair with oil and prevent them from becoming brittle and dry from chemical colors and dust. The best way is to tie your hair and cover them with a shower cap.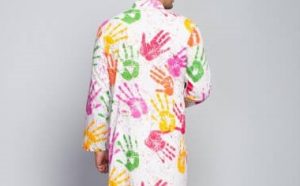 It is advisable to wear full-sleeved clothes and cover your body as much as possible to protect your skin from synthetic colors that contain harmful ingredients. Better to put on old or discarded clothes to avoid the hassle of washing them later.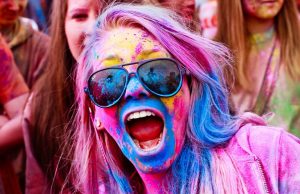 Shield the eyes with sunglasses before stepping out to play with colors. Rinse your eyes immediately if color seeps inside them. While playing with colors, if you experience itching or skin irritation, immediately pour cold water on the affected area to wash off color.

Planning to sip the official drink of Holi, more commonly known as Bhang or Thandai?
Avoid consuming it in large quantities as it can spike the blood pressure and heart rate. Do not mix it with alcohol either. Drink plenty of water and stay hydrated before and during the festival as it helps in getting rid of toxins present in synthetic colors. Avoid using hands to eat food while playing Holi. Colors, when ingested, can cause food poisoning and allergic reactions, especially for children. Conserve our natural resources by not wasting water. Do not assault pets or street animals by applying colors to them.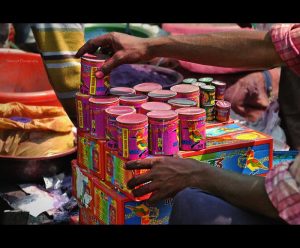 Respect others wishes and do not force a reluctant friend to play with colors.
Post-Holi Tips
To wash off colors from your body, use a mild soap for the skin and baby shampoo for your hair. Do not forget to apply conditioner to get rid of frizzy hair. Avoid using kerosene, petrol or spirits to remove color stains as it is highly harmful to your skin.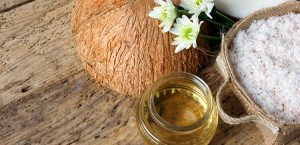 Done removing the color from your skin and hair?
Now, apply a mild calamine lotion or aloe vera gel on your body. Massage your body with coconut oil or olive oil. Apply a homemade face pack made of gram flour and curd/cream and rejuvenate your skin naturally. Plenty of fruit juices and a good amount of rest will prepare for the Holi dinner parties in no time.
Holi is the time to celebrate with your loved ones.
May your life be smeared with natural colors, good health, and colorful memories.
Wishing you a safe Holi!