The attendee experience starts from the point where the attendee gets to know about your event for the very first time. The experience usually involves how the attendee judges you and your event which also comprises how they feel about your event, how much the event attracts them, how you treated them and so on. His experience starts from the time he gets to see your event banner or poster because that's the first impression of your event. And of course, the first impression is quite important. Henceforth, let's dive deeper into the details of giving a great event attendee experience.

1. First Impression Is Important
As mentioned earlier, a good first impression is quite necessary to give a great attendee experience. But what would be your first impression? It would be your event banner on social media or any source, the attendee gets to know about your event.
You must make sure that the design of your banner, the cover pages of your Facebook and Instagram are attractive. If you are going for any advertisements, then they also must have some catchy elements which can attract your attendee.

2. Make Your Event Easy To Reach And Convenient
No matter how good your event is, it would disappoint your attendees if they have to go through a lot of hassle and hustle to attend your event or during your event at any point in time.
If your event is of a large magnitude, then there would be attendees visiting from far off places. They might be commuting through trains or cabs. You must make sure that these people face no problems on their journey or when they are present at your event. Try giving your attendees, hassle-free services and comfort during the whole procession.

3. Event Venue Has A Great Significance
Make sure your event venue is easily accessible so that your attendees don't have to face issues while locating the venue. Not only the location, the appearance, as well as the decoration of your venue, must be up to the mark. The décor, ambiance, and location speak volumes about your event.
The venue of your event must be in sync with the theme of your event. Well, accessibility and décor aren't the only issues. Even small details matter. Your venue must be spacious and well-ventilated. You don't want your attendees trying hard to catch their breath or wiping their heads off with napkins during your event. If you are providing them with other amenities like foods and refreshments then you also have to make sure that they are of good quality and delicious.
4. Make Your Event As Personalized As Possible
Personalization is quite important to give a great attendee experience. Who doesn't like personalized facilities and experience? Scale-up personalization as much as you can because recently it has been observed that attendees, guests, and participants have been increasingly demanding more personalized event experience.
Also, when you are sending invitations, make them as personal as possible. Use first or last names in your emails and letters and uniquely address your attendees. Make sure all your guests are attended and served well. Highlight the names and honor your special guests and give them mementos to show respect.

5. The Content And Quality Matters
If your event is content-driven, for example, a poetry competition, or a comedy night or it involves discussion related to any issue then the content of your event matters the most. Because your content is the sole purpose for which your audience will be attending the event in the first place.
Speaking of quality, keep your event as unique as possible, uniqueness will automatically enhance the quality of your event. No matter what the objective of your event is, you need to maintain the quality at every step. Ranging from the quality of food, a good venue to the quality of the performers, everything matters.
6. Time Management Is The Key
Time management is quite essential for a good attendee experience. People value time. They notice the smallest details when it comes to time management – Did the event start at the time it was supposed to be scheduled? Was everyone given sufficient time to speak or get involved in the discussion? Were refreshments and snacks available on time? And, so on.
You need to be patient yourself but not expect your attendees to be patient as well. You must try serving them at the time you promised or spoke about. Attend all your attendees and guests on time. Help them out when they need anything or for any query. Make sure all your speakers get an equal chance and equal time duration to express their views in case your event involves dialogue and discussion and similarly, if you are organizing a marathon, make sure everyone gets a chance to participate.
7. Give Attention To Small Details
Your audience notices even the smallest details. People notice how you are dealing with issues, are you aware of any kind of discrepancies your guests are facing, how you are managing and leading your team, how much effort you are putting in to make your guests happy and so on. Make sure you have good moral conduct and you treat everyone at the venue in the best way possible. And, treating in the best way is not only for your guests but also for how you treat your team and the people working with you at the venue.
Thoroughly check if the lights are working fine, the sound and speaker system isn't causing any static, the seating arrangement is up to the mark, and the venue is spacious and is sufficient enough to accommodate all your audiences well.

8. Collect, Store And Study Data.
For every event, the experience, response, and feedback of the attendee depend on different factors. You need to do your homework. Search for similar events which have been hosted in the past and try getting the data regarding what was the venue, how many people attended the event (and if possible, get their names, phone numbers and address too), what was the duration of the event and so on. But how is this going to help? It is always better to learn from the mistakes of others.
After collecting this data, call up those attendees and inquire regarding what they liked about the previous event, what they didn't and how will they rate their overall experience i.e. do a survey. Through this data, you can analyze what mistakes or good things event organizers of their previous event did so that you can save yourself from making those mistakes and provide a better experience to your attendees.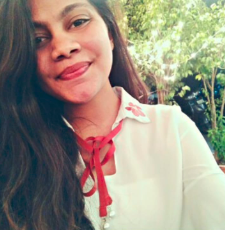 Hoarder. Overthinker. Dreamer. Mostly Writer. Lover of little things and coffee. Always wants to have the last word and wants to be chosen first. Might find her dancing or speaking to herself on the driveway.