Event Organizers put a lot of efforts in organizing an event and if no one shows up at the event, it gives them no reason to continue organizing such events.
Building an audience for your events is as difficult as organizing an event and takes almost equal efforts, sometimes more, depending on the type of your event.
Most event organizers these days promote events on social media platforms like Facebook, Instagram, etc. by spending a good chunk of money. While this is a good way to attract potential attendees, it does not guarantee you an audience always.
Here are a few great ways that can save you money and help build your own event community.
Engage with your past attendees
If you are not keeping a track of your attendees, you should do it instantly. Maintaining a database of your attendees is very important. Not just maintaining but also engaging with them. Few ways you can engage with them are as follows:
Informing them about the event before you release it everywhere

Rewarding them with special offers or VIP seats

Allowing them to bring their colleagues at a discounted price.
Offer Early Birds
This is a very common strategy yet many event organizers don't plan their event dates in such a way, to be able to offer early bird tickets for few days before the event. Create two ticket types to show people the difference between early birds and the regular price so that they can see the difference and try to not miss on the early birds.
Send Event Reminder Email Campaigns
Event Reminder Email Campaigns are a great way to make sure that people who have RSVPed for your events, actually attend the event. One of the great benefits of sending an event reminder emails is that you can include a CTA in the email for saving your event in their Google Calendar or iCal.
Consistently Engage on Social Media Accounts
While you might have created an event on Facebook, you need to make sure that you are engaging with the audience at least once in every 2 days. There are many ways you can do that, for example,
Giving a sneak peak in the making of the event

Introducing artists or speakers

Through Contests
Reach out to right influencers
This is a tricky and costly part but if done right can do wonders for your events. Most people fail to understand that it's not just about getting an influencing voice talking about their event, it's about getting the right influencers talk about your event. Try to find influencers with hashtags of the category your event falls in. For example, #paintingworkshop #diyartncraft #exhibitions #foodmeets #sports etc.
Add an Event Link to Your Email Signatures
This is the most old school thing which still works for event organizers who are into networking events and exchange a lot of emails every week with a lot of vendors, speakers, stakeholders, etc. It is definitely not the best idea but if it even gets you 1 registration, there is no harm in doing this as it also creates an impression of you being passionate about your event business.
Build a community
From day one, your top priority should be to build a community of event lovers who are specifically interested in your events. This helps you acquire loyal attendees and grow your own network in your category of events.
When you create your event on AllEvents.in, you start your journey towards building your own audience. To get more followers, you can share your organizer page link and let people follow you on AllEvents.in or simply add our organizer plugin widget on your website to convert your website visitors into followers. (Don't have a website? Get one here.) Every time you create a new event, your followers get notified about it instantly.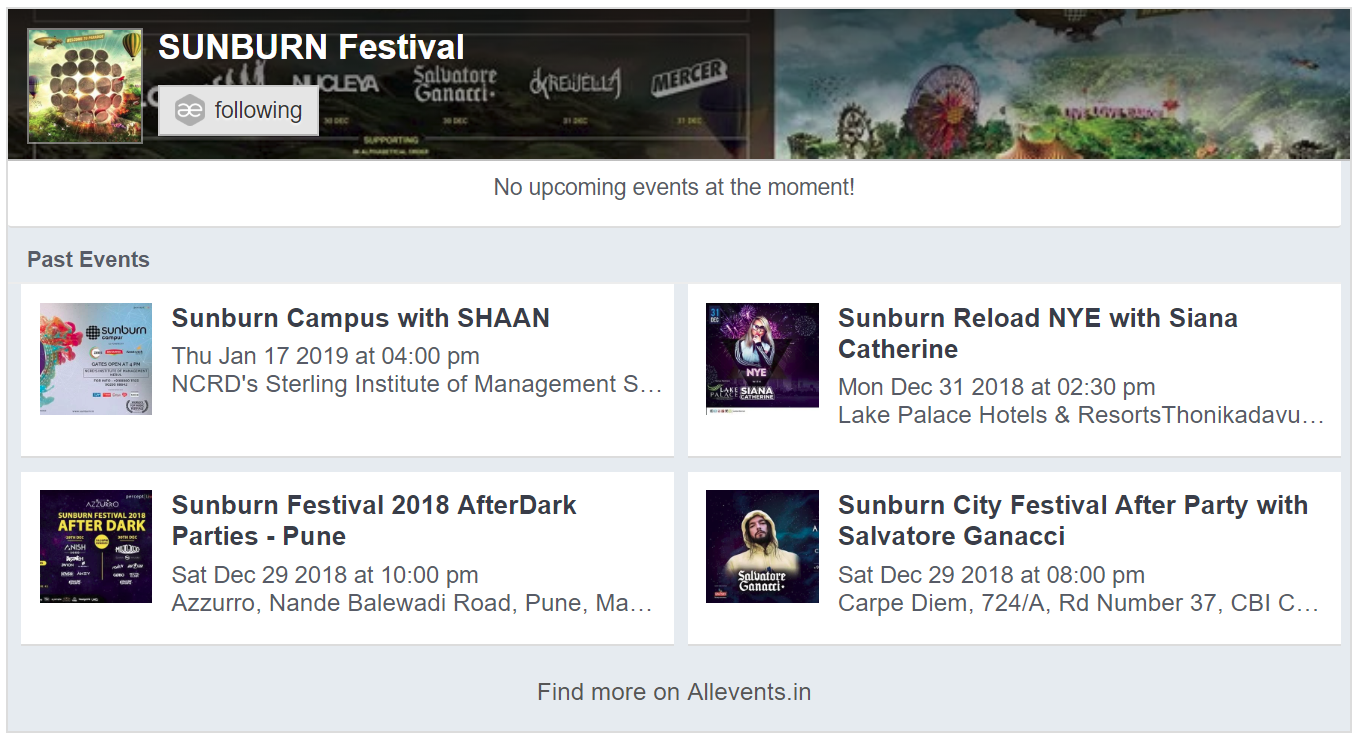 Lastly, don't forget to give your attendees an amazing experience when they are at the venue. They are at your event because they have expectations to get some experience or value from your event. Fail to do so, you will find it hard to retain your attendees. Nothing works better than the word of mouth.
What all strategies have worked for you for building your own event community? Share with us in the comments below.
Quick Learner | Marketer | Sometimes A Writer | Business Development @allevents_India | Enthused about #startups | Music Lover