Let me start with a fun fact- 35 million people view events on Facebook every day. That makes Facebook a powerful tool to create events and promote them on Facebook. So, if you are hosting an event it is a perfect time to create your events on Facebook. Wait, you don't know how to create an event on Facebook? Well, read along we have explained how to create events on Facebook and tips and tricks to make the best out of this useful platform.
Firstly, there are two types of events on Facebook:
Private Facebook Events: Only the people you invited to your event can view your event and can have access to it. All the other people in your network won't be able to see if they aren't invited.
Tip: Guests can allow others to an event on Facebook if the admin gives them permission.
Public Facebook Events: everyone in your network and outside your network can view the event. Everyone and anyone can see the details about your event. The event might pop up in the search.
Tip: You can edit and make private event public from the settings, but you cannot change public event to private. We suggest you to create public event.
How to Create Events on Facebook?
To create an event page on facebook:
Go to your page
Select "events" from the left-hand sidebar
And fill in the required details
An Attractive Event Name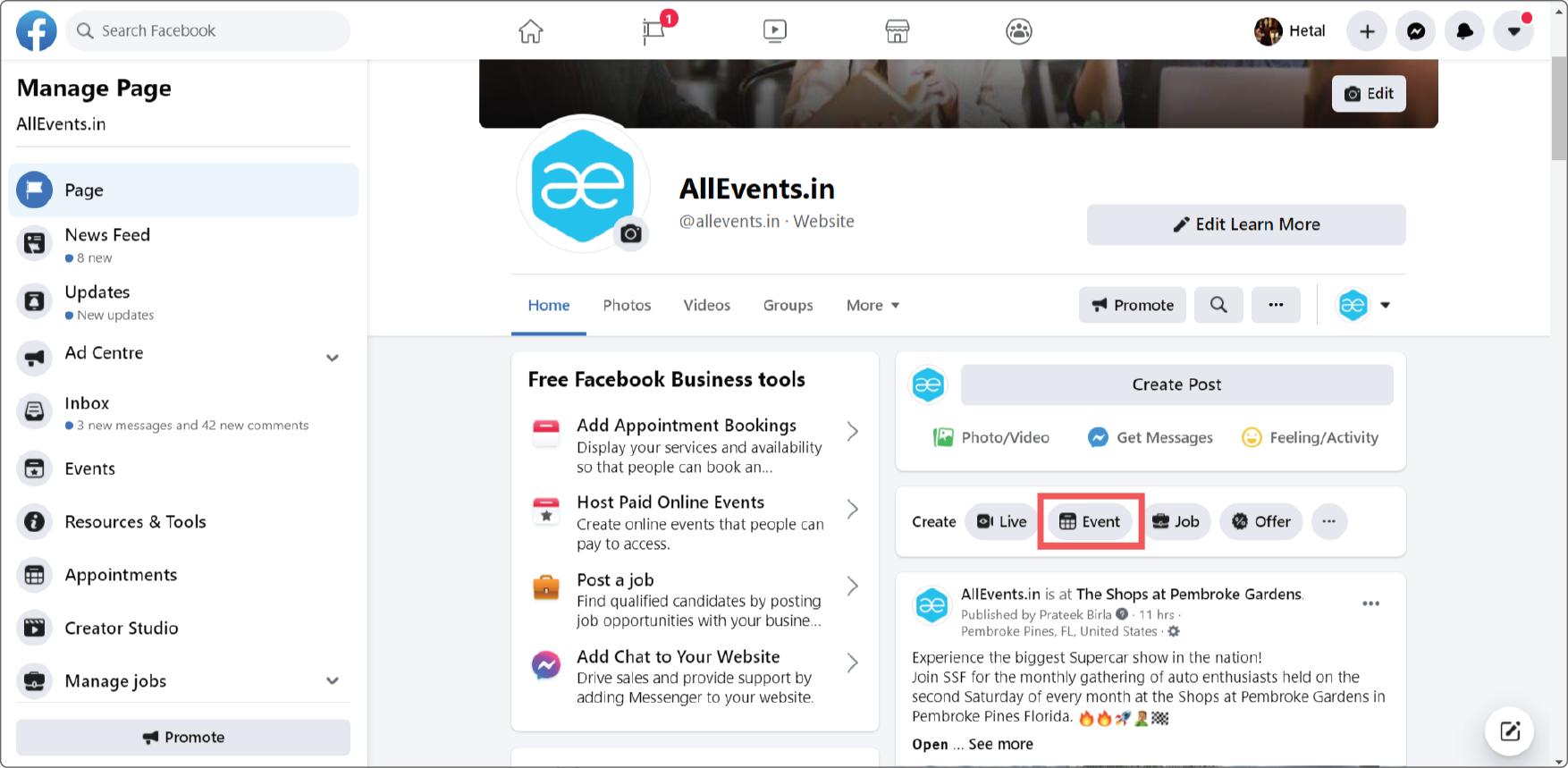 Your event should have a catchy name. It grabs readers' attention and gives them an idea of what is the event about. Keep it short, accurate, and catchy. A unique name is not just easy to remember but it becomes a buzzword. You only get 64 characters, so make them count.
Tip: You can use apps and websites like Headline Analyzer to give your event page a catchy event title and event name.
Appealing Cover Photo
Use an attention-grabbing event cover page to draw people to your event page. Visual elements play a crucial role in getting users' attention when they are scrolling. Cover photo helps you increase the credibility of your event.
You can add or edit cover photos or videos by selecting change photos or video or by simply dragging the image to the default place.
If you don't have time to create graphics from scratch, you can use tools like Canva or Design Wizard. These tools have templates readily available. So you don't have to spend much of your time on designing.
Tip: Create an event page with an appealing event cover, go with a photo. Photos tend to get higher engagement than text-only posts. Gives you a better chance to tempt the audience.
Write Details and Description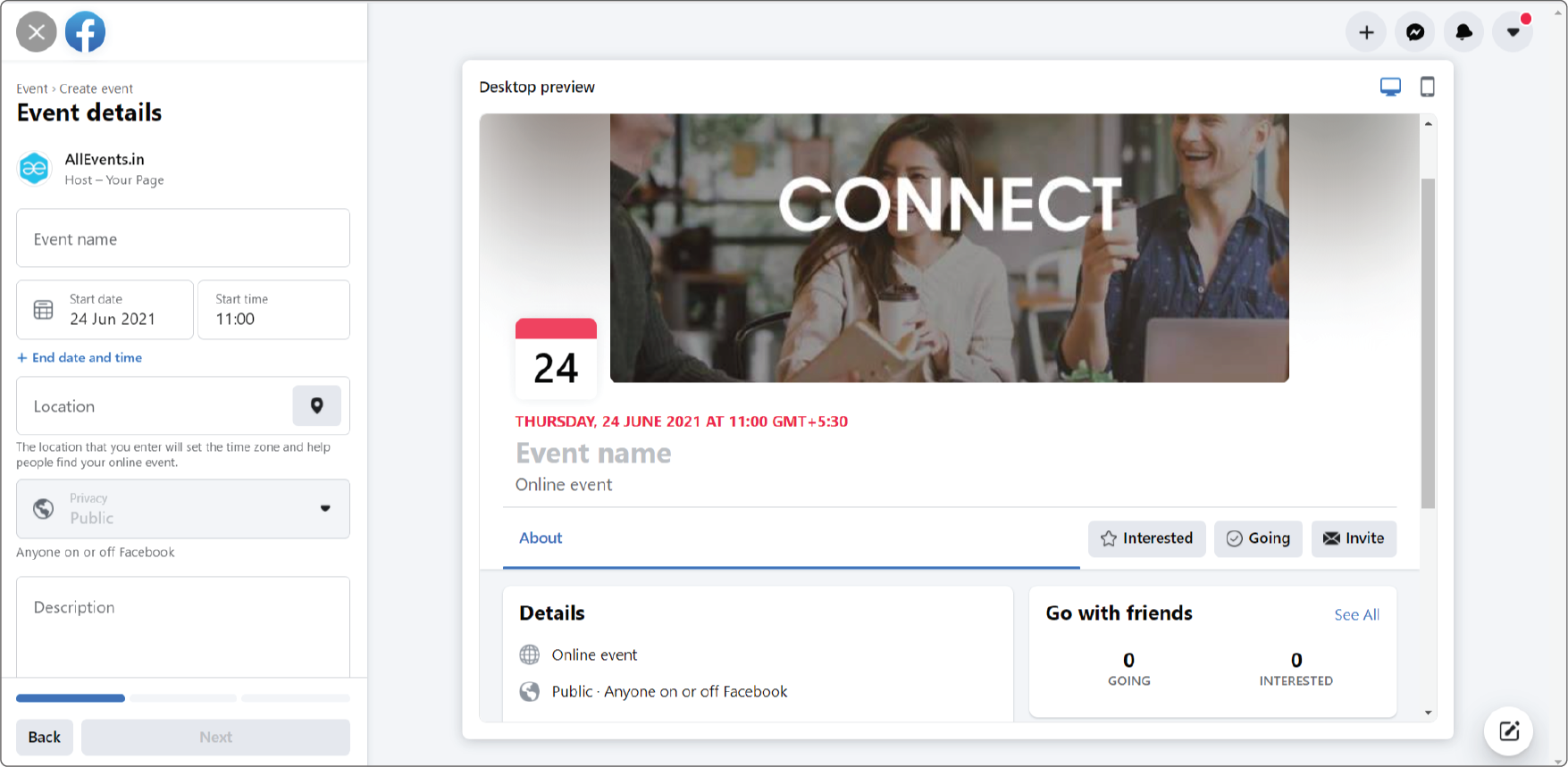 For a viewer, it would be extremely disappointing, if they receive a notification about an event happening around them to click and then find an empty box and no information at all. You can attract an audience with an appealing description.
Your description is where you provide all the details, whether you create a private event or a public event. All the following details are a must.
Event name
Cover photo
Location
Date and time
Any co-host, guests
Contact information- Phone number, email address, etc
Also, provide your audience with clear details if they decide to come to your event. Here are more details to include in your description text box.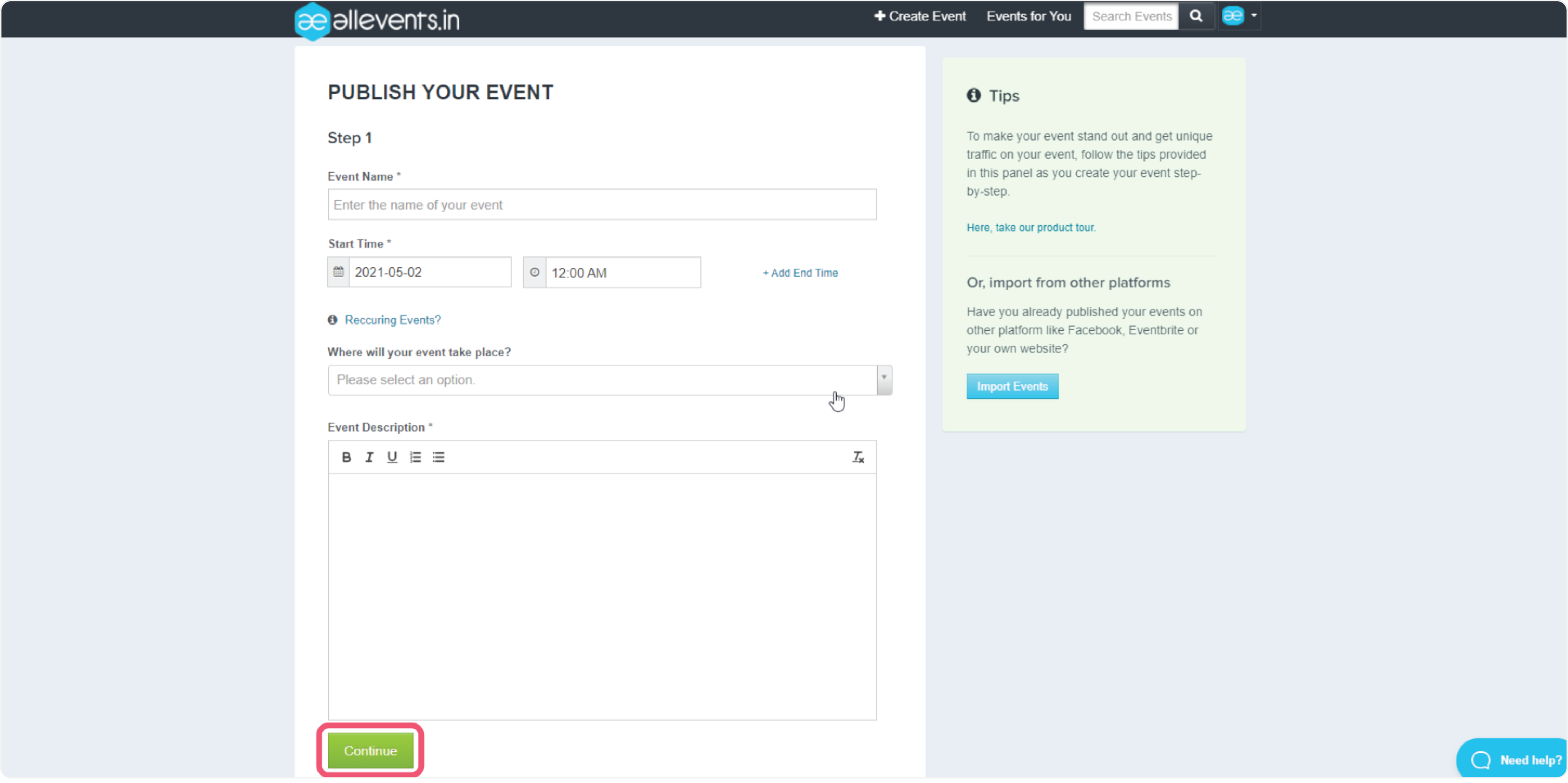 Who should come
Why will you get from the event
Guidelines and rules
Agenda to follow- if any
Other information like- catering services, pricing information, etc.
Add Keywords
Keywords are a great way to reach your target audience and people with similar interests. Optimize your Facebook event page by using relevant keywords. Keywords help users know what type of event it is, and who will be interested in attending the event
For example, if you are hosting a concert, you may want to add words like, "concert", "songs", "music", "indie rock", "party" and other relevant keywords. In addition, if your event is taking place somewhere in New York or New Jersey, make sure you insert them in the keyword as well.
In this way users will easily find your event, helping you to increase registration and ticket sales.
Tip: Once you start typing keywords, Facebook will give you suggestions. For more, you can use the keyword search principles and SEO information like categories to make your event more discoverable in the news feed.
Ticket Setup and Payments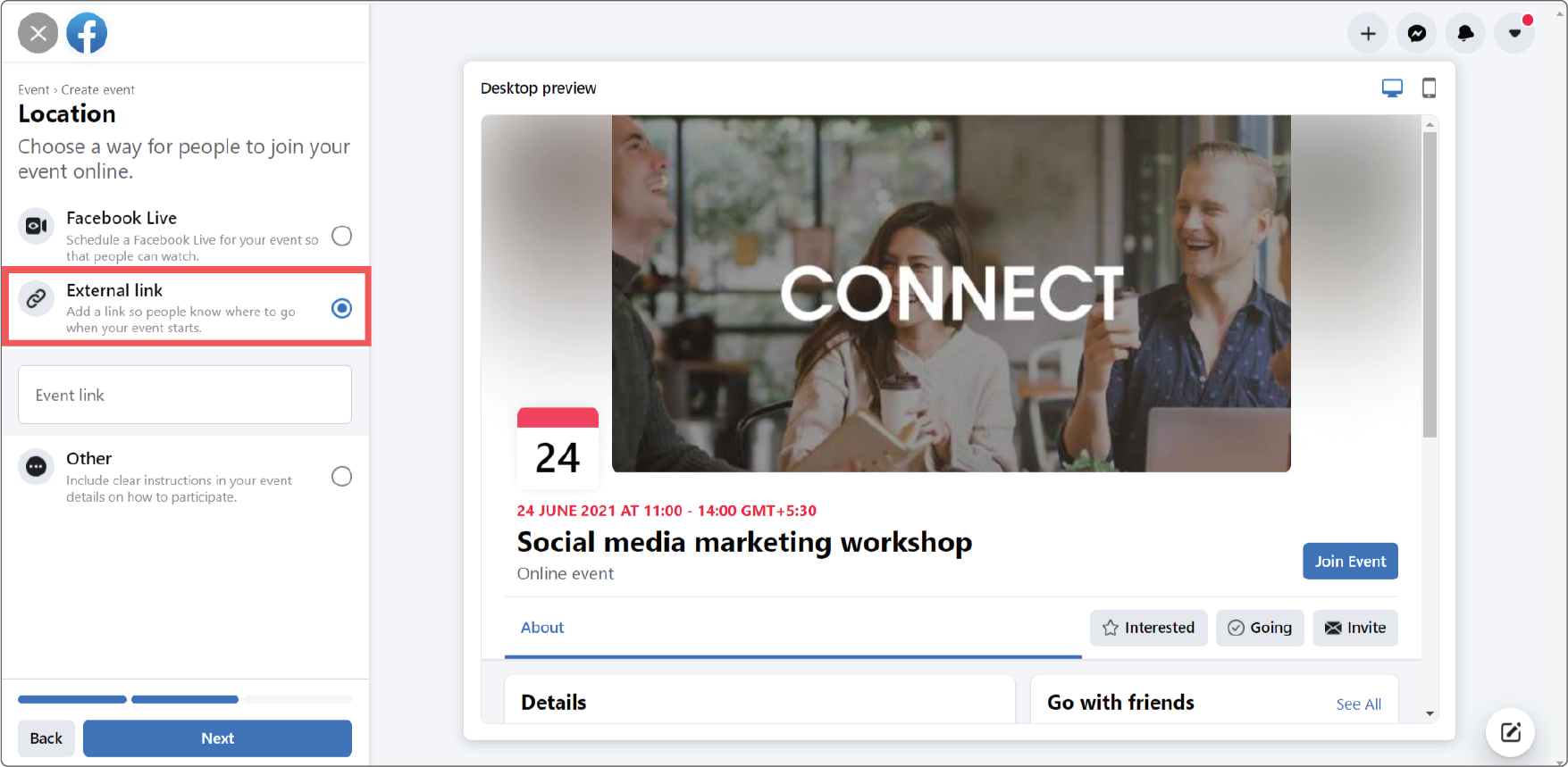 Now that you are all set and done with all your event information, now is the time to set up ticketing and payments so that you can accept payments directly from the Facebook page. This feature direct links to your website where people can register and purchase tickets.
For ticketing and payment you get two options here:
Use direct payment links: You can your personal Paypal or UPI ids or stripe links to your Facebook event and accept the payments.
Tip: This is not an ideal way to accept the payments. Facebook won't allow you to set up ticketing for free events, virtual events, or hybrid events. So, we recommend you avoid this option.
Event link from ticketing platform(Recommended): You can set up ticketing on your event registration page. This will be an organized ticketing system where you can track and get analytics and real-time marketing insights of your event.
There are multiple ways to sell tickets on Facebook. Selling tickets on Facebook is an easy, quick, and seamless process.
Tip: When you direct your payments and ticketing to your dedicated registration event pages, make sure you have a well-designed and well-structured event registration page.
Create a Facebook Event- Tips and Tricks
Here are a few more tips to get unmatched benefits of the Facebook event.
Add Co Host
While creating an event, you can add or update a co-host. The co-host can be your friend, business partner, or a Facebook page. The person or a page you make co-host will directly become admin to your event if they RSVP as interested or going.
Tip: You can also ask people from your friends list, sponsors, and guest list to share your event on their business page or their personal account.
Create an Event QR Codes
QR codes help to share information about the event quickly. If you are hosting an event on Facebook, QR codes help to promote your event. Users can easily and interactively connect with your audience.
Facebook Competitions
To attract more audiences try running a competition on Facebook. You can do a ticket giveaway- tempt your viewers by indulging them into leaving comments and tagging people in the comment section or event walls. Such competitions will get you exposure to a new audience.
Details. Details. And Details.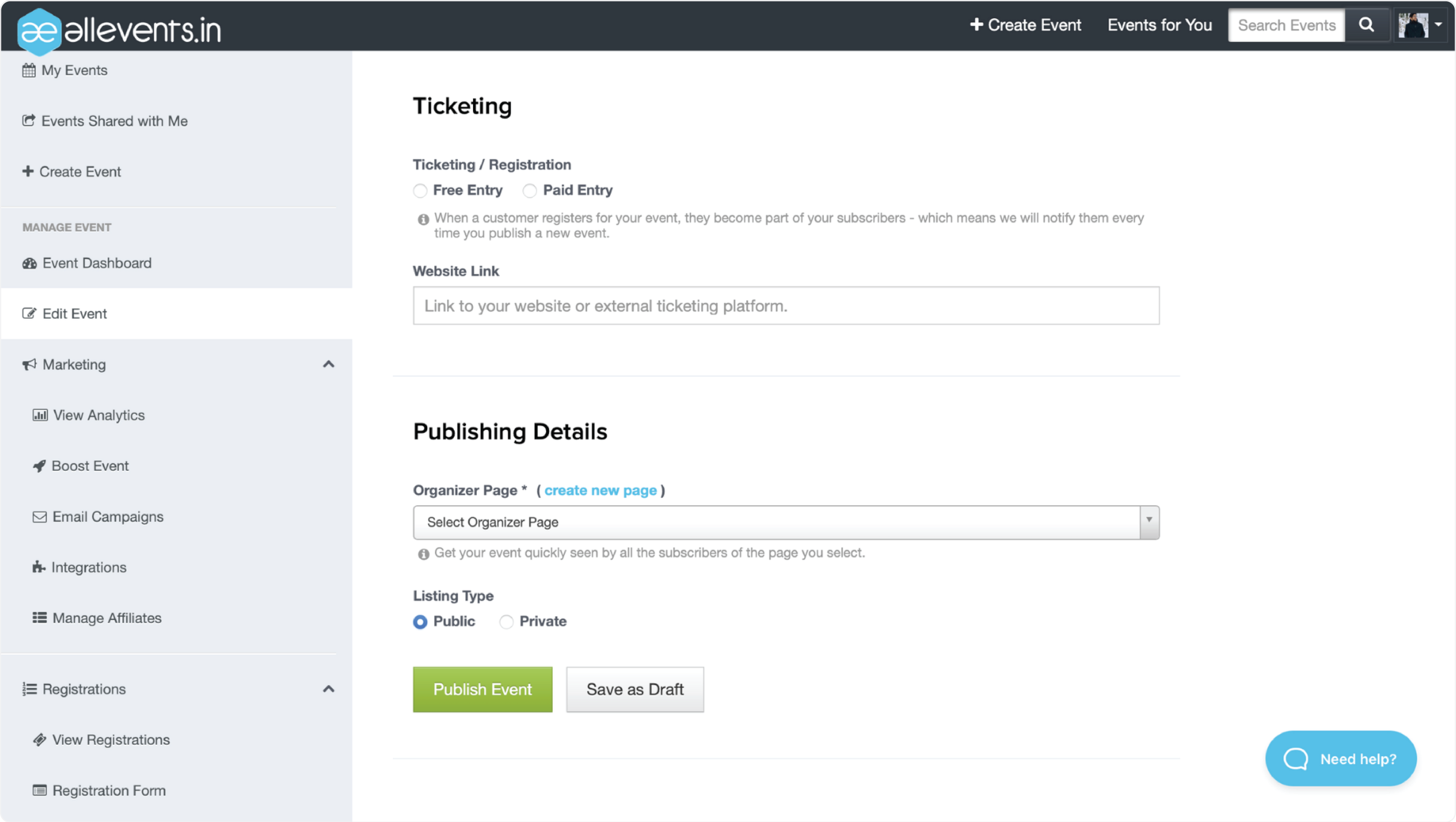 Do not worry if you have published your event already. You can edit your event page from privacy settings. The edit button is available on the left corner of the event page.
The more details you provide, the better it gets. The more details you give, the audience is more likely to turn up and have fewer chances of them to keep sending you queries and questions.
Stand Out From the Competition
With so many events going on, you need to stand out from them. Make sure you highlight all your unique selling points. It could be, buy 2 tickets and get 1 free, free drinks, or free coupon vouchers. Use graphics like videos and pictures to highlight your USPs, you can also pin them to your event wall for greater visibility.
Facebook Advertising
Facebook paid ads are one of the greatest features available on Facebook. It helps you to target a specific audience to increase engagement, redirect the audience to your events page and generate more leads.
You can target your audience based on their behavior, interests, and activities.
Facebook offers amazing features to market your event. If you want more people to know about your event, you can do it by simply advertising your event with the help of Facebook live, paid ads, community building, etc. It helps you target your audience who might be interested in your event. You can do this easily at a minimal charge.
Now you have created your event on Facebook, what next then?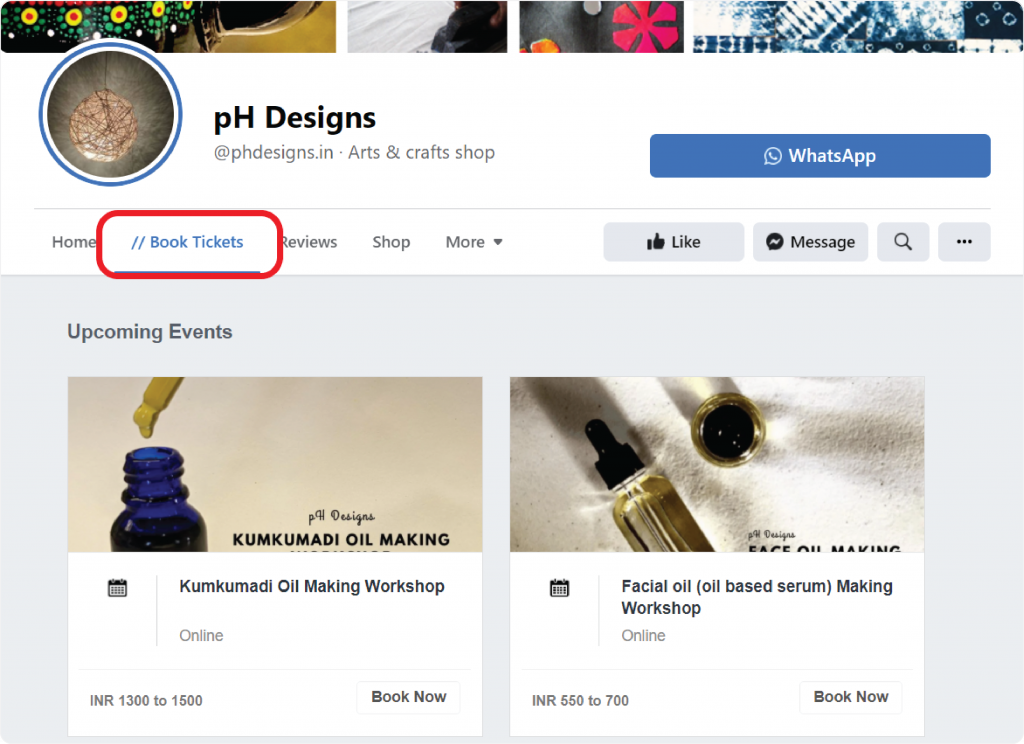 Now, that you have published your event on Facebook, you need to promote event for the engagement of the audience. After creating your event the most crucial thing to do is event promotion. To make your event successful you need a successful marketing campaign.
All your efforts to create a Facebook event page will go to waste if you don't promote it. So, how do you promote your event on Facebook?
Event promotions are done in three basic steps:
During the Event Promotions
Creating an event on Facebook is just the first step. The more you deep dive into Facebook the more features you get. Using all these features will help you become trending in the news feed and will make your event page more discoverable
Facebook Marketing: Facebook paid ads are one of the greatest features available on Facebook. It helps you to target a specific audience to increase engagement, redirect the audience to your event page and generate more leads.
You can target your audience based on their behavior, interests, and activities.
You can boost your Facebook event in the following quick steps.
Choose a goal
Find your target audience
Set budgets and bid amounts
Add attractive images and videos
Pin the post on the Facebook event wall
You cannot just limit yourself by creating Facebook event only. To reach a much larger and targeted audience you need to use a call to action, Facebook ads, live videos, hashtags, etc.
Whether you organize a conference, poetry event, baking workshop, or concert; drive attendees and increase your registration via Facebook promotions.
Tip: Facebook provides you with a boost event option but we don't recommend using it. It increases your budget and reduces your reach.
Integrate Your Facebook Event with AllEvents
At AllEvents we have amazing tools to help you promote your events and get the most out of them. AllEvents is your all-in-one destination to promote your events and sell tickets online.
Promote your events with AllEvents and easily integrate it with Facebook. You can create your separate book now tab on your page for your event.
And you know what the best part is; you dont have to create events on both mediums, you can simply add a link and it will automatically update your event on Facebook.
There's a creative and strategic way to use Facebook events to do successful marketing and publish. For a successful marketing and seamless ticketing process, you need the help of experts.
So, connect with the team of our experts today.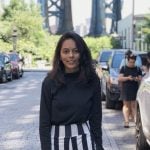 A very passionate writer and enjoy elaborating, curating my thoughts, experiences, and ideas in my writings that event creator can connect to.