Motivating the employees is critical to an organization's ability to get results. What do top women leaders say on the subject of HR? How difficult is Human Resources Management? Is it easy to write a book? Know it all from, Aparna Sharma on this International Women's Day.
About @sharmaaparna
Top-notch HR expert-HR and IR professional-Author-Woman Achiever, Aparna Sharma is a Post Graduate in Personnel Management & Industrial Relations (PM & IR) from the Tata Institute of Social Sciences (TISS), Mumbai of the 1996 batch.
Featured as one of the top women HR Leader in the country by "Business Manager" magazine.
Achieved "HR SUPER ACHIEVER AWARD" by STAR NEWS at the 20th World HRD Congress, 2012.
Received the "Women Leadership Award" for BFSI (Banking, Financial Services & Insurance).
Honorary Treasurer of National HRD Network, Mumbai Chapter (2012-2014)
Has worked with Nocil , Monsanto, Novartis & UCB before joining the Deutsche Bank group as Director-HR.
Author of 'Reality Bytes – The Role of HR in Today's World'.
About #HappeningCity
All Events in City is committed to revolutionising the world of event explorers by a single platform for event discovery, sharing, promotion and ticketing. #HappeningCity series is being conducted as a creative and social interaction with the organizers/artists/organisations and support them towards the cause of making the world happening by events and initiatives.
As all the tweepals logged in their twitter accounts, following @allevents_in and @sharmaaparna, the enthusiasm was at peak for #HappeningMumbai on 8th March, 2016 at 5:30pm IST.
Following is an excerpt from the Twitter conversation.
All Events in City : Q1) Hello, Aparna Sharma! Please introduce yourself to the world.
Aparna : Hey all! I am an ordinary being-human, HR professional , now an author of two books, from a small town in MP, I love life and people.
All Events in City : Q2) What would you relate to the most? Top-notch HR expert/HR and IR professional/Author/Woman Achiever?
Aparna : HR and IR professional and practitioner who happens to be a woman.
All Events in City : Q3) What has always inspired you towards the growth in HR?
Aparna : People-all unique, unpredictable, wanting to be heard, helped, developed. What a science and art is HR!
All Events in City : So, you love the interaction to humans more than the stationary attributes in the organisation?
Aparna : An organisation is a living entity since it's all about people, but the most intricate and complex of all beings.
All Events in City : Q4) When not in the corporate offices, what you cherish the most in professional life?
Aparna : Interacting with students, listening to the youth, speaking to them, learning from them, being in nature and listening to self.
All Events in City : Q5) Is HR different in theory than in practice?
Aparna : Big time NO! Textbook solutions work in "real life" situations, but ability to think on one's feet, the presence of mind helps.
All Events in City : So, HR is more conceptually practical. We know, all the managers would agree to it. 🙂
Aparna : HR is putting theory to practise, however not all theory apply.
All Events in City : Q6) Classical neo-thinkers refined the human relations approach. How is modern HR built around it?
Aparna : Modern HR has taken the approach without intent. We see excessive alignment with business and HR becoming impersonal.
All Events in City : Q7) Piramal Group is eyeing Lafarge's cement business in India. How do you see this as?
Aparna : It has to be a pure business decision. One needs to see what's the "Core" business and then look at the strategy.
All Events in City : Q8) Entrepreneurs are many. How important is HR and IR in the entrepreneurship ecosystem?
Aparna : Every organisation needs HR-IR situation. Only if HR is not managed well, HR people are the "Best Man/Woman" for any business.
All Events in City : How does the concept fit in for the entrepreneurs who have their own set-up?
Aparna : My book has proven to be most helpful to such entrepreneurs to look at and implement the basis.
All Events in City : That's great! We would recommend it to all.
All Events in City : Q9) There are many core functions in HR. Are there new concepts and functions evolving in recent times?
Aparna : Yes, there is a clearer distinction between Specialist (HR Analytics, OD, Performance Coaches) and Generalist roles.
All Events in City : Which one is the best option for any organisation? A generalist or a specialist?
Aparna : It's neither or you need both and it depends on d Organizational strategy and structure. HR needs to align its strategy and structure.
All Events in City : Q10) Which are your favourite hangouts in Mumbai? What you suggest to the travellers to your city?
Aparna : Plenty and streetfood is a must in Mumbai and Jhunka Bhakar too. Try the ordinary joints and you will love them.
All Events in City : Q11) People Matters 2 released a HR audit study recently. How important do you think HR auditing is?
Aparna : Very important as.HR processes can and need to be audited to bring in the rigour.
All Events in City : Does that add stress of performing to the departments in the organisations?
Aparna : No, when each department does their job diligently, it is like an ORCHESTRA.
All Events in City : Does that apply to the corporates too, where the work environment is very stressful?
Aparna : It's a competitive world, so, it takes SMART WORK . Stress is relative. 🙂
All Events in City : Q12) With what concept and for whom, 'Reality Bytes-The Role of HR in Today's World' written?
Aparna :
It is written for students, early career professionals, academicians, practitioners in organization, line managers and it covers the "WHAT" & "WHY" of HR.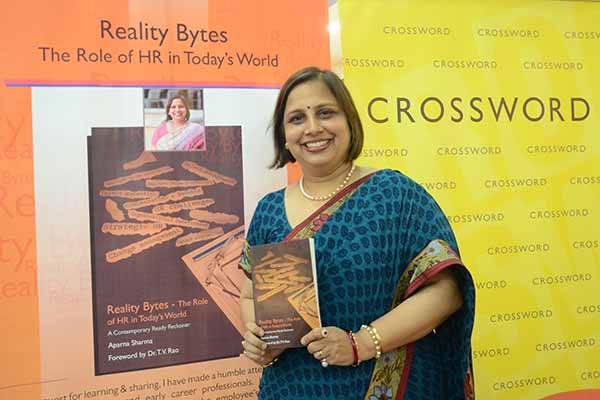 All Events in City : Q13) What led you to name the book 'Reality Bytes'? Bytes is so computerised.
Aparna : Bytes is actually more media related. I needed it to be catchy and something which would appeal and people could take in.
All Events in City : Q14) How has technology changed the way organisations perceive HR and IR?
Aparna : HR is more integrated into organizational system and IR still has ground to cover with respect to the technology.
All Events in City : Q15) You belong to Ujjain. What you like the most about the city and the Smart Cities Mission.
Aparna : It's on the map and prominently, 20 years ago in Mumbai, people thought Ujjain was on another planet. The city is also proud of Singhastha Mela.
All Events in City : Singhastha Mela has become a world tourism attraction now. Ujjain has kept the raw roots alive.
All Events in City : True. Its global Jumboorie next month.
All Events in City : Q16) The employability rate of MBA graduates in India is only 23%. What issues HR faces while recruiting?
Aparna : They are not industry ready more from knowledge and attitude perspective. Skills can be acquired on the job.
All Events in City : Q17) Can Human Resource Development be a catalyst to change?
Aparna : That's what it's meant to be. Change impacts people and that's what HRD is expected to manage.
All Events in City : What should be the prime focus for Training and Development departments in this context?
Aparna : Identify real needs and customize training efforts because one size does not fit all.
All Events in City : Q18) What would you recommend to young HR professionals who want to be successful in future?
Aparna : Steer clear of populist behaviors, gain breadth and depth of experience, rather than rolling the stones. Be authentic and genuine. Be yourself, stick your neck out for what's right for the organization and the employees.
All Events in City : It's not easy. Is it?
Aparna : Was not meant to be easy.
All Events in City : Q19) What you have to say to all women in the world on International Women's Day?
Aparna : WE MAKE THE WORLD A HAPPENING PLACE TO LIVE IN. 🙂 🙂
All Events in City : Every woman does and so the men who support the women in all the good causes.
Aparna : Believe in yourself and don't portray an image of being vulnerable. Don't wallow in self pity.
All Events in City : That is a remarkable statement to every woman in the world.
Aparna : Be a professional first, WOMAN later. Competence is the bedrock. Network-it's a good skill to develop.
All Events in City : Q20) What are the Blind Spots in HR management ?
Aparna : Plenty. First of all "HR folks need to genuinely feel and care for people". Competence, Connect and Care cannot be fake.
All Events in City : Most of the employees are not fond of HR even in high end organisations. What can be the reason?
Aparna : If one wants to be popular-HR is not the right place! HR folks need to take a firm stand and be more accessible.
All Events in City : Haha Haha! We understand the irony here.
Aparna : Glad u "GOT IT".
All Events in City : Q21) What do you think? Recent budgetary allocation for skill development and job creation will help to transform India?
Aparna : It's a step in the right direction. Next is proper policy formulation and then execution.
Follower : The tragedy we are facing since independence. Hoping for a new beginning with support from intellectuals.
Aparna : Only when intellectuals decide to "ACT", than just "IDEATE". Let's all do our bit in the effort- that is the first step.
Grammar Police : I discovered that Aparna Sharma could have tweeted "@AbhishiktChauha [it's] a step" instead. 'Its' belongs to 'it'.
Follower : In the heat of the moment, grammar should not be judged.
Aparna : Apologies, my friend. A slip it is!
All Events in City : Q22) How is the HR culture in Mumbai?
Aparna : It is extremely professional and heartening. I see more willingness to listen,understand and extend help.
All Events in City : Q23) How important is formal HR education be be a good Human Resource person?
Aparna : (Tagging Smriti Irani) It is indeed helpful to learn the nuances because broad brush approach does not work.
Follower : Brilliantly articulated Ma'am.
Aparna : Thanks, my friend.
Kushal Sanghvi : I think all of us need to have HR skills and it not just one division or department.
All Events in City : Q24) Are you planning to launch more books on HR?
Aparna : For now, this book is getting translated in Hindi. So, it's almost like a NEW book.
All Events in City : Q25) How do I get a salary hike from the HR in my company?
Aparna : If you deserve it, simply have a dialogue and ASK.
All Events in City : Q26) How is HR related to Industrial Relations?
Aparna : IR is a subset of HR-under the umbrella but some consider it different. If HR is sound- IR may become passe.
All Events in City : Q27) Can Strategic HRM enable Gross National Happiness and attain India's long-term development vision, like Bhutan?
Aparna : Strategic HRM can surely help, but need selfless implementers.
Follower : Yes, indeed we required selfless approach not even from implementers but as liable citizens also.
All Events in City : Q28) What tips you would give to the aspiring authors?
Aparna : Start writing, put it down, know your audience. It all helps you navigate while writing. It could take long but it's worth it.
All Events in City : Q29) According to you, how do Literature Festivals help promote writing and reading?
Aparna :
LitFest are a great platform to bring together authors and readers, and to evoke genuine interest through interactions.
All Events in City :
In which other events you have given talks on literature and HR?
Aparna :
Check out
aparnasharma.in
–
"Learnings shared"
section. The list is exhaustive.
All Events in City :
What do you suggest to a small team company, dedicated HR person or HR consultant?
Aparna :
Nature of business, team size, skill set of employees will help decide- Internal consultants always help.
All Events in City :
Thanks, are you mentoring any startup with your expertise?
Aparna :
I am a working professional- so time permitting only provides handy tips.
All Events in City : Q30) How can we do the best talent acquisition in any organisation?
Aparna : Map skills needed then scout talent accordingly- look for talent that can be retained.
All Events in City : Do we ever get perfect employees after efficient talent acquisition?
Aparna : There are no perfect employees- it's a myth. Read my Article "How to hire a Purple Squirrel". Google it.
Q31) Any policy recommended for startups, to increase the productivity and keeping the culture friendly.
Aparna : Start small, stay connected with employees and their needs. Treat them well- scaling up depending of needs is easy.
All Events in City : Q32) It is said that you are multi-linguistic. What all languages you can speak?
Aparna : 7 Indian and 3 Foreign, so far.
All Events in City : Q33) What has been your relation to Philippines? Have you tried the local dishes there?
Aparna : I lived there for 2.5 years and loved it. Tried local sweets and they were really Yummy. I had "Best days of my life".
All Events in City : Q34) Any plans to write a HR book for the employees in the organisations?
Aparna : My book has been loved by newly promoted Line Managers, Business leaders and employees in organization, to understand both sides.
All Events in City : Q35) Do you think that bureaucracy is still the core of modern organisations?
Aparna : Yes, degree varies. 🙂
All Events in City : Haha! We are talking bureaucratic reforms here.
Aparna : If each one starts with ourselves- it could well be a chain reaction-REFORMED. 🙂
All Events in City : Q36) What has been your biggest achievement?
Aparna : Standing tall and facing all odds in a competitive corporate world and living by my values – BEING A WOMAN OF SUBSTANCE.
All Events in City : Q37) Does change in the industrial sectors change the way HR works?
Aparna : The best thing in HR is its industry agnostic – yes, but different strokes for different folks in different industry sectors.
Q38) How do you manage the corporate professionalism and family, together?
Aparna : It's a delicate balance – the blessing is to have a supportive family. I work really hard- 36 hours in 24 hours.
All Events in City : Q39) Last thing to know! What you have to say for All Events in City?
Aparna : It has been so ENERGISING and ENGAGING. Thanks to All Events in City – an amazing platform to exchange mutually beneficial thoughts.

Truly and as Charlotte Brontë had expressed, "I am no bird; and no net ensnares me: I am a free human being with an independent will." Cheers to all the women and more so for the empowered ones.
To know more from the #HappeningCity and #MakingTheWorldHappening series, follow Making The World Happening
With Armed Forces background, Aarohi has been a passionate traveller and writer, instinctively. With formal education and work experience in physiotherapy, hospital management and public administration, she chose to write professionally with All Events in City. Her interests are travel shows, philosophical mockery, watching art movies and following comic strips from Zen Pencils. She is a freelance writer, travel blogger and loves interviewing people on Twitter through our #HappeningCity series.