During this challenging time of isolation due to COVID-19, we know you miss all the events, socializing and your fun dancing workouts. Well, you still cannot go outside and keep a check with your dance workout trainer but you can still do that with the comfort of your home. Watch some free dance workout videos and refresh your mind while you dance through this difficult time. Burn calories, a whole chunk of stress in your head and get into the energy while your practice Zumba, Hip Hop or even Latin through these videos!
We've curated a list of 15 free dance workouts that you can watch and learn from the comfort of your home:
1. How To Lose Belly Fat The Fastest | Zumba Dance Workout For Beginners Step By Step
2. 30-Minute Hip-Hop Fit Workout
3. 30 Min Fat Burning Cardio Workout – Bipasha Basu Unleash 'Full Routine'
4. 30-Minute Bollywood Dance Workout
5. Billy Blanks Fit Sculpt (GET READY!)
6. 30-Minute Cardio Dance Workout
7. DANCE #LIKENINA | 40-minute Reebok x Les Mills BODYJAM Workout
8. 30-Minute Dance and Cardio Kickboxing Workout
9. 30-Minute Cardio Latin Dance Workout
10. 30-Minute STRONG by Zumba® Cardio and Full-Body Toning Workout
11. 44 minute Diet Dance | 44분 다이어트댄스 | 홈트 | Cardio | Zumba
12. Zoom Zumba Dance Fitness Party – A Dedicated Show For Zumba
13. Zumba Fitness Workout Video For Everyone
14. 22 Mins Aerobic Reduction Of Belly Fat Quickly
15. Bollywood Dance Workout | Dance Choreography | FITNESS DANCE With RAHUL
These were some of our recommendations for the free dance workouts that you can watch and learn at home, to kill your time and also remain fit. Saying that, if you think you have some passion to share or you have got some skill that you can teach others then you shouldn't just be watching. Host a fitness dance workshop online with AllEvents.in and help people stay fit while they are stuck at home!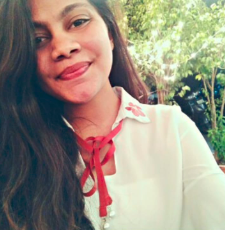 Hoarder. Overthinker. Dreamer. Mostly Writer. Lover of little things and coffee. Always wants to have the last word and wants to be chosen first. Might find her dancing or speaking to herself on the driveway.