All Events in City  has been named "The Grand Jury of The Billionth Award South Asia as Finalist " in the 3rd year of the mBillionth award south asia 2012.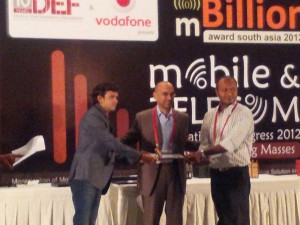 All Events in City is a platform to easily share and access different kinds of events happening across the globe. The primary objective is to reduce steps needed to bring a person's event to global visibility and make it easy for a content consumer to access information of events happening in the city or location of his choice.
The third mBillionth South Asia Award, initiated by Digital Empowerment Foundation, a Delhi based non-profit organisation. The objective is to recognise and honoure mobile/telecom innovations from across eight South Asian countries, which uses ICT tools like mobile phones and digital media for social and economic empowerment.
Congratulations to winners, Co-founder Amit Panchal and Ruchit Patel..!!
Find us on the finals list on mBillionth 2012.