India Film Project is a grand and extensive celebration of literature, content, and music. It is a worldwide stage for the movie buffs, bibliophiles, lover of poetry, art, and everything creative. India Film Project has been Asia's largest celebration of art for more than 8 years.

IFP has been hosting a grandiose event annually, bringing the community and creative brands together. This year again it's back in 2018 with the 8th season of IFP where creativity and content will be celebrated. An event where filmmakers, content creators from YouTube, musicians, writers, editors and a lot many people from the creative fraternity will come together for interactions and activities that involve art. It is a stage that gives a chance to young talent to interact with the experts in the business and also to make their place in the creative space.

India Film Project is getting better with every passing year. The 8th season of IFP is giving an opportunity to 35000 participants (and still counting) from over 20 nations and 300 cities to present their imaginative skills. These are the figures of the participants that have already created and submitted 1700 short films until this point. In the 8 years of India Film Festival, this is the highest participation that has been witnessed on India Film Project. IFP is the right platform for a creative person who is unsure about where to exhibit his/her's creative ideas. It has got something for every creative genre from filming to storytelling, from content composition to graphic designing; they have got it all sorted.

IFP showcases the talent on its social media platforms as well. With an audience of almost 32k on Instagram IFP is an all-embracing online stage for the creative youth. It has featured some artistic drone pictures and doodle arts on their social media platform and not to mention the lucky winners get direct entry to IFP's season 8 competitions. Speaking of IFP's social media presence, it has so much to adore, appreciate and learn. It has saved the journeys of well-known personalities who have aced at being scholars, actors, screenwriters, and choreographers but presently are super successful directors. You can listen to their journey at the IFP's Talk Shop just by clicking on the picture. 
Competitions & Art Exhibits At India Film Project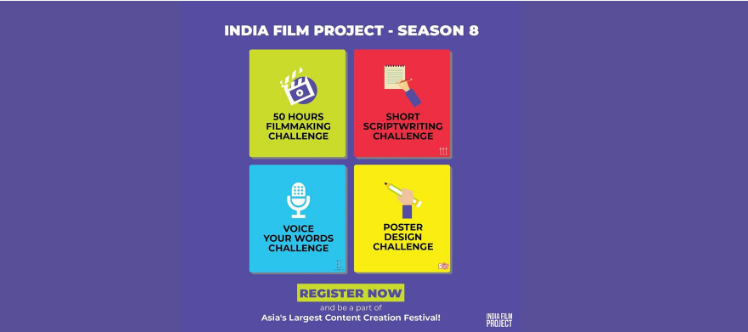 50-Hour Film Making Challenge: As the name suggests this competition involves scripting, shooting, editing and submitting of films in just 50 hours. It will be a strong competition among 35000+ participants to produce an impressively filmed content in the given deadline. The categories are divided into three parts which are Professional Filmmaking, Amateur Filmmaking, and Mobile Filmmaking.
The registrations are open till 27th September 2018 and the themes will be declared at the beginning of the first 50 hours on 28th September at 8:00 PM. The winners in the professional and amateur categories of this challenge will receive one awesome drone from DJI. 50-Hour Film Making Challenge and Short script writing are the two major competitions of IFP. Scriptwriting challenge is based on the theme of modern love where top three champs get rewarded with a free entry to any workshop at Himalayan Writing Retreat. Also, the best scriptwriter gets a mentorship opportunity at TTT.

There are two more competition namely Voice Your Words and Poster making. Under Voice Your Words the participants talk on the theme of 'A Short Film Called My Life'. The top 10 winners get a chance to perform live at the event and selected few get a chance to be featured on Kommune's youtube channel. Under poster making, the creative heads are supposed to recreate a movie poster with a minimalistic approach. The best ones will be displayed at IFP and the audience can buy those offline or online from the quirky youth brand, The Souled Store. Likewise, the top 10 winners get a pen tablet from Wacom technology. The registrations for both poster making and voice your words are closing on 15th September.
Apart from these competitive challenges India Film Project will bring you 60+ amazing and fun sessions across the 5 stages highlighting some exceptionally influential filmmakers and content creators. The festival brings you closer to the well-known faces of the industry, by presenting them as speakers and making it as interactive and fun as possible.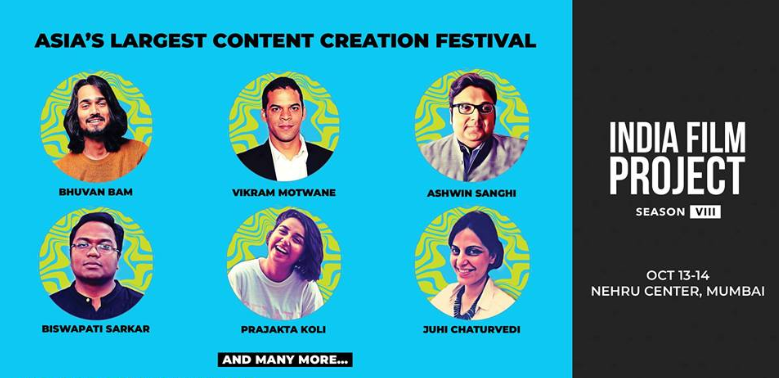 Bhuvan Bam, the man who has marked his place on Youtube will discuss the future of comedy in India. Raghu Dixit will speak about prominence of indie music, Rajeev Masand on constructive film criticism, Ashwin Sanghi on viability of Indian stories and numerous more speakers from different genres like Prajakta Koli popularly known as Mostly Sane, Biswapati Sarkar– The Face Of TVF, Juhi Chaturvedi (screenwriter)- The reason behind the success of outstanding movies like Piku and October and lot many whose stories, convictions, and diligent work have got them where they are.
If this doesn't move you and urge you to attend this intuitive and star-studded celebration then you might want to check IFP's last season's video.
Head to India Film Project if your creative instinct can't contain the excitement, because we definitely can't. The IFP festival will be held on 13th and 14th October 2018 at Nehru Centre, Worli, Mumbai.
Learn More About India Film Project
Hoarder. Overthinker. Dreamer. Mostly Writer. Lover of little things and coffee. Always wants to have the last word and wants to be chosen first. Might find her dancing or speaking to herself on the driveway.