Rann Utsav Festival is held every year from November to February at an aesthetically arranged tent city at the Dhordo Village in Kutch.

About Rann Utsav
If you are not sure what Rann Utsav is, go through this video by Gujarat Tourism.
How to earn the trip to Rann Utsav
AllEvents.in, in partnership with Rann Utsav Festival, has come up with a campaign where we are sharing 10% commission on each ticket sold from your network or efforts. So, for example, If a family books one tent worth INR 25,000 from your reference, you will get INR 2,500 from that transaction.
Step 1 – Get your personalized Link
Click the button below to get your personalized link for Rann Utsav Landing Page.
Get Your Personalised Affiliate Link
Step 2 – Share your personalized link
Once you have copied your personalized link for Rann Utsav, start sharing the link in your network.
Step 3 – Track your earning
When someone shows an interest for Rann Utsav from your link, you will see that reflected in your Affiliate Dashboard. On receiving an interest, we will call the person and help them to complete the booking based on their preference. Once the booking is completed, you will see your earning reflected in the Dashboard.
What are the best ways to share the link
Share with your personal contacts – Draft a short & attractive message and keep your personalized link as Booking Link, and spread the message on various platforms such as Facebook, Instagram & WhatsApp. Share it with all your connections on every platform.
Share in Facebook Groups – Share your personalized link in various travel specific Facebook Groups.
Write & Post articles on your own blog or various other blogs – Draft informative articles along with the videos of Rann Utsav & keep your personalized link as booking link in all the articles. Share these articles on your blog/website and also get this posted on other websites which allow guest blogging.
How to get the payouts
When you join the affiliate dashboard, you will get a welcome email from AllEvents.in team and you need to reply your Bank Account details. You will get the earnings in your Bank account on the same day when the customer is planning to travel to Rann Utsav.
Rann Utsav 2018 Package & Tariff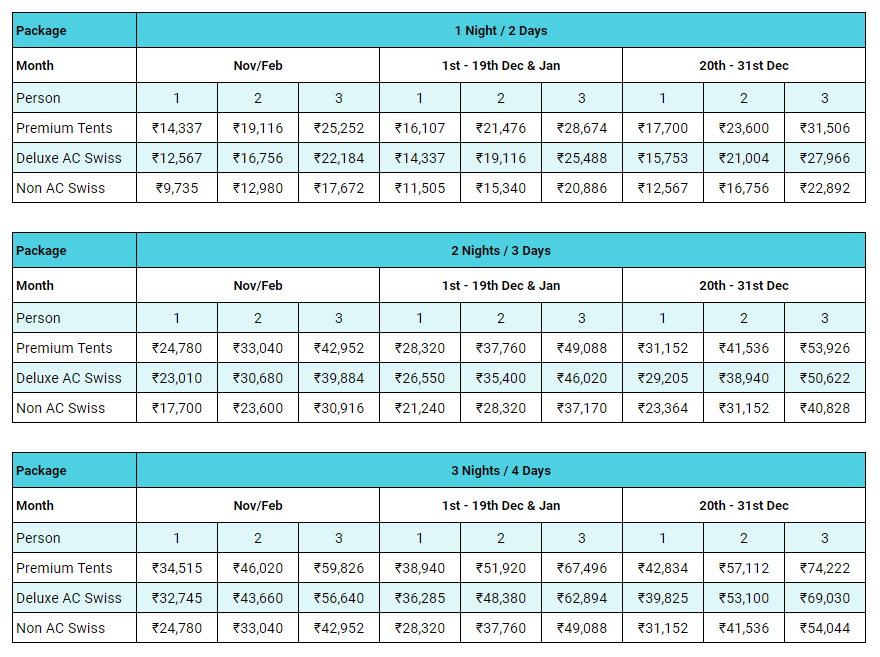 Inclusive of all taxes
ALL THE BEST!
Let's make this year's Rann Utsav the biggest happening ever.