People went totally crazy on the news that Coldplay is finally coming to India with the ticket price starting from rupees 25,000. But no news of the ticket price is confirmed yet.
However the Global Citizen Festival confirmed later that Coldplay is indeed coming to India in Mumbai on 19th of November which also happens to be the World Toilet Day as declared by the United Nations.
Global Citizen is a social action platform, who with the help of the citizens of the world, want to solve the world's biggest problems. They are on the mission to end extreme poverty by 2030 throughout the world and we as a citizen of this nation can help them to achieve it.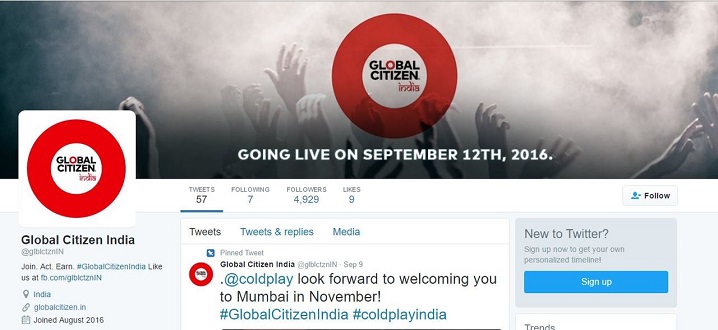 Meanwhile Global Citizen organization was active on twitter with its Indian account @glblctznIN and declared they will come up with globalcitizen.in on 12th September. The website was about to go live by evening but with all the hype and people asking about the tickets, they are now live with their website.

Earlier in one of the tweets, they also mentioned that 80% of the tickets to Global Citizen Festival will be free but you have got to earn it.
So if you are a crazy fan of Coldplay or if you wish to bring some change to India, go and sign the petition on Global Citizen India.
Quick Learner | Marketer | Sometimes A Writer | Business Development @allevents_India | Enthused about #startups | Music Lover