India is the land of festivals and all the joyful festivities add colours to our Incredible land. Holi is the
next festival on door which is celebrated with much elation across the country.
According to the Hindu Calender, Holi is celebrated on the last full moon day of fagun. Holi symbolized as the triumph of good over evil. According to an ancient belief, the story of king Hiranyakashipu and his son Prahalad is attached to this colourful festival. History goes that Prahalad was the devotee of Lord Vishnu but his father Hiranyakashipu was against that. Enraged by this, Hiranyakashya decided to assassinate his son with the help of his sister Holika, who was immune to fire. A pyre was lit and Holika sat on it, holding Prahalad. As a result, Prahalad comes out of fire unhurt whereas Holika burned to ashes.In the present time, people light up bonfires one day prior, to celebrate the burning away of evil spirits. Holi is also celebrated as the day to forgive and forget. People let go of their differences by saying 'bura na mano holi hain' and embrace brotherhood.
Holi is also celebrated in different ways across the county which includes several appetizing dishes served in different regions. Celebrate the festival of colours with these easy to made and toothsome delicacies. Serve your guest with some flavorsome cuisines and enjoy the madness of Holi!
Lets us take a lavish voyage of mouth-watering dishes from Indian kitchens.
Gujiya

Gujiya has become the synonym of Holi. Since ages, this is the common food item which is usually
present in menu of holi festival. Gujiya is sweet in taste and easy to make. This traditional food is
made from Maida flour, which is stuffed with rich dried fruits and other milk products.
Dahi Vada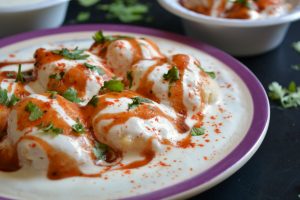 Almost every Indian house served Dahi Vada on the occasion of Holi. This salted yogurt based dish
gives a perfect complement to sweet Gujiyas. These are deep fried flour balls which are served with
thick yogurt.
Thandai with Bhang

It would be unfair if we don't mention bhang wali thandai on the occasion of Holi. Drinking of bhang
at this festival is associated with the tradition and custom at some places. This drink is packed with
the goodness of milk and dry fruits. Immerse yourself in the festivities of the colourful event, shoot
up the spirit of Holi and let the Bhang flows!
Malpua

One of the famous dishes from Heart of India, Madhya Pradesh, delicious Malpuas holds a special
place in the menu of Holi festival. After the tiresome day, treat yourself and your friends & family
with the amazing sugar dripping malpuas. These are prepared from flour, milk and dry fruits. This
scrumptious delicacy looks like pancakes covered with sugar syrup. Do give it a try, it's worth every
bite!
Namakpare

These are light yet tasty. Why wait for finishing off the event, go and grab few while preparing
your pichkari with colored water. Play with colours along with frequent munchies with these salted
Mathri!
So, How are you satisfying your tastebuds this Holi?