Every year Canada celebrates its birthday on 1st July with exciting events, activities, and mesmerizing views of the attractions. But this year it will be a little bit different from other years. Canada Day 2020 celebration may not see mass events or huge crowds but will turn out to be a celebration of unique fashion.
The country is all decked up, there are fireworks, parties, parades, barbecues, and what not! This year everything will still continue to happen but just the experience will be online and not offline. If you are still dubious on how to enjoy the Canada day when there are no mass events happening, then we've got this covered for you:
Here Are Some Of The Best Canada Day Celebration Ideas For You:
1. Canada Day Virtual Parades
The biggest events or festivals are usually accompanied by parades & fireworks. Canada day is also one of the biggest celebrations that have huge processions along with music, dancing, and just colorful things everywhere. This time around, take a new experience; attend virtual parades to celebrate Canada day near you.
2. Canada Day Virtual Party
No celebration is complete without – dancing like it's nobody's business. There has to be banging music and a lot of dancing. Considering the situation of COVID-19, it is not advisable to get a huge number of people. But we can always party together virtually. Get your people together on the screen and dance all night or just do it
3. Virtual Canada Day Picnic
Ask your loved ones to have a picnic in their backyard. Prepare the yummy BBQ dishes and appetizers for your Canada day celebrations. Stick to your people virtually and enjoy this day with yummy food, red and white dresses and just simple memories.

4. Canada Day Virtual Shows
If we are talking about celebrations, then there is no end to the list of things that one can do. There are a bunch of events that you can choose from; and all the experiences online. From virtual concerts, comedy nights to exciting shows, you can check out all the streaming shows online and make the Canada day celebration an extravagant experience. You can even watch maritime shows airing live!
5. Virtual Paint Party
For your creative heart, anything can be celebratory with a canvas, few brushes and lots of paint. Celebrate Canada Day with paints and all things artsy. For you a virtual paint party would be more than any other booze party. Join paint party events and spend time with people who have the same passion for paints & art as much as you do. Apart from painting parties, there are even face painting workshops & themed painting events. Find creative things that fit your interest and celebrate this day with what interests you the most!
6. Canada Day Virtual Concerts
Be it Vancouver or Ottawa, on Canada Day there are concerts all over the country. It's just amazing how the vibes align with the celebrations but as we said there will be no mass events. But there will be too many virtual concerts lined up for you. The vibes will stay with you but you will have to enjoy it with your fam at home and with a bunch of other people online. Get groovy with the best of virtual concerts online and enjoy this day at home.

7. Canada Day Virtual Run
For the people who are into health & wellness, virtual run is the answer for you. Get into the spirits of the Canada day with virtual 5k, 10k and full marathon events. When you finish your race, give yourself a treat; a Canada themed cake. There are interesting approach to virtual races; they come along with trivia nights & winners win medals too.
8. Canada Day Virtual BBQ
What is a party without food? Over the years there have been just too many BBQ's happening on 1st July; all inclusive of grilled recipes, obstacle courses and family fun. This year the BBQ parties will still continue to happen but just like other activities and events, this too shall go virtual. Bring all the cool appetizers, delicious desserts and yummy grilled dishes to make it a foodie-doodie BBQ party.
9. Virtual Scavenger Hunt
A scavenger hunt is a fun and outdoor-ish activity. If you love fun, games, and entertainment then you are going to love the scavenger hunts. It's a fun team game where you look for some specific items given in the list. Play it together online, decide your themes and clues; make it a fun-fun time at your home whilst you play this.
10. Virtual Cooking Class
You may not be able to cook yummy cuisines or delish desserts but there's always a room to learn. Take up a Canada day special cooking class and learn how to make themed cupcakes and varied cuisines. Because what is a celebration without scrumptious dishes & desserts. If you keep it all red & white then choose your dishes with that theme. Explore the best of online cooking classes and paint it all red & white.
Also Read: 10 Best Online Cooking Classes In 2020 For You
Bonus: Creative Events – Craft Night
Decorate your small world with creative crafts and all things red & white. Canada day is a celebration of 'Canada's birthday' and you have to decorate your small little world with crafty things. Take DIY classes & craft workshops to learn how to make beautiful looking things.
Make your Canada day celebrations a level higher with all things amazing. All the crafts, parties, and yummy food are awaiting you. Explore all the amazing Canada day events online and play it safe.
Explore Online Canada Day Events
Check Out Canada Day Events Near You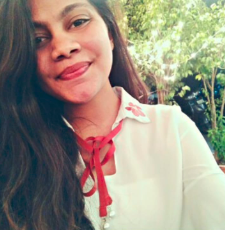 Hoarder. Overthinker. Dreamer. Mostly Writer. Lover of little things and coffee. Always wants to have the last word and wants to be chosen first. Might find her dancing or speaking to herself on the driveway.