Let's go Beer-o-Holic!
Shouting out loud for April, Beer, more Beer, Rock-and-Roll, amazing line-up, Aura Vaseela, some more Beer and the Lager n Barrel Festival.
Let's give you a quick introduction!
Lager n Barrel festival is the love child of Speed records and EYP Creations. It is a rock-n-roll beer festival to celebrate beer,music and the love of a good time. This is city's first beer festival, pouring the fizz from late afternoon and through the night. It is offering a diversity of beers which are available for tasting and purchase. It intends to ensure that the festival goers experience full flavor of life through enriching music acts, lovable activities, delicious food and endless beer. For what it is, Lager n Barrel is poised to turn into summer playground for beer lovers. Yes! You heard us right!


A mind-melting array of artists, DJs and Bands at the festival create an incredible atmosphere leaving you enthralled. Get yourself drench with live music by Roouh – The Eternal Band.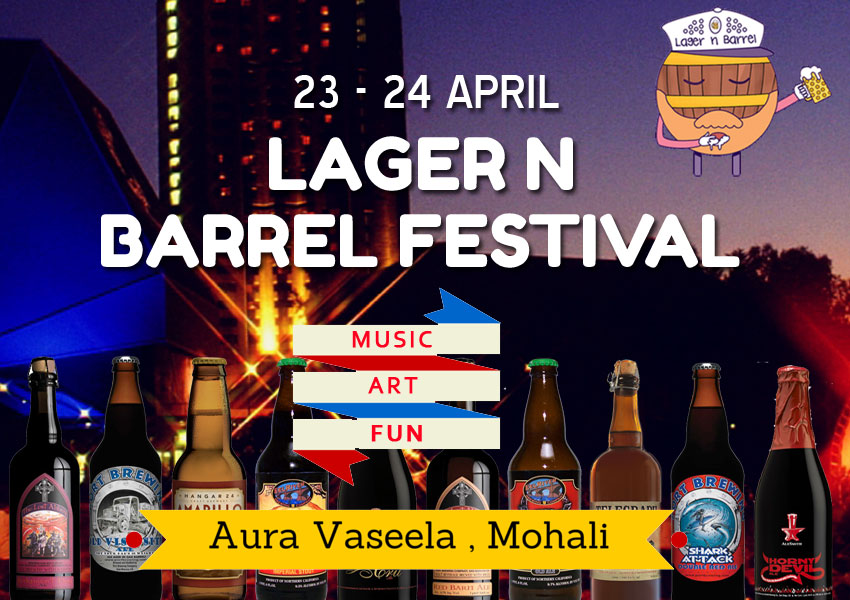 Activities
The festival is full of choices that will satisfy your appetite. The activities here are so immersive that the whole experience could transform your life.
1) Selfie Booth
2) Food Arena
3) Beer Shack
4) Romantic Corner
5) Flea Market
6) Confession Booth
7) DIY Zone

Bottoms Up Arena
The coolest part of the festival is the fun games that will incite deep joy and happiness and sure to tickle you all around. Play it cool.
1) Beer Pong
2) Sac Race
3) Life Size Zenga
4) Live Foosball
5) Blind Path
6) Beer Wheel
7) Ring Toss
8) Plinko
9) Beer Frizbee
10) Beer Relay
11) Beer Snake and Ladder
12) Tic Tac Toe

Artist Line Up
April 23
DJ Shadow
Akhil
The Twinlazers
Roouh The Eternal Soul
April 24
Guru Randhawa
Millind Gaba
Itehad Band Live
Shabad-The Band
Collective Passion
Delight yourself in the adventure of interactive art displays and discover your love for art at our art corner. Wander around as a carefree bird and admire the beauty of art.
To know them more, enjoy their full-fledged Beer-y blog at Lager n Barrel Festival.
Follow the event as Lager N Barrel – BEER Festival and make the loud voice of Beer celebration with Rock and Roll. April is ending on a grand note this time!
With Armed Forces background, Aarohi has been a passionate traveller and writer, instinctively. With formal education and work experience in physiotherapy, hospital management and public administration, she chose to write professionally with All Events in City. Her interests are travel shows, philosophical mockery, watching art movies and following comic strips from Zen Pencils. She is a freelance writer, travel blogger and loves interviewing people on Twitter through our #HappeningCity series.