People, it's that time of the year when "pass nu setting padyu?" is asked before "how are you?"
Navratri in Gujarat is one festival dearly loved and crazily enjoyed all over. Be it dancing on the bhajans over Ras Garba or on the beats of the dhol, there is something so exhilarating and joyous about this festival that it is loved by one and all.
Right from the Navratri Puja before the celebration till the enthusiastic Garba lovers dancing till 4 am, Navratri in Gujarat is all about the festive excitement, music and dancing and the beauty of the infinite array of colours you are likely to find. With hundreds of excited dancers joining professional Garba and dandiya classes months before the festival arrives, you can guess the level of passion Navratri beholds in the hearts of Gujaratis.

To fill all your 9 days of Navratri with amazing vibes and colourful memories. Here is the list of best places to celebrate Navratri in Gujarat that you should definitely pay a visit: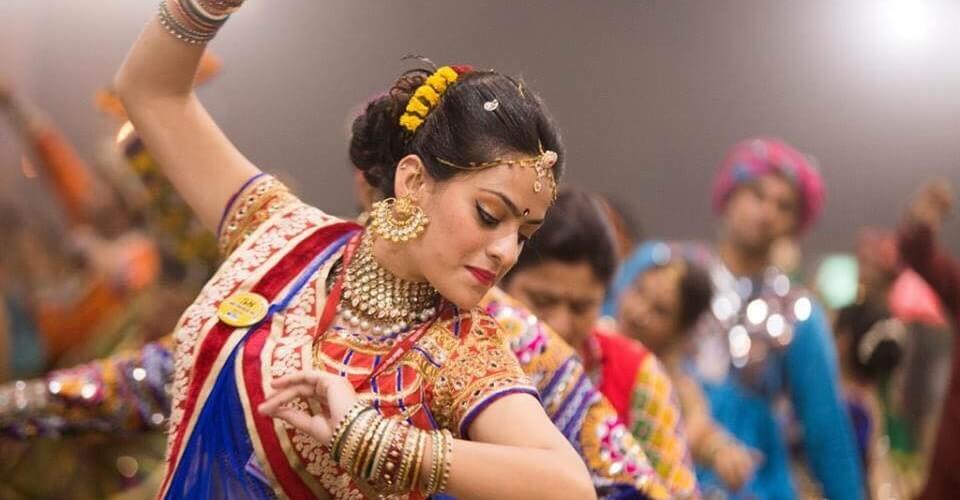 Navratri without experiencing Vadodara's vibe is like experiencing summer in Gujarat without the ice gola! Basically, Navratri in Vadodara is a top-notch event. Every year, hundreds of people across Gujarat and thousands of people across India travel to the city just to be a part of the crazy energy and unmatchable passion towards the festival.
One unique peculiarity of celebrating Navratri in this city is that it is mandatory for everyone to dance in a circular pattern, encircling the statue of Goddess Durga. One of the most popular places in Vadodara here undoubtedly is the United Way, passes of which are bought by people all over the country.
As crowded as it is, this place has its own vibe, themes and once you dance to the beats of the famous singer Atul Purohit, you'd not want to go anywhere else. Adukyo Dadukyo is also a popular Garba spot for children where parents can enjoy themselves without worrying about their children. Nava Bazar and Mangal bazar are very popular for all your Navratri shopping in Vadodara.

Garba Venues in Vadodara: United World, University of Baroda Faculty of Fine Arts, Maa Shakti Garba, and Polo Club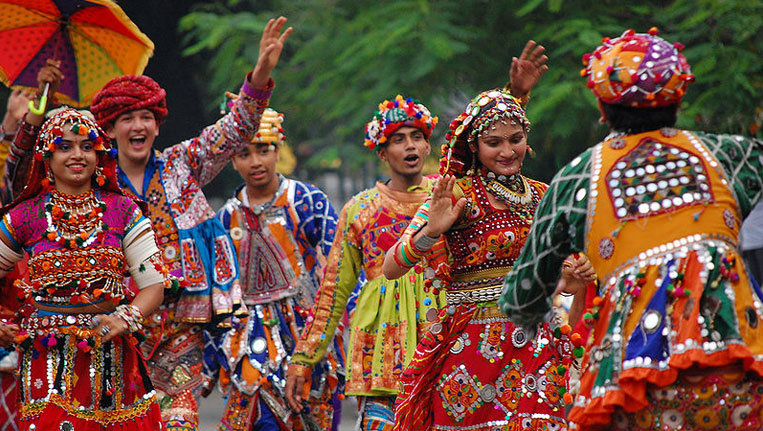 Navratri is long-awaited, loved and widely celebrated in Ahmedabad. It would be an absolute injustice if you miss out on the famous Law Garden Navratri market. With over 60 stalls selling the most authentic and beautiful chaniya cholis and all kinds of Navratri attire, accessories and ornaments; keeps the entire law garden street crowded with buyers coming over from different cities, bargaining their purchases.
This market is a glimpse of the excitement people contain for the festival. Such markets are also quite widely spread in Nehrunagar and Maninagar area and are best for street shopping. Pull up your bargaining skills and get ready to buy in bulk once you enter these markets; the varieties of colorful chaniya cholis and trendy accessories will tempt your heart to get them all.
With the most beautiful decorations and singers, many party plots, lawns, and even residential societies host the event for 2-3 days if not all 9.

Best Garba in Ahmedabad: NID, CEPT University, Friends Garba, Mirchi Roll n' Roll Dhol, Kalhaar and more.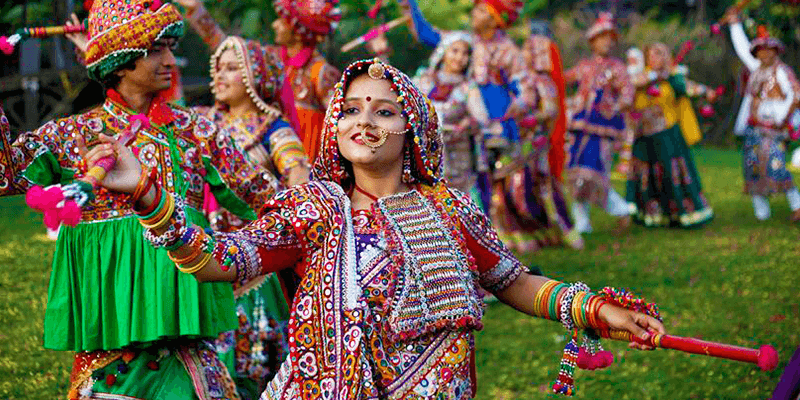 Markets full of mirror-work chaniya cholis and ethnic accessories for the festival, Navratri in Rajkot is celebrated with a lot of energy and excitement. Rajkot is very famous for its elaborate "baporiya" or lunch. The entire city stops and rests between afternoon to around 4 p.m. in the evening for lunch and a long and peaceful afternoon naps (to also justify the incoming burps from the delicious lunch. The chaos turns into calm and the calm only prevails until the joyful celebration begins at night.
The mirror works, bandhani prints and beadworks are very well known in the city along with many other items in the local market which are often picked up by the visitors.

Best Garba Venues In Rajkot: Neel's City Club, Khodal Dham Navratri Mahotsav, Surbhi club, Club UV and more.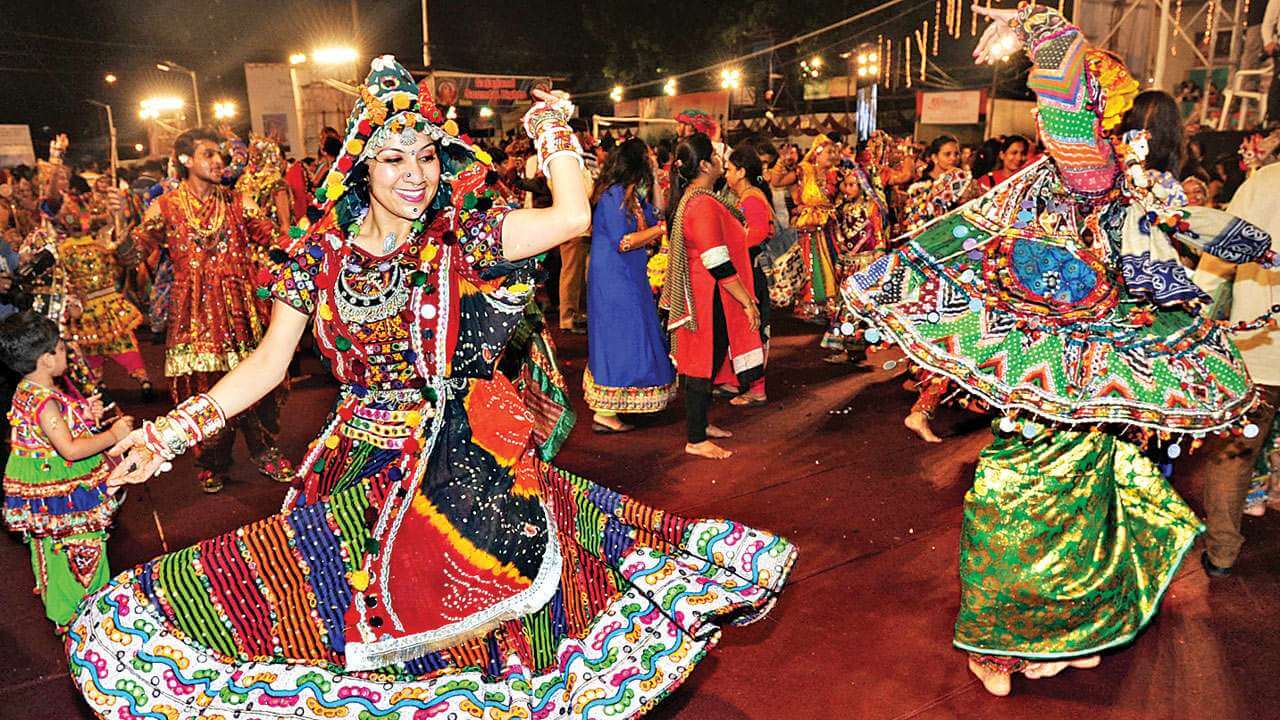 Flavored with fun, Ras Garba, colors, and food, Navratri in Jamnagar comes with a great package deal. Along with the amazing Garba events all through the festival, the city also entertains certain other fun and traditional activities like handicrafts. Like most other cities, this city too has a mix of amateurs and professional Garba dancers showcasing either pure fun or their talents at the dance grounds. Dandiya raas being a popular dance form in the city, many other styles include Ghorya Raas, Sword Raas, Garba, and Garbi.

Best Venues in Jamnagar: Utsav Navli Navratri, Aradhna Navratri Mahotsav and Royal Rasotsav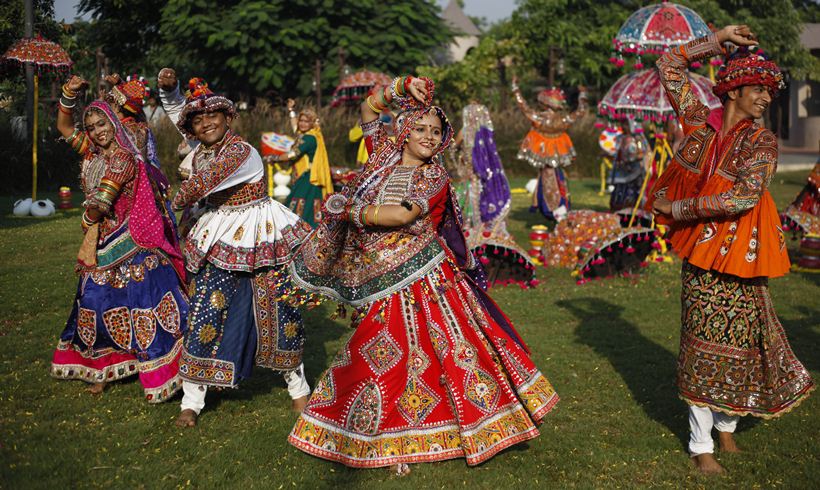 The Diamond and Textile capital of Gujarat indeed hosts some precious celebrations of the festival. Garba in Surat are not just for fun, they're practiced in classes and in groups; weeks before the festival begins and once it does these groups color code and present their Garba at various places, winning both prizes and hearts. There are many places which follow 'sheri' Garba where thousands of dancers dance the same step, making it a sight to behold.
Attracting a lot of celebrities to join the people, one may spot many Mumbaikars joining the Garba in this city. Markets like Adajan Sahaj, Chauta Bazar are quite preferred by the people for their ethnic and cultural offerings with traditional mirror work and embroidered chaniyas.

Best Garba in Surat: Sarsana Dome, Shankus Dandiya by AMZ, and VR Mall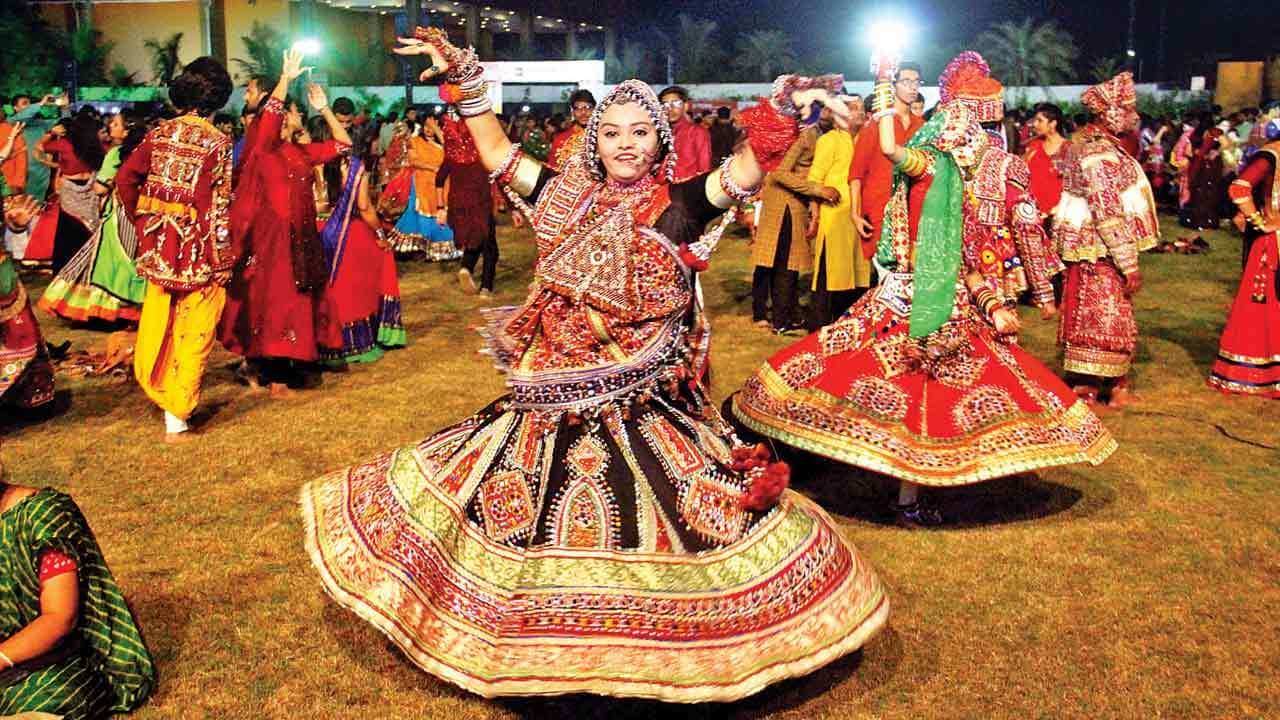 Although this city does not offer too many options for Garba, it does not make any difference in the enthusiasm and zest for the festival. Apart from the regular crowd, women also perform the dance balancing earthen pots on their heads, with a lot of confidence and grace which makes it an interesting view to capture. The city's famous markets are the Haluriya and the Roopam Chowk for the most beautiful attires and traditional shopping of chaniya cholis and kurtas. The professional Garba classes and gigs make the events even more fun!
A unique sight in the city is when the professionally trained women dance Garba with the huge lighted lamps on their heads.

Best Garba in Bhavnagar: Galaxy, Rangoli Resort, and Archies Garba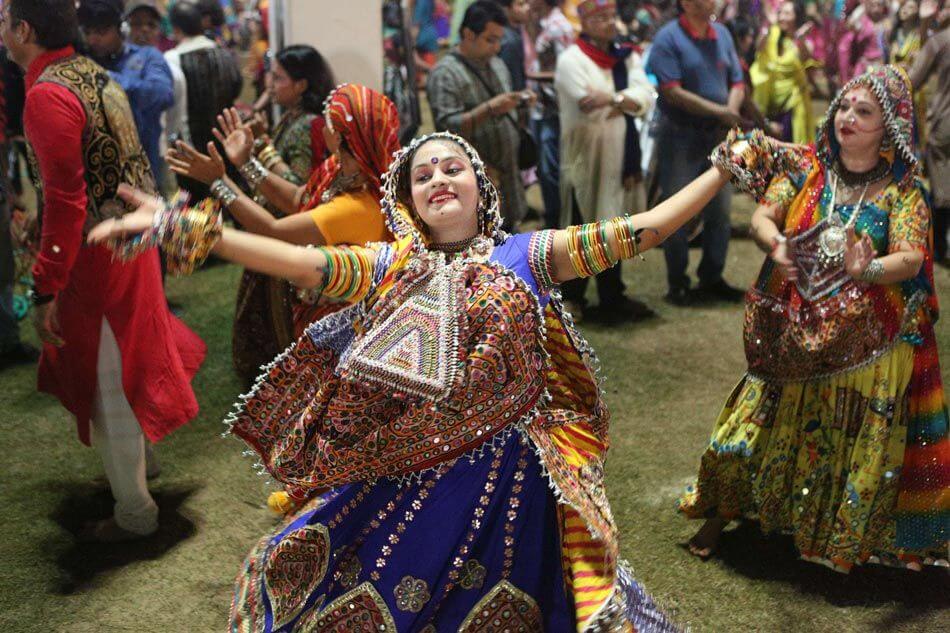 Being a popular district of Gujarat, Navratri in Anand is celebrated through cultural dances of Garba and dandiya. Like any other city in Gujarat, this city too has its own corner of people awaiting Navratri celebrations. Apart from party plots or grounds, the city also celebrates the festival by hosting the events in the residential societies, where people living nearby can also join.

Best Venues for Navratri in Anand: Vrundavan Ground and Heart Killer Garba Ground
Navratri is a festival of colorful and passionate dancing for 9 days, embracing the cultural and traditional roots of Gujarat and the dance forms. If you are a Gujarati, make a checklist to visit these places, already! And if you're not, add 'Visiting Gujarat during Navratri' to your checklist.

Check Out Navratri Events In Your City