The most awaited time of the year is here, it's the time for the biggest dance festival of Gujaratis – Navratri. Navratri is all about dancing to the tune of best Garba songs and of course a lot about food too, since Gujjus are the major foodies. The nine days of Navratri, girls and guys adore the beautiful Navratri outfits; all colorful and vibrant chaniya cholis, kediyas and chunky accessories. Every year there is this new trend where you can expect something new on the nine nights of Navratri; be it the attires or the Garba fusion steps or the interesting Bollywood Garba songs. If this festival needed to be summarized in one word then it would definitely be 'overwhelming'.

A large chunk of people books tickets to India to witness this major extravaganza called Navratri. While you might be all set with your ghagra choli and dance moves, we here have curated a list of some of the Garba songs to embrace Navratri 2019 in style.

Here's a list of this amazing folk and Bollywood Garba songs that will instantly make you want to dance:

1. Odhani
No one beats the sensational Neha Kakkar! The fusion song Odhani from the movie Made in China starring Rajkummar Rao and Mouni Roy is going to be the song that will be blasting at all the Garba venues. The original Gujarati song was really good and this one too has kept the standard of the song high with its groovy music and definitely the voice of Neha Kakkar is the bonus here!
2. Chhabilo
Chhabilo song is going to be the Raas Garba Anthem of 2019. It features these two very talented singers, Jankee and Arpan Mahida who have been creating garba songs from the last few years and like there past songs, this too is going to be a sensational hit. If you haven't heard this yet, watch it right away.
3. Raadhe Raadhe
Raadhe raadhe raadhe, O raadhe raadhe raadhe
Tere bina krishna toh lage aadhe aadhe.
This song has to be on the list, having the kind of music that makes you want to dance right away! Ayushmann Khurana sure is known for his fabulous choice of movies but this time not just his movie but the song is going to top the charts. Why aren't you dancing already?
4. Cycle Cycle
Does this song need any introduction? Well, it has his own separate fanbase. This Tiktok sensational song of 2019 is going to bring all the dancers on the floor with their fusion Garba moves. You might as well want to bring your dandiya sticks on the floor because the music goes just right with the dandiya moves. Hear it out if you haven't yet!
5. Rang Bhini Radha
Rang Bhini Radha is the song that speaks 'NAVRATRI' loud and clear. It is a folk Garba song, a song that is apt for all the passionate Navratri lovers. Flaunt your dodhiyu and crazy garba moves with this beautiful folk music. How can anyone not move their feet after hearing this song?
6. Kesariyo
The Gujarati rockstar Aishwarya Majumdar kills the stage with her performances. She has been singing for years now and the best has always been her Gujarati Garba songs. This 2019 she has brought a taste of fusion again with this very old song 'Kesariyo Rang Tane Lagyo'. Take in her beautiful voice and prep your Raas Garba moves with this popular Gujarati track.
7. Radha Ne Shyam Mali Jaase

There always will be this one song about Radhe Krishna tuning at the venues. This song has to be one that needs to be played on each and every Garba venue. It features the soulful music and voice of Sachin Sanghvi which speaks about the Radha and Krishna love story. Add this song that will leave you in awe to your Garba playlist.
8. Dil Mera Blast
The Gujarati chokro Darshan Raval always brings something fun to the table. Every year he brings some fun and vibrant song that is blasting on Navratri. He has brought a legit blast with his single 'Dil Mera Blast'. It has a very lets-dance-no vibe and the music is absolutely captivating, you will surely not get over this not-so-Garba yet very Garba song.
9. Chhodiyan
The Kamariya boy Jacky Bhagnani has brought one more song to get your feet tapping this Navratri. It is a Hindi song yet feels like a very Gujju song somehow. This song is going to give you all the Garba vibes. Chhodiyan- the festive number by Gaana Originals is going to be absolutely loved.
10. Chogada
Chogada tara, Chabeela tara…
This is a Bollywood fusion song which was originally a Gujarati folk song – Ranglo. There is no competition because both the songs are beautiful and rather just the right pick for Navratri. Featuring the voice of Darshan Raval and actors Aayush Sharma and Warina Hussain, this song was sure a hit!
11. Kamariya
Let Jacky Bhagnani floss over Kamariya, but you know what you got to do right? Get on with your Dodhiyu, Bollywood fusion Garba or whatever you want to do! Hit the floor with one of the best Bollywood Garba songs. Again this too was a fusion from the original Gujarati song; 'Pethal pur ma paavo vagyo'.
12. Raas Garba Hits | Mashup
This is a test for a true blue Navratri fan, you got to know all the songs from this mashup. This is going to be one of the best Garba songs you are going to hear today. It features the beautiful voice of Jankee and Arpan Mahida; what do we even say about the music? It is going to make you want Navratri super soon!
13. Rangtaari
This was going to be on the list because it was from Loveyaatri a movie that was all about Navratri. This song features Aayush Sharma, voice of Tanish Bagchi and the very own Honey Singh. Are you the one who knows all the super-fast moves of the Garba? If not, pump up your energy because this will need a lot of energy.
14. Dholida
This song features Aayush Sharma and Warina Hussain; dancing with absolute grace. We know you have your Garba moves sorted but watch this song once. If 'dholida' doesn't get you all craving for Navratri then are you even a Garba fan?
15. Kaho Poonam Na Chand
If you are this person who feels that Bollywood Garba and all is okay but nothing beats the Gujarati folk songs then this is for you. This is one absolutely beautiful song; musically, lyrically and definitely the voice of Aishwarya Majumdar is the cherry on the top. One more song for your Garba 2019 Playlist?
16. Rangtaali Non-Stop Garba
Aishwarya Majumdar is going to be everywhere on the list. We are not obsessed but nobody sings better Gujarati Garba songs with such grace but her. This is a long 1-hour mashup but you will not one to change or pause once you hear this. It has got all the popular and beautiful folk songs for Garba. Hear it once and you will be dancing on this before even Navratri begins.
17. Udi Udi Jaye
We could not have miss this track. Shah Rukh Khan and Mahira Khan, absolute beauty in one frame with an amazing Garba track. Can anyone ask for more? This is the Bollywood Garba song that will make your heart go 'Udi Udi Jaye'.
18. Raas Garba Hits | Mashup
This was the first Garba Mashup by Jankee and Arpan Mahida in 2017. A piece of very strong music and voice that brought millions of viewers to watch it. You can hear this on loop and cannot stop yourself from dancing. It is a Gujarati Garba Song Mashup that has been popular since 2017 and continues to be loved by all.
19. Gori Radha Ne Kaalo Kaan
If any song can bring the essence of Navratri in light then it is 'Gori Radha Ne Kalo Kaan'. It is a Gujarati Garba song from the movie Wrong Side Raju. It has all the aesthetics and pure folk vibe. It has to be the song that will not fade out from the Navratri playlist, whatever the year is.
20. Daakla
If there was a Gujarati song that would make you want to dance and could also make you trippy then 'Dakla' would be one. You have to watch this captivating video. It has such a strong visual and music, you can never dislike it. If played at any Garba venue, then the floor's gonna be on fire with the crazy Gujju energy.
21. Nagada Sang Dhol
If taking Garba classes from any actress was an option, then Deepika Padukone would only be the OG Garba teacher. Who better than her? 'Nagada Sang Dhol' has all the feels and exceptional Garba moves that one would flaunt in Navratri. It is a song that is visually and musically mind-blowing. It will always be 'The Garba Song' forever.
22. Lahu Muh Laga Gaya
The ever-so-fabulous couple Ranveer and Deepika ace the chemistry test on the screen with 'Lahu Muh Lag Gaya'. It is crazy how beautifully their moves are in sync. Prep with your partners to this wonderful and lovely Garba song from Ramleela.
23. Mor Bani Thanghat Kare
Mor Bani Thanghat Kare originally was a Gujarati song in 1944 that was translated by Jhaverchand Meghani. This is a Bollywood fusion version from the movie Ram Leela. It is one of the few Bollywood songs that is entirely in Gujarati, keeping the Navratri vibe intact.
24. Bhai Bhai
Bhai Bhai again is a Bollywood fusion which was originally sung by Arvind Vegda. This song from Ram Leela certainly sets the Navratri mood and makes for all the excitement. What is a Navratri without screaming a loud Bhai Bhai?
25. Shubhaarambh
Shubhaarambh is a pleasing and soothing Garba song by Shruti Pathak and Divya Kumar from the movie Kai Po Che. It does not have a lot of bang-bang enthu music but has quite the Garba feel in it.
Groove at this amazing Garba songs and if you think we have missed out on any, then let us know in the comment section! #AeHaaloooo
Check Out Navratri Events Near You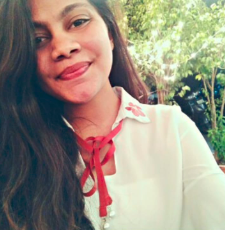 Hoarder. Overthinker. Dreamer. Mostly Writer. Lover of little things and coffee. Always wants to have the last word and wants to be chosen first. Might find her dancing or speaking to herself on the driveway.