Being one of the most developed metropolitan cities of India, Bangalore has a lot to offer – a booming market of startups and numerous technology parks for job seekers, happening nightlife, amazing cuisine, and buzzing shopping places. But sometimes shopping with your friends or going out for drinks and dancing is not enough on a weekend. One needs to escape from the hullabaloo of the noisy city where traffic does not seem to end. After those monotonous nine hours on weekdays, you definitely deserve a relaxing break over the weekend to destress yourself. Well, think no more! We are here to sort it out for you.
Whether you want to explore the greenery around Bangalore or go on an adventurous trip on the mountains or if you are looking for someplace away from the crowd to relax, we have got it covered. Prepare yourself for one of the best Bangalore weekend getaways as this vibrant cosmopolitan city offers so many paradisal destinations that are perfect for weekend breaks. With a wide range of destinations located within 100 km to 300 km from Bangalore, you will get an exclusively different experience at all of these picturesque and adventurous places. So, what are you waiting for? Pack your bags and hit the road for a fun-filled weekend. Take a look at the list of topmost tourist places near Bangalore that are a much-needed reprieve from the fast-paced life of the city.
1. Nandi Hills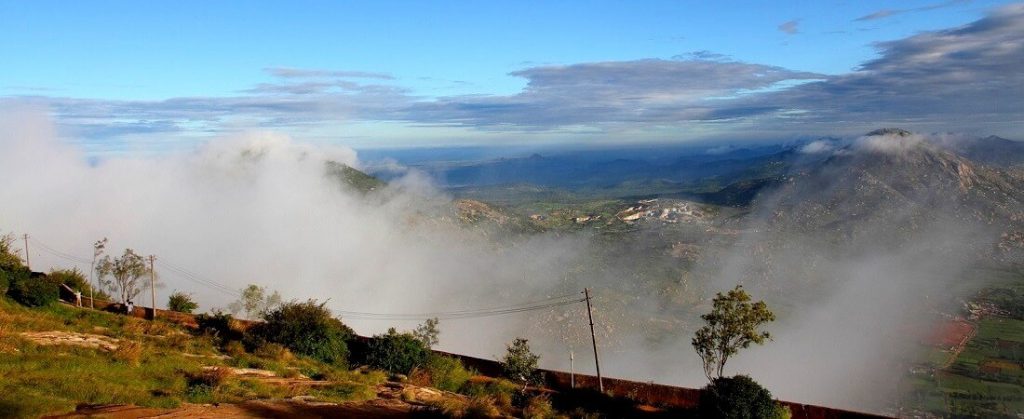 If you are looking for a short escape from the hustle bustle of the city, then Nandi Hills is the brilliant option for you. Located about 60 km from Bangalore, it is famous for its picturesque views of brilliant sunrises and sunsets and misty mountains. With an elevation of 4851 meters, Nandi Hills is a haven for adventure enthusiasts for trekking and other adventurous activities amidst hillocks and exotic flora and fauna. Head to this scenic place early morning and appreciate the nature while clicking beautiful pictures. A favorite destination for nature lovers, Nandi Hills is a perfect spot for a panoramic view of the city.
Things to do – Welcome the day with a breathtaking sunrise and go for short treks on the hilltop. Visit Tipu Sultan's Fort and Bhoga Nandeeshwar Temple, situated at the base of Nandi Hills. Take away the memorable experience of dewy hills by paragliding and cycling.
2. Bheemeshwari, Mandya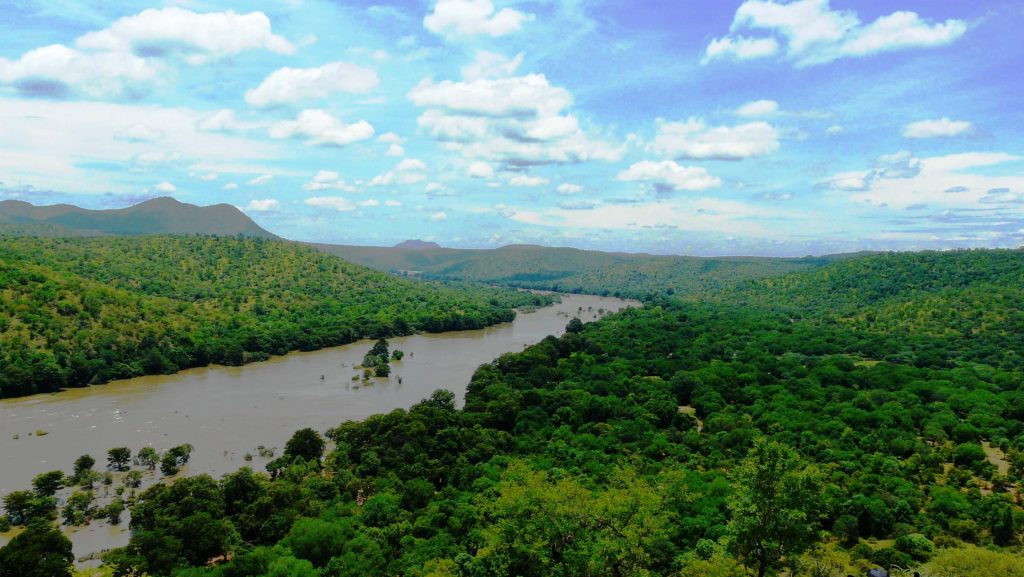 Located in the Mandya district of Karnataka, Bheemeshwari is just about 100 km from Bangalore. A great weekend getaway for adventure lovers, it is surrounded by river Cauvery and breathtaking waterfalls – Barachukki, Gaganachukki, Shivanasamudra, and Mekedatu. You will find lush green forests swarming with wild animals such as crocodiles, elephants, wild boars all around Bheemeshwari. Perfect spot for fishing, it is a home to tropical fishes.
Things to do – Begin your day with trekking and carry on with rafting in Cauvery. Be a part of Doddamkalli Nature camp that offers adventure activities including trekking, watersports, and other outdoor activities.
3. Bannerghatta National Park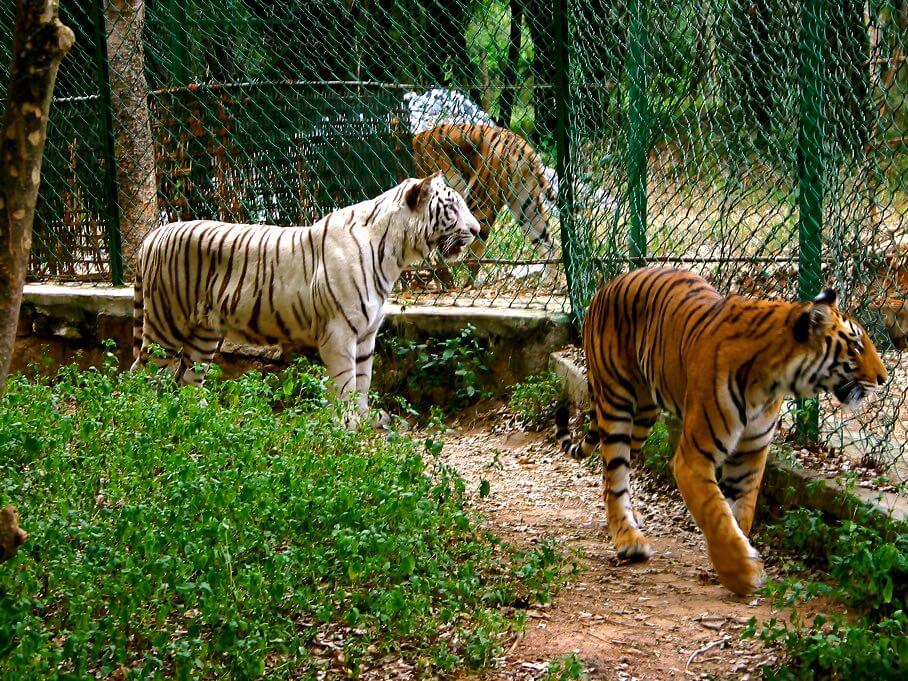 Bannerghatta National Park is a quick weekend getaway for wildlife lovers and photographers, located around 22 km away from Bangalore. Surrounded by a variety of flora and fauna, the park is spread over a vast area of around 104.27 sq.km. Other than the country's first exotic butterfly park, you will find many other attractions in this biological park that includes an aquarium, a zoo, Crocodile farm, Children's park, prehistoric animals' park, snake park, and a museum. Rediscover the animal lover in you as you experience the captivating wildlife here.
Things to do – Hop on the Jungle Jeep Safari to experience the wondrous wildlife and do not forget to visit the butterfly park.
4. Wonderla Amusement Park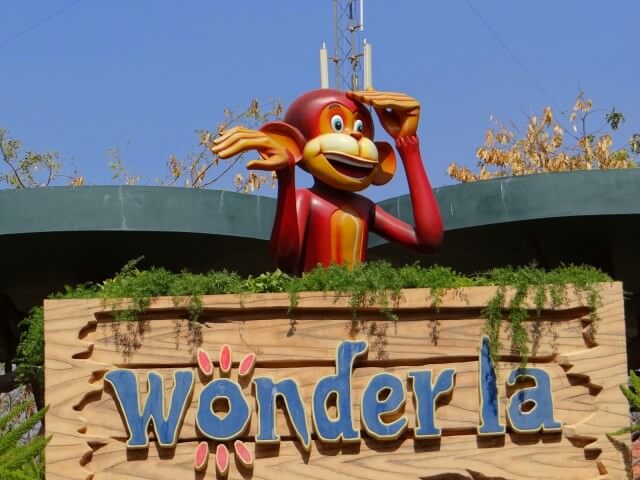 Prepare yourself to have a magical and thrilling experience at the Wonderla Amusement Park in Bangalore. Just 28 km away from the city, the Park features a wide range of 55 land and water rides, attractive laser shows, a virtual reality show, and a musical fountain. Enjoy the craziest and the most fun-filled weekend on these adventurous and fun rides including Skywheel, Techno Jump, etc., at one of the largest amusement parks in India. Water rides such as Fun Pools, Watery Coasters, Rain Disco, etc. are perfect to beat the heat.
Things to do – Get on water rides, high thrill rides, and feast at its various restaurants offering a variety of cuisines ranging from South Indian to Tex-Mex. Groove to the music on the full-fledged dance floor that has electronically controlled rain showers.
5. Ramanagara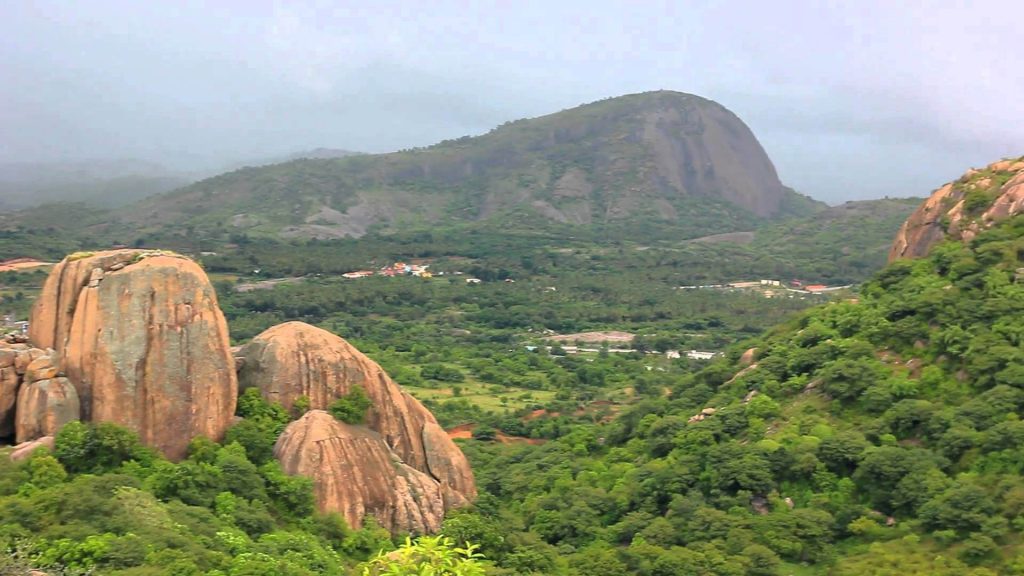 Located around 50 km from Bangalore, Ramanagara is also known as the silk city. Surrounded by the seven major hills, the town makes a beautiful escape from the city. These rugged hills shot into fame with the shooting of blockbuster Sholay in the 70s. This small peaceful town just outside Bangalore is a hub of rock-climbers and silk-industry due to a large production of silk. It is also surrounded by several historic temples. Visit the incredible streets of Channapatna, that is a colorful town located in the Ramanagara district. Also known as the Toy Land of Karnataka, the town produces handcrafted wooden toys, showcasing the impeccable talent of the craftsmen.
Things to do – Go for rock climbing, trekking in the seven hills, and bird watching. Take a pit stop at Renukamba eating outlet in Bidadi for their delicious Thatte Idli, buttery crispy vadas and frothy filter coffee. Do not forget to shop funky wooden toys at Channapatna.
6. Mysore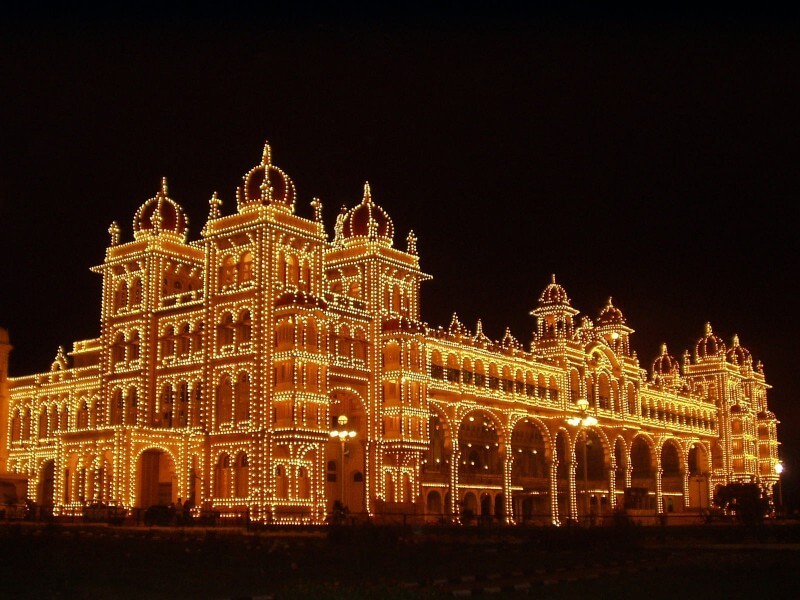 Situated at the base of Chamundi Hills, Mysore is touted as the 'cultural capital of Karnataka'. Located about 150 km from Bangalore, it is a perfect weekend getaway for history lovers and nature enthusiasts. The spellbinding Indo-Saracenic architecture of Mysuru Palace will transcend you to the era of Wodeyar dynasty. Built in 1912, the residence of the royal family of Mysore is widely known as one of the biggest palaces in the country. With multiple options to explore, the royal city offers a one-of-a-kind experience to tourists, giving an enriching vacation. Dating back to the 12th century and situated on the top of Chamundi Hills, Sri Chamundeshwari Temple is a must-visit historical place for the travelers. Mysore is at its convivial best during the extravagant celebration of 10-day Dussehra festival in the month of October when the Mysuru Palace is brightly lit up while the town comes alive to witness the incredible festival.
Things to do – Spend the evening in Brindavan Gardens, go wildlife spotting at Mysore Zoo, savor the local delicacies such as its traditional sweet Mysore Pak, experience an exhilarating view from Chamundi Hills, and have fun at GRS Fantasy Park. Shop the finest silk sarees from the Government Silk Weaving Factory and capture funny memories at the unique 3D Selfie Gallery.
7. Coorg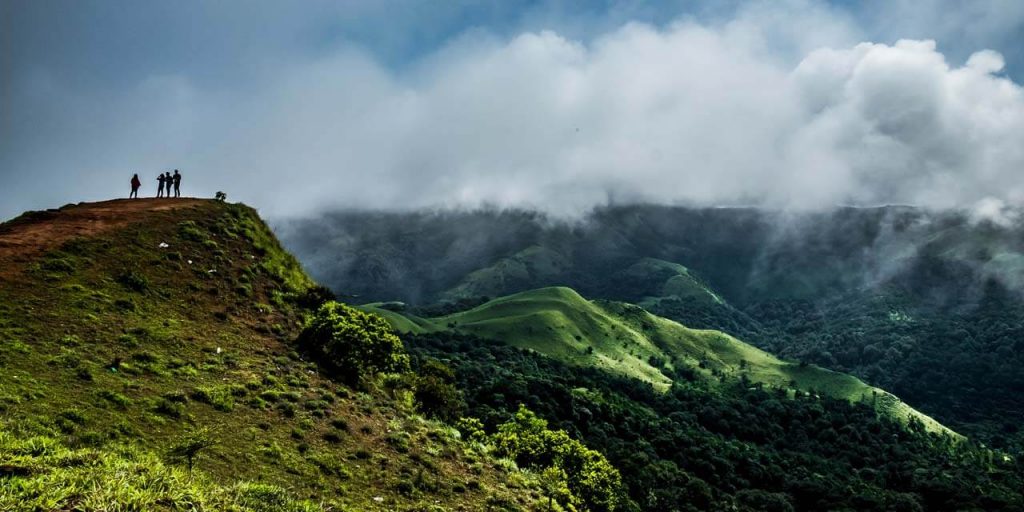 Known as the 'Scotland of India', Coorg is one of the most affluent weekend getaways from Bangalore within 300 km to rejuvenate yourself. Surrounded by lush green coffee plantations, it is a peaceful destination for adventure lovers. Located at the edge of Western Ghats, the pleasant climate of Coorg lets you explore the nearby places, making a scenic destination for honeymooners. You will find water streams cutting right through beautiful green hills with coffee plantations. Officially referred to as Kodagu, the lush green hill station is also well known for its spice plantation. Located between the lush greenery of Western Ghats, Abbey Falls is a mesmerizing sight with water cascading from a height of 70 feet. Home to the famous Namdroling Monastery, Bylakuppe is a typical Tibetan monastery situated 35 km from Madikeri. Opening the doors of national parks and forests, Coorg is a haven for wildlife enthusiasts.
Things to do – Take a tour of the coffee plantation, indulge in river rafting in Barapole River, visit the most famous Namdroling Monastery, and go on an elephant ride at the Dubare Elephant Camp. Experience the delightful concept of 'homestays', located amidst spectacular mountains and foggy landscape. Trek to Burude and Iruppe falls for a spectacular view. Do not miss out on the origin of the Cauvery river from the Brahmagiri Hills, known as Talacauvery.
8. Chikmagalur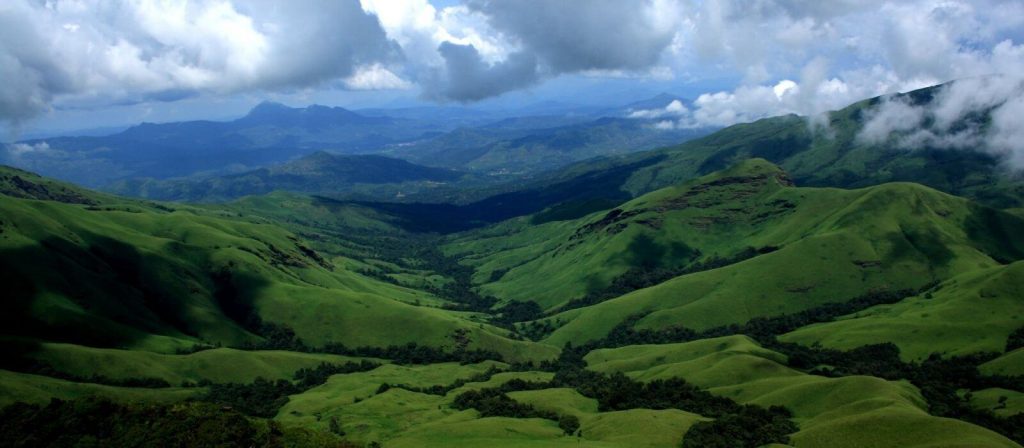 Exhibiting the best form of nature and peaceful surroundings, Chikmagalur is an exciting hill station within 300 km of the city. Scenic hills, magnificent waterfalls beautiful temples, and thrilling national parks – Chikmagalur has them all. Located in the Western Ghats, it is a small and serene hill station that makes for a perfect weekend getaway for nature lovers. With an enduring fragrance of coffee persisting in the air, the quaint tourist destination is all about the coffee plantation. Here, you will wake up to the strong aroma of coffee lingering in the air, making you crave for a brewed one. Chikmagalur is located in the foothills of the Mullayangiri hills which is the highest peak in Karnataka. Surrounded by numerous coffee plantations, Kudremukh National Park which is around 90 km from Chikmagalur is home to around 190 species of birds and a rich wildlife and biodiversity.
Things to do – Go for trekking to various hills in Chikmagalur and rafting in Bhadra river. Sightseeing at Hebbe waterfalls is a must. Take a walk through some of the coffee plantations and stay at the peaceful homestays located within the coffee estates. Trek to Mullayangiri range and experience a majestic sunrise behind the mountains.
To Travel is to Live – Hans Christian Andersen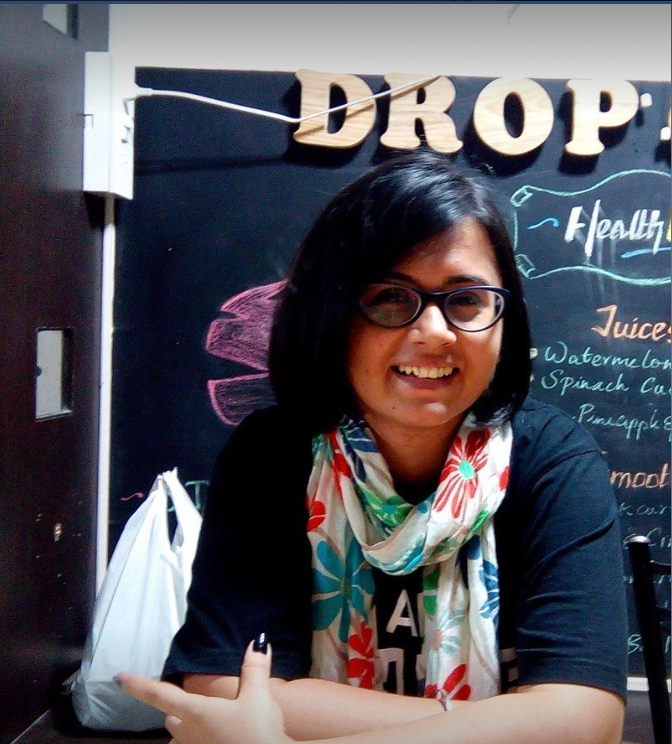 A cynophilist, Chanchal makes sure to stop by and say hello to every dog that crosses her way. She easily connects with those who strongly believe in equal rights for women. Apart from these, she fancies the idea of spending her free time in bookstore, cafés or her den when she is in a mood to watch a movie with some butter salted popcorns. An ardent lover of pretty lights, a hoarder of books (and cute souvenirs) and a supporter of "Silence is Golden", Chanchal is a full-time writer and a part-time food blogger.