An erstwhile Portuguese colony, Goa represents one of the most bizarre combination of craziness stirred in the serenity of nature. Tourists throughout the world flood to this place to forget the stressful and vexing life and to discover some moments of freedom and to experience a world without inhibitions. The enriched Goan culture – accessories, dresses, cuisines and local handicrafts, sizzling nightlife- clubs, discotheques, shacks and the phenomenal natural beauty- sand beaches, tall palm trees and the roaring sea waves, all these make Goa a paradise which no one ever wants to leave. Rightly called as the land of beaches, Goa has some of the most breathtaking and adorable beaches that are sure to make you fall in love with them for eternity. This article gives a glimpse of the best beaches in Goa and the activities one can indulge into.
North Goa
Mandrem Beach – A Heaven for Romantic Souls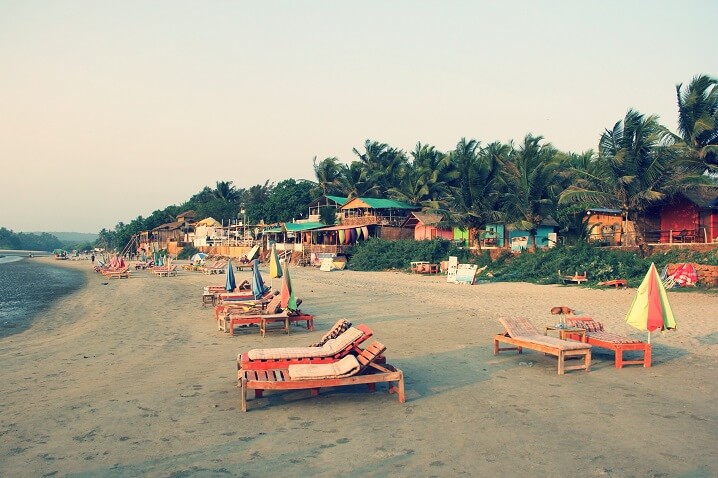 Located 32 km from Panaji, Mandrem is an ideal beach for all the honeymooners and the romantic couples who want to cherish the feeling of being in love amidst the most breathtaking views of the sea. The most wonderful aspect of this place is that it remains unexplored and so one doesn't find it crowded. Thus, a perfect place to rejuvenate, to relax and to enjoy the romantic company of your beloved while you relish every moment at this place.
Famous For : Huge palm trees surrounding the entire line of the beach and white sand..
Famous Eating Joints : Café Nu, Verandah, La Plage (Shack),
Baga Beach – The Most Happening Beach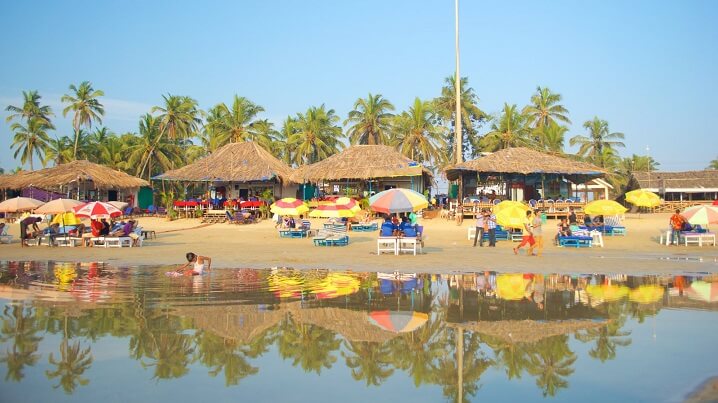 Baga Beach which is located 19 km north of Panaji, is the most happening and the most visited beaches in Goa. Baga boast of a long coastline and is renowned for its enthralling water sport activities like banana rides, jet-ski, parasailing from morning till evening. Once the sun sets and the night begins to go around, the beach turns into a musical frenzy with shacks playing heart throbbing numbers and are themselves beautifully decorated offering candle light dinner. So, one experiences mouth watering seafood, in the moonlight with cool breeze coming from the sea. This is nothing short of utopia.
Famous For : Baga is famous for its water sports activities and the happening nightlife.
Famous Eating Joints : A Reveria, Britto's, Go with the Flow, Cape Town Café, St.Anthony's (Shacks)
Candolim Beach–Laidback Beach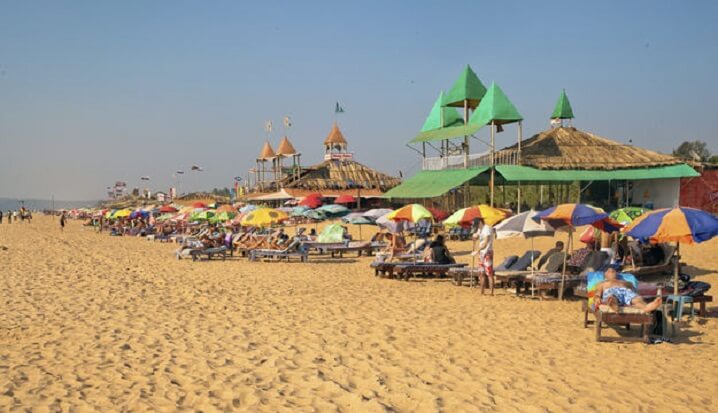 Located 13 km from Panaji, it is a beach that is a part of the Arabian Sea coastline and is one of the biggest beaches in North Goa. As compared to other beaches, it is less crowded, and hence makes this beach a place where one can lay back and relax and enjoy sunbathing and find moments of oneself. The sunset view is mesmerising. A ship named River Princess is at the shores of the Candolim since 2000 and is a tourist attraction.
Famous For : Aguada Fort
Things to do : Water Sport Activities, Sunbathing, fishing are some activities in which one can indulge into. Beach excursions help tourists to capture some breathtaking sunset views.
Famous Eating Joints : Café Chocolatti, Tuscany Gardens ,Wok & Roll
Anjuna Beach – Known For Mysterious Rock Formations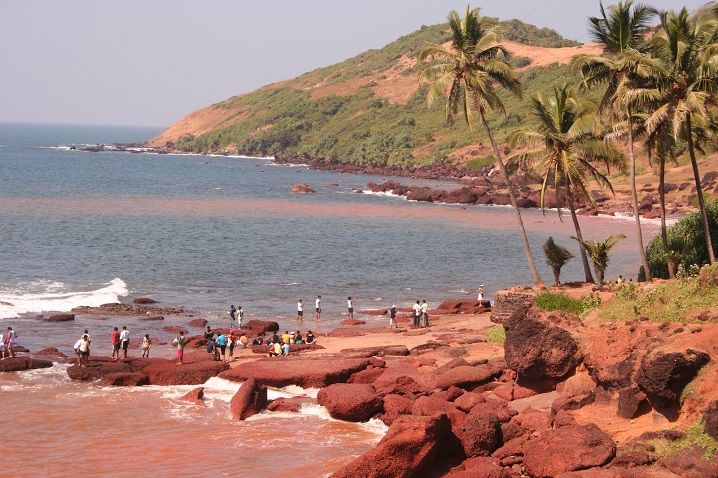 Located about 8 kms to the west of Mapusa (north Goa), Anjuna Beach is characterised by enigmatic rock formations and swaying palm trees that gives this beach a unique appearance compared to other beaches in Goa. Anjuna is famous for its flea market that is held on every Wednesday and is a buzzing place selling Goan handicrafts, souvenirs, jewellery, spices and dresses.
Famous For : Wild full moon parties with trance music.
Things to do : Visit Wednesday Flea Market. Also Club Cabana near Anjuna is the best club in Goa and is a must to visit for some crazy evenings.
Famous Eating Joints : Curlies, Thalassa ( Near Vagator), German Bakery, Bean me Up (Shack).
Arambol Beach – A Free Spirited Heaven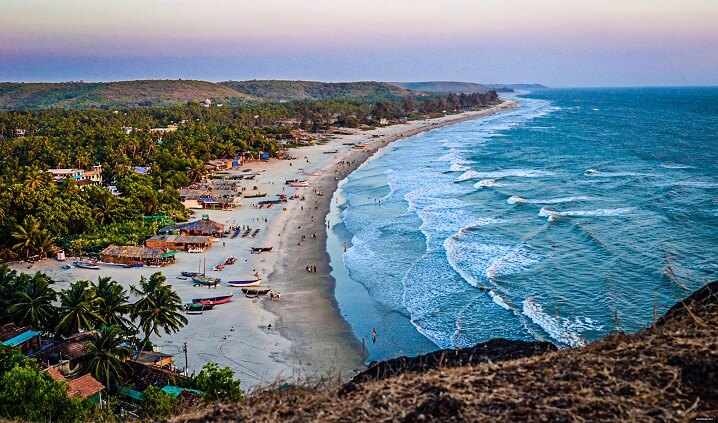 The northernmost beach of Goa, located almost 50 km from Panaji, Arambol beach is one of the cleanest and a thinly crowded beaches in North Goa. It is surrounded by cliffs and lined by cashew and palm trees and leaves one awestruck with its natural beauty. Constantly monitored by the coast guards, it is safe for kids and those who want to surf in the enchanting sea waves. Also, cheap accommodation options are available for travellers who wish to stay at Arambol and enjoy this place for a longer duration of time.
Famous For : Clean white sand and breathtaking view
Things to do : Paragliding and Jet Skiing are the most famous activities to indulge in. Sunbathing and Surfing are the most preferred activities here.
Famous Eating Joints : Marbela Beach Restaurant,Elevar,21 Cocunuts Inn
South Goa
Colva Beach – A Paradise for Romantic Evenings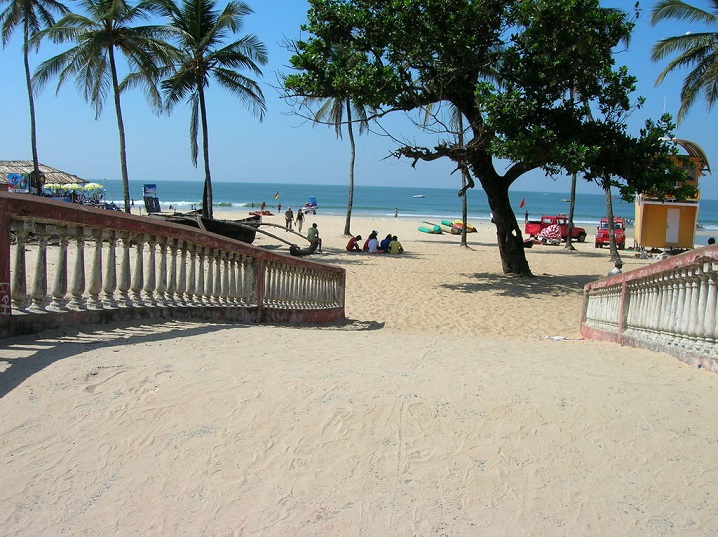 Colva is a beach located 6km north of Margao and is considered to be one of the most beautiful beaches in South Goa ideal for spending romantic evenings along with mouth watering seafood and light music flowing in the air. A major attraction nearby Colva is the Our lady of Mercy Church .
Famous for : Romantic Walks and Sea food. Jesus statue at Colva Church.
Things to do : Pay Homage at the Our Lady of Mercy Church. Can go clubbing at Leda Lounge and Restaurant.
Famous Eating Joints : Mickey's , SagarKinara, Ria's Cuisine, 49ers Restaurant & Pub.
Palolem Beach – Known for Freaky NightLife


About 43 kms from Margao, Palolem is a picturesque beach that welcomes one with its rocky formations and a tranquil atmosphere. The sunsets will leave you awestruck and the night life here will keep you grooving through the night. Silent Noise parties are held every Saturday at Neptune Point and the local Chaudi market 2km away from the beach exhibits eclectic collection of souvenirs and handicrafts.
Famous for : Silent Noise Party, Dolphin spotting trips, and mesmerising sunsets
Famous Eating Joints : Ourem 88 , Magic Italy Authentic Italian Restaurant & Pizzeria, Dropadi, Café Inn, Little World
Agonda Beach – Tranquil Beach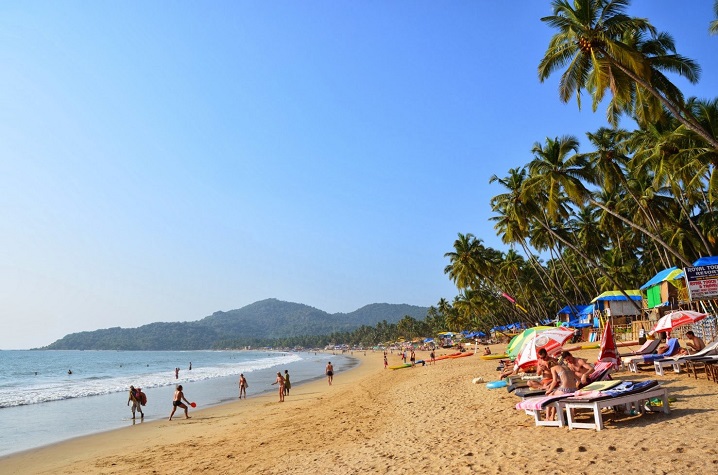 If you are in search of solitude and trying to find inner peace, then Agonda is the place to be at. Lined by casuarinas and palm trees, this beach attracts backpackers, swimmers and people who just want to sunbathe, relax and experience inner vibrations resonating with the nature. Also shacks are available throughout the coast offering yummy cuisines and drinks.
Things to do : Dolphin Spotting, Sunbathing & Swimming. Visit the Cabo de Rama Fort
Famous Eating Joints : Blue Planet Café, Romya's Inn,Madhu Bar and Restaurant,Fatima's Corner,Sand Sapphire Restaurant
So, the next time you are in Goa, don't miss out on these beaches and have the time of your life. Cheers!

Anshika Sehgal is a travelling enthusiast and an avid lover of books and American TV shows.