When it comes to organizing a successful event, whether it is a corporate, personal, live or online event, every organizer wants to make sure the event concludes without a hitch. You want your guests to have a great time at the event, but you also want to make sure that you stay within the budget and get everything done in the process.
Now, Is that possible?
Oh yes!
It Definitely is!Here are our top 5 event planning tips that will help you master the fine arts of planning a memorable and effective event.
Let's begin!
Smart Planning – Automate
Executing an event involves weeks, sometimes months of planning and implementations. It is never an easy task and involves multiple steps. Each step requires a set of skills, and sometimes that requires you allot additional manpower for a smooth process. With the kind technology available in the market today, every industry is taking a dig at automation and the event industry is no exclusion. Letting computers do some of the hard work allows you to focus on other, more important things.  Smart Planning lets you save time without inviting hassles and minimizing human error. You can use free websites like allevents.in to manage your Box Office, Registration, Leads Generation, Guest-list management and Check-In, Allevents.in allows you to receive real-time information through SMS/Email. There is also an allevents.in mobile app available to let to manage your event on the go.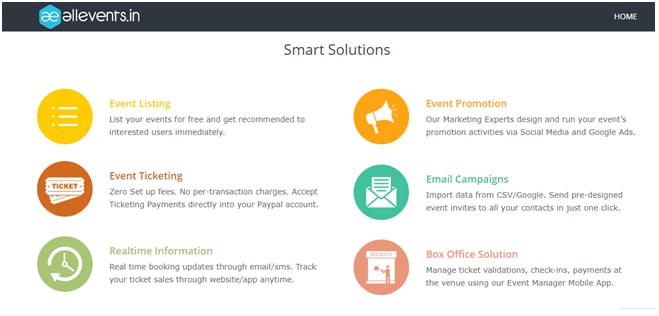 Stay Flexible – Take Help
It is very obvious that while planning an event, things are going to change!
It could be the event's venue, timings or even the type of event you're hosting, such as physical or online event. You need to make sure that you're flexible enough to execute these end-moment changes.
That's why you need to hire event planners.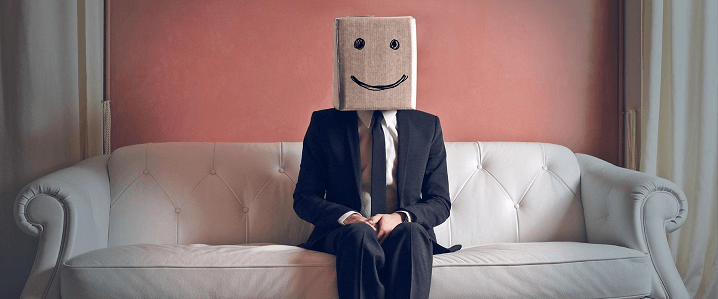 The benefits are explained in detail.
Event planners are experienced and will in cover every little detail necessary for your event. These event planners know what different events demand.

You can call an event planner as the key to keep your budget intact. Yes, an event planner, with his knowledge, can keep track of the overall price and suggest various ways to stay within a set budget.

An event planner can help you greatly with the event theme. Even they might have their own bunch of suggestions to make your event go flawlessly.

Event planners can also help in troubleshooting issues and reduces the stress of clients.

An event planner spends his or her time researching, plotting, planning and negotiating to help clients get the event they imagined.

An experienced event planner knows how to fulfil your event demands and wishes correctly, to provide realistic results.    
Planning an event doesn't have to be stressful, difficult or troubling because by hiring an event planner, you can not only save money but time as well.
Roles and Responsibilities

Just because you have an entire team of skilled and expert organizers, it doesn't mean everybody should do everything!
Here's where delegating the roles to individual organizers comes into the limelight.
Distribute the tasks and make sure everyone knows who is in charge of what.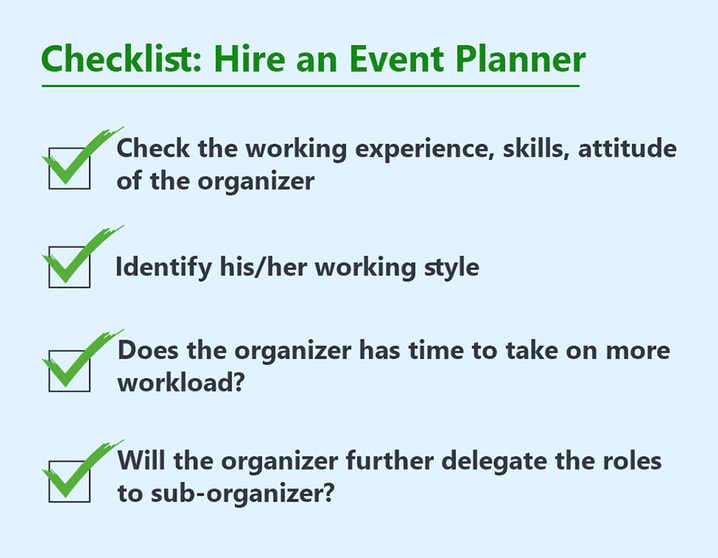 There is a list of important questions to consider before delegating the roles & responsibilities. They are:
What knowledge, attitude, working experience and skills does the organizer already have?

What is his or her working style? Say for example – Is he\she works independently, they work with sub-organizers with them, etc.

Does the organizer have time to take on more workload?

Will he or she further delegate the task to some sub-organizers?
Once you decide to whom you will delegate the roles and responsibility, it is the time to know how you should delegate the roles?
Prepare a delegation cheat sheet.
Lay down the desired outcome of the organizers.

Make sure to identify the boundaries and constraints before delegating the duties.

It is advised to include the organizers and sub-organizers in the delegation process for better understandability.

Answer every question of organizers and provide adequate support.

Avoid "Upward Delegation", which means if the problem isn't solved, don't allow that particular organizer to shift the task to higher authorities.

Maintain proper control.

Ensure to discuss the deadlines, timelines, and working method.

Consider a regular review of their work.

Take organizers into confidence and build commitment, motivation and trust bond between you and organizers.
Say "Goodbye" to Paper and "Hi" to the Digitalization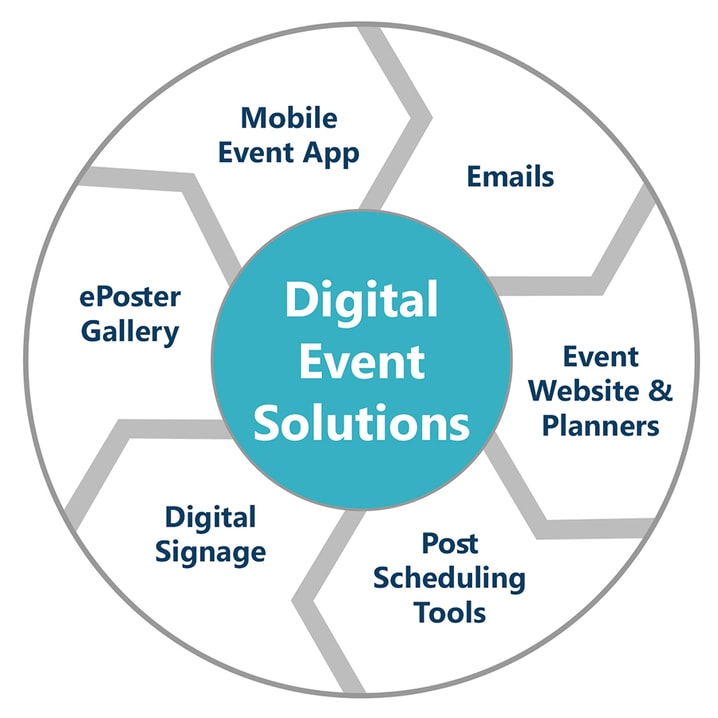 Use email instead of papers. It will not only help you save time and money, but it also increases the chances to communicate faster with your guests.

Various event hosting websites are a great alternative, which not only manages your entire event but also helps in promoting it. If you want to build your own website, here's a list of few event website themes that are generally used by event professionals.

For a better idea, why not try the scheduling tool? Yes, with tools like SocialPilot, it is easy to promote your event on social media platforms. This will help you increase your audiences and will help you in making your event go flawlessly.     
These websites and apps work as a great alternative to make your event process simpler and efficient.
Create a Buzz for your Event
Don't post on social media at your own leisure or whenever you find it convenient. If you want your post to receive maximum views, then you have to release them at the right time of day. But are you worried about how to post at the right time when your fans and followers are online? Don't worry social media scheduling tool like SocialPilot helps you to schedule or share your post consistently across all social media networks., Also it helps you to space out your posts not spam your social media profile.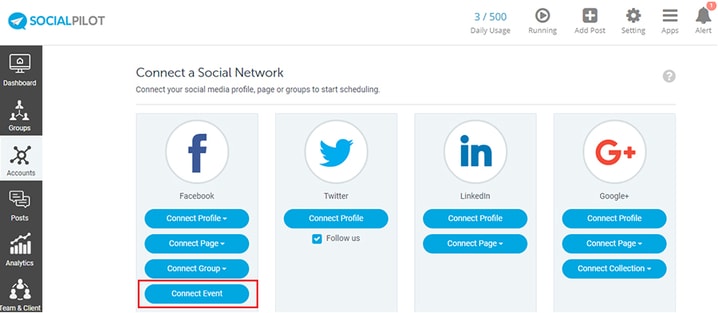 LinkedIn, for example, experiences its highest activity between 10:00 am and 11:00 pm on Tuesday, Wednesday, and Thursday. For Facebook, post around 1:00 pm on Thursday and Friday for optimal shares. Post around 3:00 pm on those same two days for optimal clicks. When it comes to Instagram, anytime during off-work hours is the best time.
Ultimately, though, you shouldn't take these times as scripture. Experiments with different times to see what works best for your specific demographic.
If you need some social media help along the way, use a program like SocialPilot to increase your social media efficiency.
Final Words!
So to sum it up, the key to organizing a smart & successful event is how creatively you manage your event and your guests as well.
Last but not the least, it is suggested to ask your guests for their valuable feedback after the event is over because, evaluation is an important part of the progress, as there is always a room for progress.
To further conclude, we hope that you have enjoyed reading this post and try some of our tips for your next event on the list! Don't forget to share what worked well for your event through comments.