The 'Festival of Colors' is one of the most widely celebrated festivals in India. A traditional Hindu festival, Holi marks the auspicious beginning of spring and the triumph of good over evil.Celebrated in the month of March, the exuberant festival brings together people from different parts of the country. Drenched in various colors of red, green and purple, revelers enjoy the colorful festival in their own ways. On the night before Holi, people set bonfire known as Holika Dahan that symbolizes a new beginning. The next day is the carnival of color when hundreds gather on the streets to throw colorful powders (known as gulal) and soak each other with water guns.
While the Holi festival is celebrated with enthusiasm and fervor in many parts of India, people also organize Holi parties in other countries. This Holi weekend, experience the fun-loving festival in a different city to create colorful memories. Be it playing with flowers in the temples of Vrindavan or traditional Holi in Mathura, pack your bags and head to these amazing places and enjoy with your family and friends. Check out how different places celebrate Holi and decide which of these appeal to you the most.
Mathura/ Vrindavan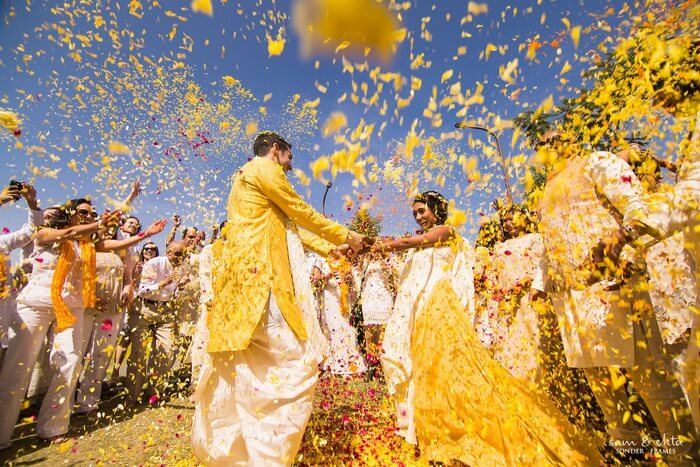 One of the best places to witness the Holi celebration, Mathura/ Vrindavan represents a strong connection with Lord Krishna and Radha. Preparations begin one week before the festival in Vrindavan and people play with flowers while dancing to the tunes of music. Mathura is the perfect place to celebrate Holi where the famous Dwarkadheesh temple gets enveloped in colors and flowers. The priests celebrate by throwing colors and holy water at the devotees. Musical performances and plays based on Krishna's courtship with Radha are an essential part of the celebration.
Barsana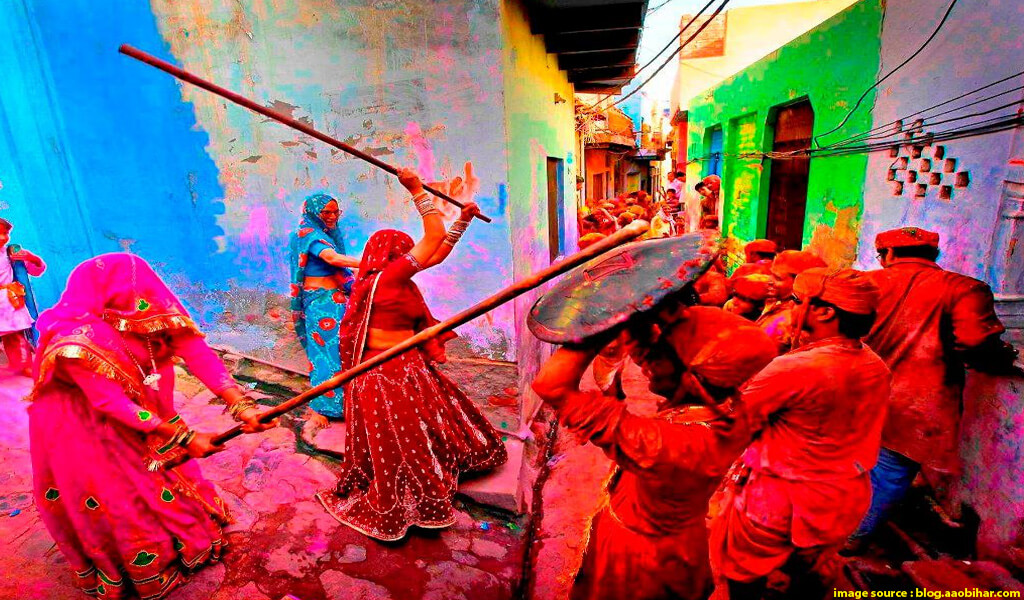 Holi at Barsana, a small town in Uttar Pradesh, is celebrated in a unique but fun-filled way. Situated close to Vrindavan, Barsana is Radha's birthplace and Nandgaon is Lord Krishna's. To celebrate the Lathmar Holi, women of Barsana hit the men of Nandgaon with sticks (lathis) while allowing them to protect themselves with shields. Men and women cheerfully follow the ancient tradition to symbolize the mischief between Krishna and Radha. On the next day, women from Barsana visit Nandagaon and celebrate Holi with their men. Do not miss to feast on delicious laddoos while you are there.
Shantiniketan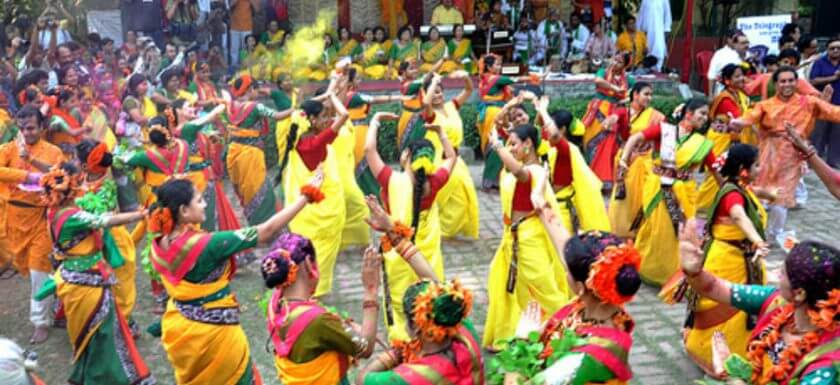 Famously known as Basant Utsav or Spring Festival, the festival of Holi in West Bengal was introduced by a prominent Bengali poet Rabindranath Tagore at his Visva Bharati University located in Shantiniketan. Located 165kms from Kolkata, Shantiniketan translates to 'Abode of Peace'. To relive the ancient tradition, students dress up in yellow color attire and organize musical programs and traditional dances on Rabindra Sangeet followed by playing with colors.
Varanasi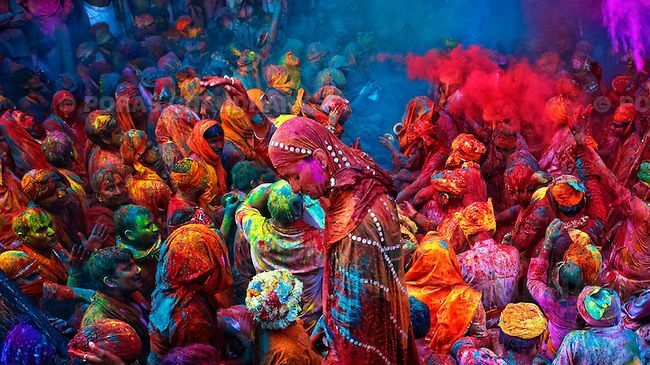 Holi celebration at Varanasi is an extraordinary experience for those who love the carefree vibe and zealous celebrations of the colorful city located in Uttar Pradesh. Holika Dahan is one of the important rituals of Varanasi symbolizing victory over evil. The festival is incomplete without drinking bhaang/thandai, a drink which you will make you slightly dizzy. People chase each other to color their faces and enjoy the festival by exchanging sweets.
Jaipur/Udaipur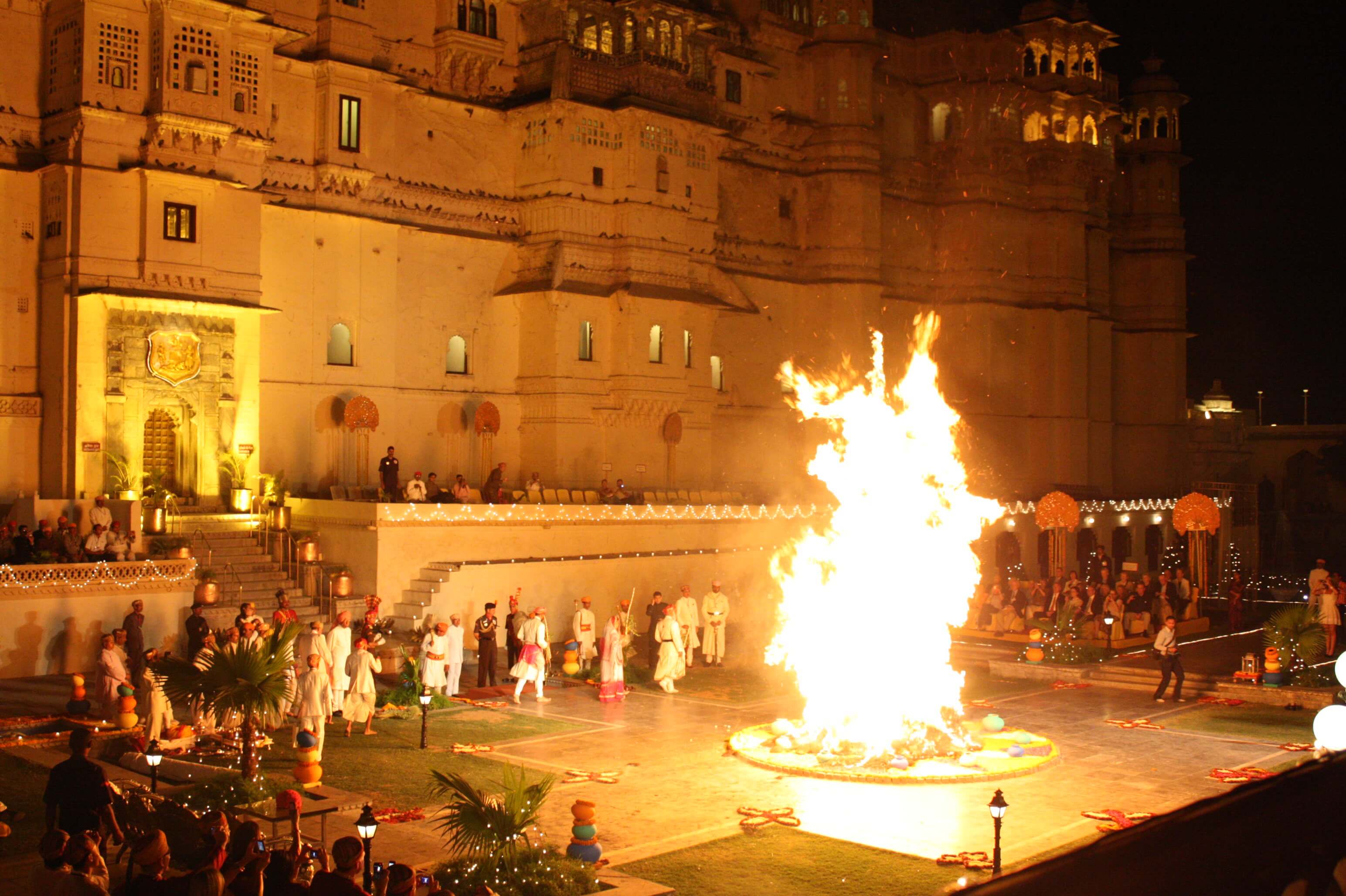 If you are looking for a royal experience and fun elephant rides, plan a trip to Jaipur/Udaipur this Holi. The festival begins with a monumental parade of decorated elephants and camels in the city, amazing folk dances followed by a tug-of-war between elephants. People in Udaipur light the bonfire at night one day before the actual festival of playing with colors.
Delhi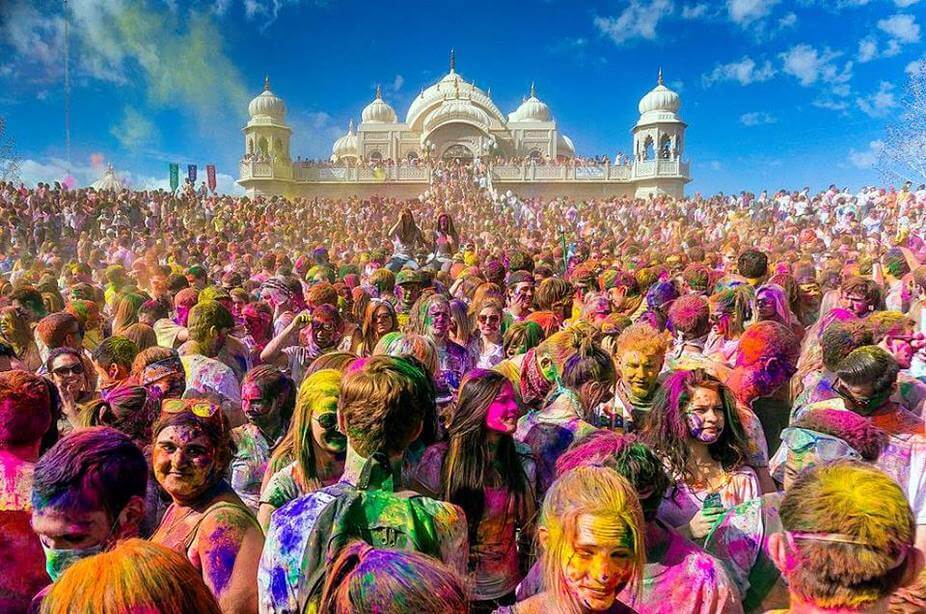 Delhi celebrates Holi in its own peculiar way by throwing water-filled balloons on each other. Music being an integral part of the celebration, people dance for hours on Bollywood numbers. Parties are organized all over the city that includes lots of scrumptious food, loud music, DJ, dance, and colors. The Holi Cow Festival or Moo festival represents modern-day Holi celebrations where people celebrate with non-toxic colors and munch on street food.
Hampi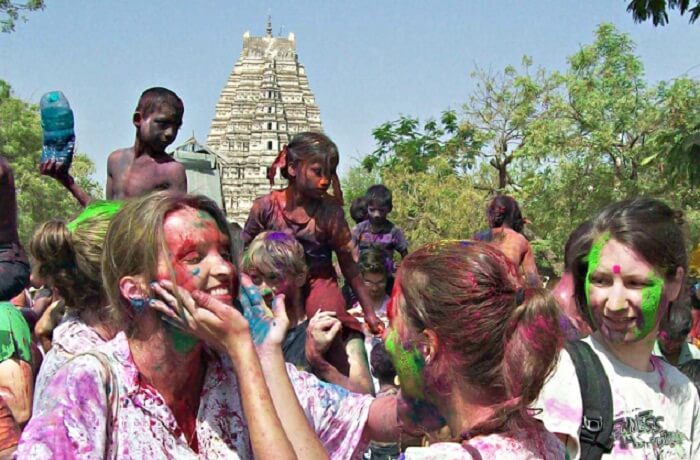 Though the festival of Holi is celebrated primarily in North India, Hampi is one of the few places in South India that celebrates Holi with great vigor and zeal. Celebrated for two days, people play with colors in the streets while dancing to the drum beats. The celebration ends with bathing in the Tungabhadra river.
Purulia

Holi in Purulia is a three-day-long Basant Utsav festival that begins before the actual Rangwali Holi. Head to this cultural part of West Bengal during Holi to experience a wide range of unique folk art. Villagers perform the remarkable tribal dances including Chau dance, Darbari Jhumur, Natua dance, and sing songs of West Bengal's Baul musicians making it a memorable festival.
Anandpur Sahib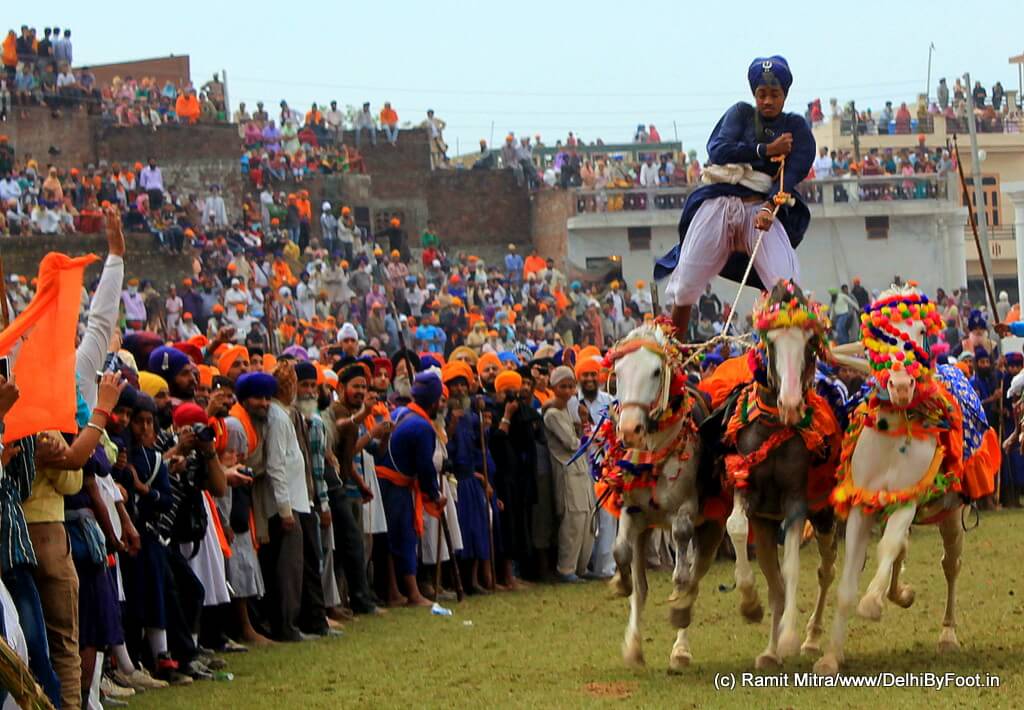 Anandpur Sahib in Punjab organizes an annual fair known as Hola Mohalla which dates back to 1701. The 300-year-old tradition was commenced by tenth Sikh Guru Gobind Singh to celebrate Holi. The three-day grand festival includes martial arts, wrestling, mock battles, display of weapons, acrobatic military fights as well as music and poetry competitions. Come to Punjab and experience a different level of energy in their celebration.
Goa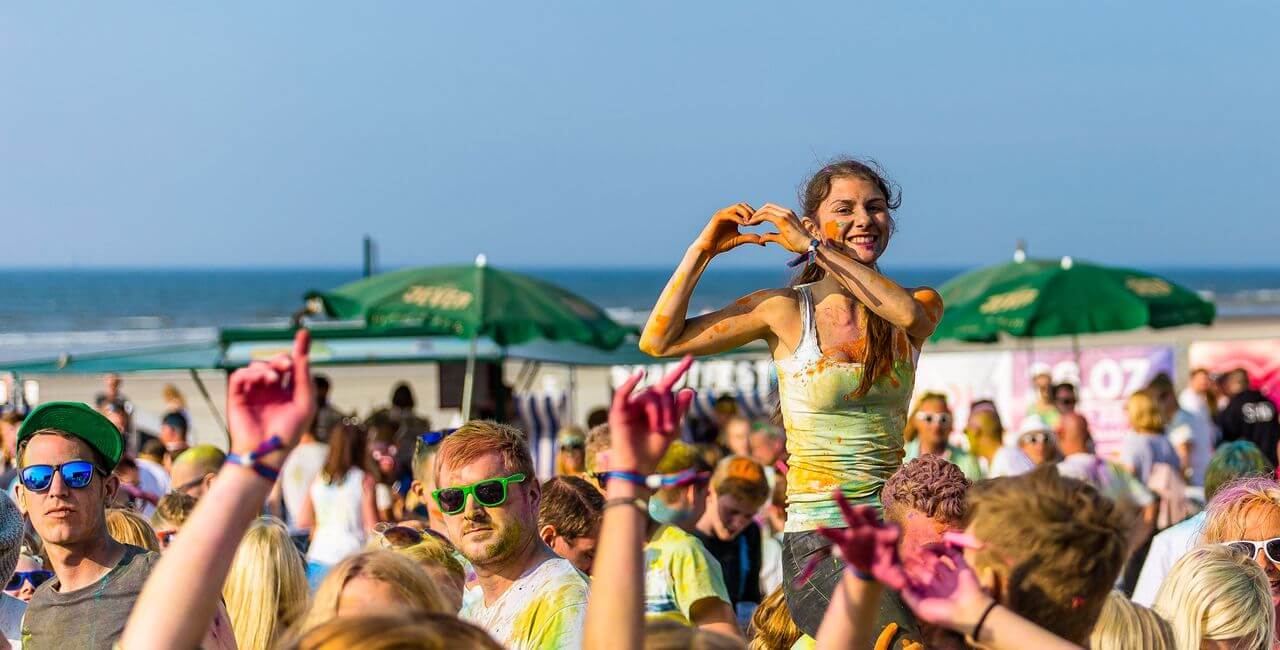 Holi is celebrated as Shigmostav in Goa which is a 14-day-long festival. Parades are organized in boats and huge dance troupes perform folk dances on the road all through the parade. Goa beaches turn colorful as tourists from all over the world splash each other with colors.
If you can't make it to any of these places, no worries.

Discover Holi events near you.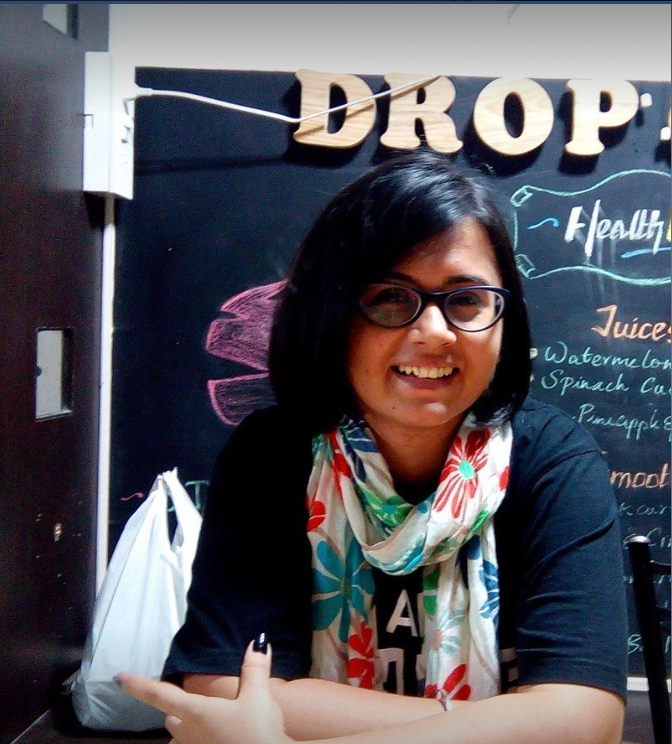 A cynophilist, Chanchal makes sure to stop by and say hello to every dog that crosses her way. She easily connects with those who strongly believe in equal rights for women. Apart from these, she fancies the idea of spending her free time in bookstore, cafés or her den when she is in a mood to watch a movie with some butter salted popcorns. An ardent lover of pretty lights, a hoarder of books (and cute souvenirs) and a supporter of "Silence is Golden", Chanchal is a full-time writer and a part-time food blogger.